5 Signs You Need to Replace Your AC Compressor
5 Signs You Need to Replace Your AC Compressor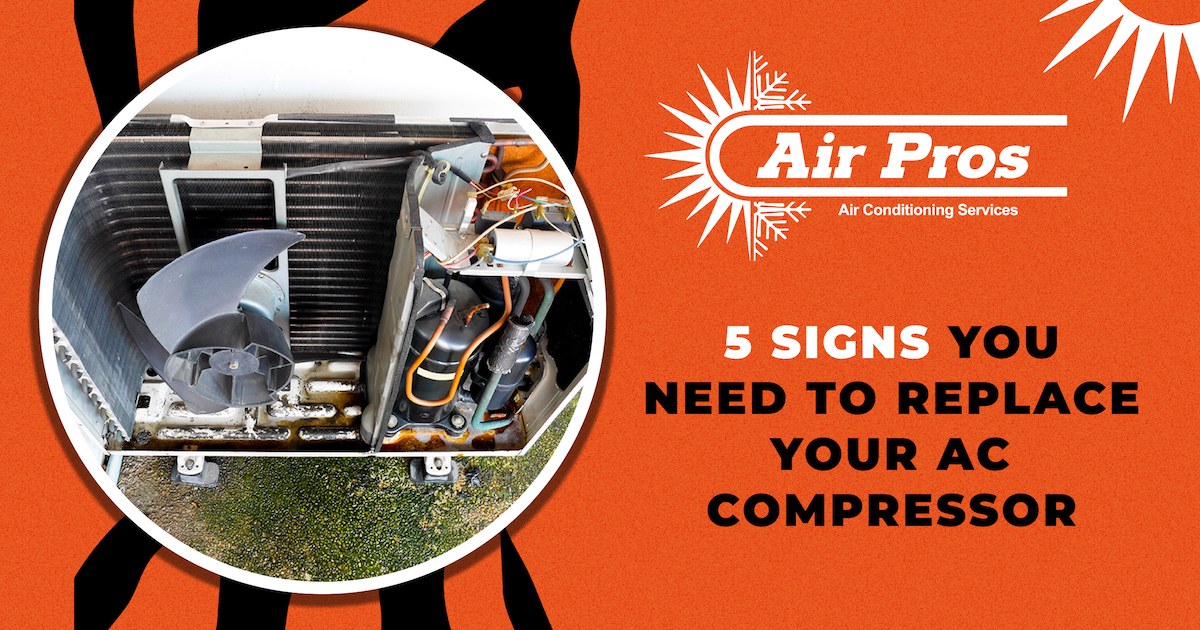 Air conditioners are invaluable resources in our homes that provide us with a cool refuge to run to in the hot summer months. Air conditioning units typically serve us for decades until they begin to wear out and break down. Certain parts of the unit break down at different times and not every homeowner is informed of the signs that an AC may be on its last embers. In today's article, we will cover some of the most common signs that your AC compressor is ready to be replaced. 
Poor Cooling Quality
One of the first signs that your AC compressor needs replacement is that it isn't cooling the home as efficiently as before. As the unit ages, its cooling capacity decreases and performance fails. Poor cooling quality is a direct result of outdated or worn out parts in the compressor. It can also be the result of low freon levels, clogged air filters, or leaks. Whatever the case may be, you will need to contact a local AC technician to help repair or replace the compressor. 
Not sure if the AC compressor is causing poor cooling efficiency in your home? Read our blog post on some of the other common AC problems that may cause poor efficiency. 
Difficulty Starting 
How long does it take for your AC to start? If it takes longer than usual, there may be a problem with the compressor that causes it to require more power to run. With time, it will eventually break down completely and not turn on at all. We recommend contacting a local AC technician to investigate this problem and formulate a solution. This will help you prepare for any needed AC compressor replacements or costly repairs. 
Tripped Circuit Breaker
One of the signs that the circuit breaker is tripped is when a running compressor stops abruptly without reason. This can mean that the motor inside the compressor has overheated. This may also be caused by electrical issues within the compressor. Regardless of the potential cause, this problem will need to be investigated thoroughly and safely. 
In the case of tripped breakers, we always recommend calling a pro who is trained to handle such problems with the proper equipment. Most importantly, don't turn the AC again or reset the breaker until an AC repair tech had the chance to investigate the problem. 
Excessive Noise
Have you been hearing odd noises coming from your AC compressor? If you hear any clicking or ticking, you may have a potential electrical problem in the unit. Rattling noise is an indication of loose parts or belts. Both types of sounds are cause for concern because the underlying issues will eventually cause the unit to stop working altogether. 
Usually, an AC maintenance visit from your local HVAC repair service like Air Pros will help prevent such noise and prolong the lifespan of your AC. 
The Unit is Old
Do you know how old your AC unit is? If it is over 10-15 years, then perhaps a replacement is definitely needed. The older your unit, the more repairs it will require because it will wear out more. Also, older units lose their efficiency over time and will require more energy to produce similar cooling and heating results. 
If you're unsure of the age of your unit, contact a local AC repair service who will be able to help. A visit from a technician will help assess the health and vitality of your unit and if needed, the tech will provide recommendations for a new unit and financing options. 
The Air Pros website will tell you everything you need to know about financing AC unit financing and help you prepare for this necessary upgrade. 
Contact Air Pros for Your AC Compressor Needs!
Whether you need an AC unit replacement or just some minor repairs, you cannot afford anything less than the high quality and skilled service provided by Air Pros. Our technicians are available around the clock to help you enjoy the comforts of your home at an affordable price. Contact us today at 877-561-9730.
Full System Health Check
Test Amps & Voltage
Safety Device Check
Starting Price
Preventive Maintenance
2 Visits Per Year
Highly Reliable
Financing Available
Annual Savings
With Any Repair Made To
Residential Central Air
Conditioner or Furnace Unit
Great Value
Keep Costs Low
Professional HVAC Team
Financing Options
Available
AIR PROS HOTTEST AIR CONDITIONING DEALS FOR HOMEOWNERS
Apply Now for 100% Financing On New AC Systems & Repairs
Schedule a friendly service tech to come around your neighborhood in the next hour or two.