What You Need To Know About AC Unit Financing
What You Need To Know About AC Unit Financing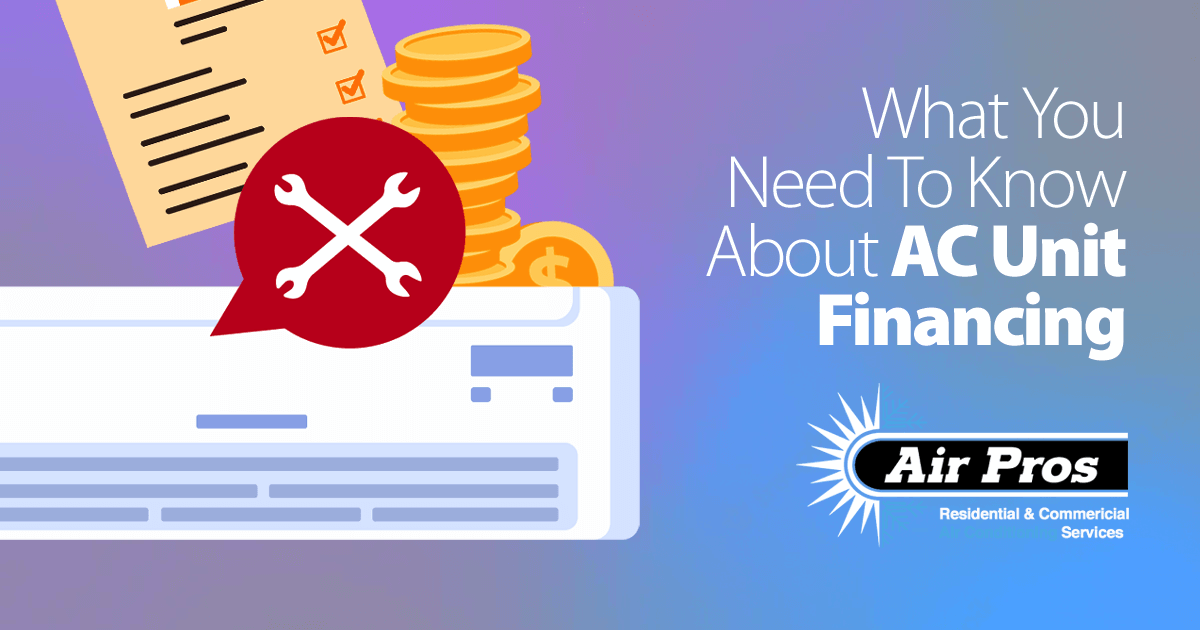 When the air conditioning unit breaks down, there is a mild crisis in the home for two reasons. The first reason is that now it's getting hot and uncomfortable. In addition to the discomfort, this problem often happens at the most inconvenient time when the household's budget is already tight. So what do you do in that case – try and survive the summer's heat without AC? 
With Air Pros, suffering through the heat is unnecessary. We teamed up with five different partners to provide affordable financing options to make AC installation possible for you. Making the decision to finance something is not something to be taken lightly. Therefore, we compiled several of the frequently asked questions that answer the questions you may have about AC unit financing with Air Pros. 
What Lenders Do Air Pros Work With?
Because Air Pros provides service in three different states, we chose five different lenders to accomodate the needs of our various clients. These lenders offer flexible loan options that will meet your financial needs. They include: 
PACE

Ygrene

GreenSky

OKINUS

Wells Fargo Financing
With these five lenders, there will be something for everyone who is looking to make AC installation feasible. 
How Much Of The Costs Can I Finance?
With our lenders, you have the option to finance up to 100% of financing on new AC installation and repairs. Whether you need help with a portion of the costs or all of it, we are available to help you access the financing you need. 
Can I Get Financing If I Have Bad Credit?
We understand that the nation is facing a fairly difficult economic situation. Many of our clients are affected by various factors after the global health crisis. Therefore, we partnered with OKINUS, which offers financing options without checking your credit store. This is a great option for those who are in a tough financial position or for those who are just starting on their credit journey. 
How Long Does It Take To Get Approved?
The length of the decision process will be determined on the lender you choose and your credit score. Those lenders who provide financing based on credit scores will require more time than those who do not. Some clients are able to receive approval and funds in one day! 
Will A Downpayment Be Required?
Though it is advisable to pay a downpayment, there is an option that you can choose that won't require it. You will have the ability to bring home a high quality, efficient AC unit without a downpayment. 
What Is The Total Cost Of Installing An AC Unit?
The starting price for a new Rheem AC unit is $2,295. The total cost will depend on the size of the unit, the space that it will accommodate and the brand that you choose. By the way, do you know how an air conditioning unit works? Read this article for a simple explanation of its intricate functions. 
Will You Provide An Estimate Before I Decide To Finance?
Air Pros will be more than happy to provide a free estimate on any of the new air conditioning units we offer. An estimate will provide you with the information you need to make an informed decision regarding your finances. 
Are you in need of a new AC unit but don't have all the cash on hand? With these excellent financing options available through Air Pros, you'll have a new AC installed in your home in no time at all! Contact us today to learn more about the options available to you and to receive a free estimate. 
Full System Health Check
Test Amps & Voltage
Safety Device Check
Starting Price
Preventive Maintenance
2 Visits Per Year
Highly Reliable
Financing Available
Annual Savings
With Any Repair Made To
Residential Central Air
Conditioner or Furnace Unit
Great Value
Keep Costs Low
Professional HVAC Team
Financing Options
Available
AIR PROS HOTTEST AIR CONDITIONING DEALS FOR HOMEOWNERS
Apply Now for 100% Financing On New AC Systems & Repairs
Schedule a friendly service tech to come around your neighborhood in the next hour or two.