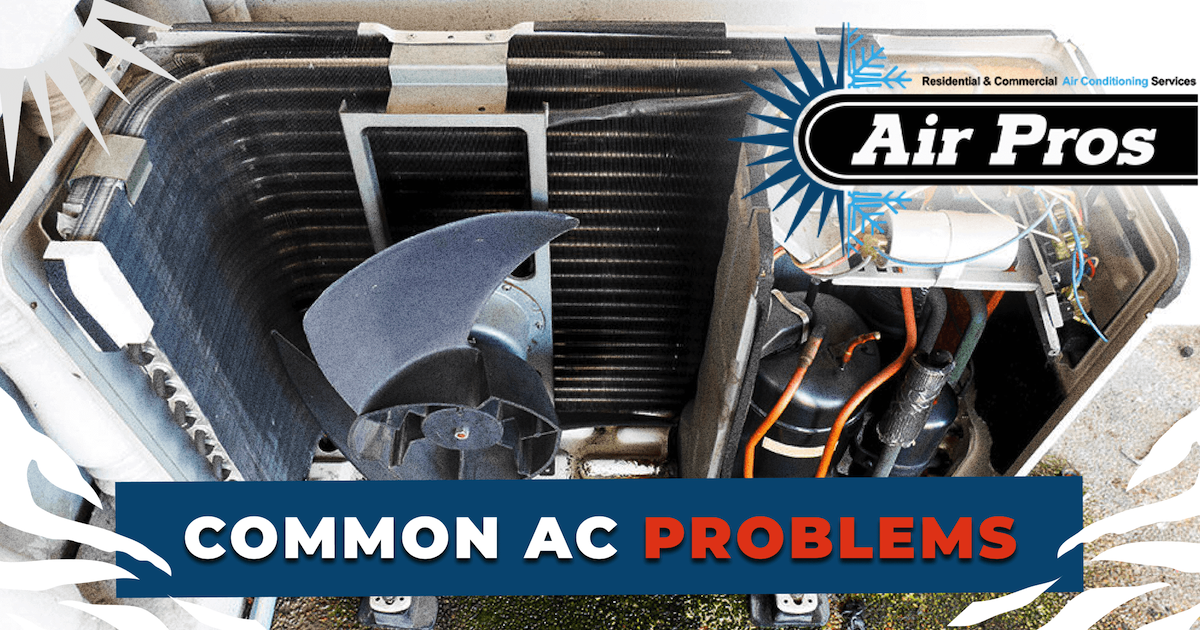 The air conditioning system is a modern convenience that provides a haven from the heat in the summer months. Its proper function and maintenance are imperative, especially during heat waves. 
Though many people have a central AC in their homes nowadays, not everyone will have the knowledge and experience to address even the most common AC problems. Air Pros have been providing air conditioning services for decades. Using our training and experience, we compiled a list of the most common AC problems and what to do when they arise. 
My Air Conditioner Is Blowing Hot Air
When hot air is coming out of your vents, the evaporator is typically a problem. An evaporator is one of the main components of your indoor AC unit that produces cool air. Evaporators use refrigerant fluids to inject cooler temperatures and allow you to get that reprieve from the heat. If those fluids are low, they may need to be topped off. 
Unless you have experience with this issue, you will need to call an expert to address this issue. Air Pros provides the best HVAC repair in Miami, FL, and will fix this problem with little effort. Click here to learn more about our AC Repair Services. 
Algae In AC Drain Line 
Algae is gross and very annoying when it begins to develop in the drain line. Most importantly, it can cause significant damage if it isn't addressed correctly. Algae grows pretty quickly, and because of that, it can clog the condensation lines in your AC unit. The clog will cause water to overflow and damage the surrounding floors, walls, or ceiling. 
The internet will suggest many DIY methods for how to fix this problem by yourself. However, if you want a full-proof solution, call a tech to clean and treat this problem for you. 
The Thermostat Isn't Working
One of the most common AC problems is when the thermostat isn't working. When this happens, check the batteries in the thermostat and try replacing them. If that doesn't work, try resetting the AC breaker on the circuit board. If that fails to work, it may be time to call an AC repair service to help you out. 
Such issues typically arise during the most inconvenient times. For this reason, we recommend a regular maintenance check of your AC. Click here to learn more about our AC repair services and how a maintenance visit will help avoid these problems. 
The AC Is Loud
When the air conditioning system is working loudly, it tries to tell you something is wrong. It is essential to listen for this clue and take appropriate steps to address the noise. A clogged duct, a broken motor, or a loose belt can cause this problem. Noise can also indicate that your unit is nearing its end of life. Regardless of the cause, it will need to be investigated by an experienced professional AC repair tech. 
A Foul Smell Coming From The Vents
Foul smells coming from vents can indicate several issues. First, they may be a result of dirty air filters or ducts. Also, when this happens, it is essential to check the outdoor unit. Sometimes old leaves and other debris get trapped inside the unit. As the debris decomposes, it emits a foul smell that will travel into the ducts and vents. 
Though all foul smells must be addressed, burning smells need special and immediate attention. If you smell something burning from the vents, shut down the entire system instantly. Then, call Air Pros, who will respond immediately with their finest technicians who will investigate the cause of the burn. 
Have you been experiencing AC problems lately? 
A resolution is just one call away. Contact Air Pros or visit our website to schedule a visit online. 
Full System Health Check
Test Amps & Voltage
Safety Device Check
Starting Price
Preventive Maintenance
2 Visits Per Year
Highly Reliable
Financing Available
Annual Savings
With Any Repair Made To
Residential Central Air
Conditioner or Furnace Unit
Great Value
Keep Costs Low
Professional HVAC Team
Financing Options
Available
Schedule a friendly service tech to come around your neighborhood in the next hour or two.