Warning Signs of a Declining AC Motor: How to Identify and Prevent Issues Early
Warning Signs of a Declining AC Motor: How to Identify and Prevent Issues Early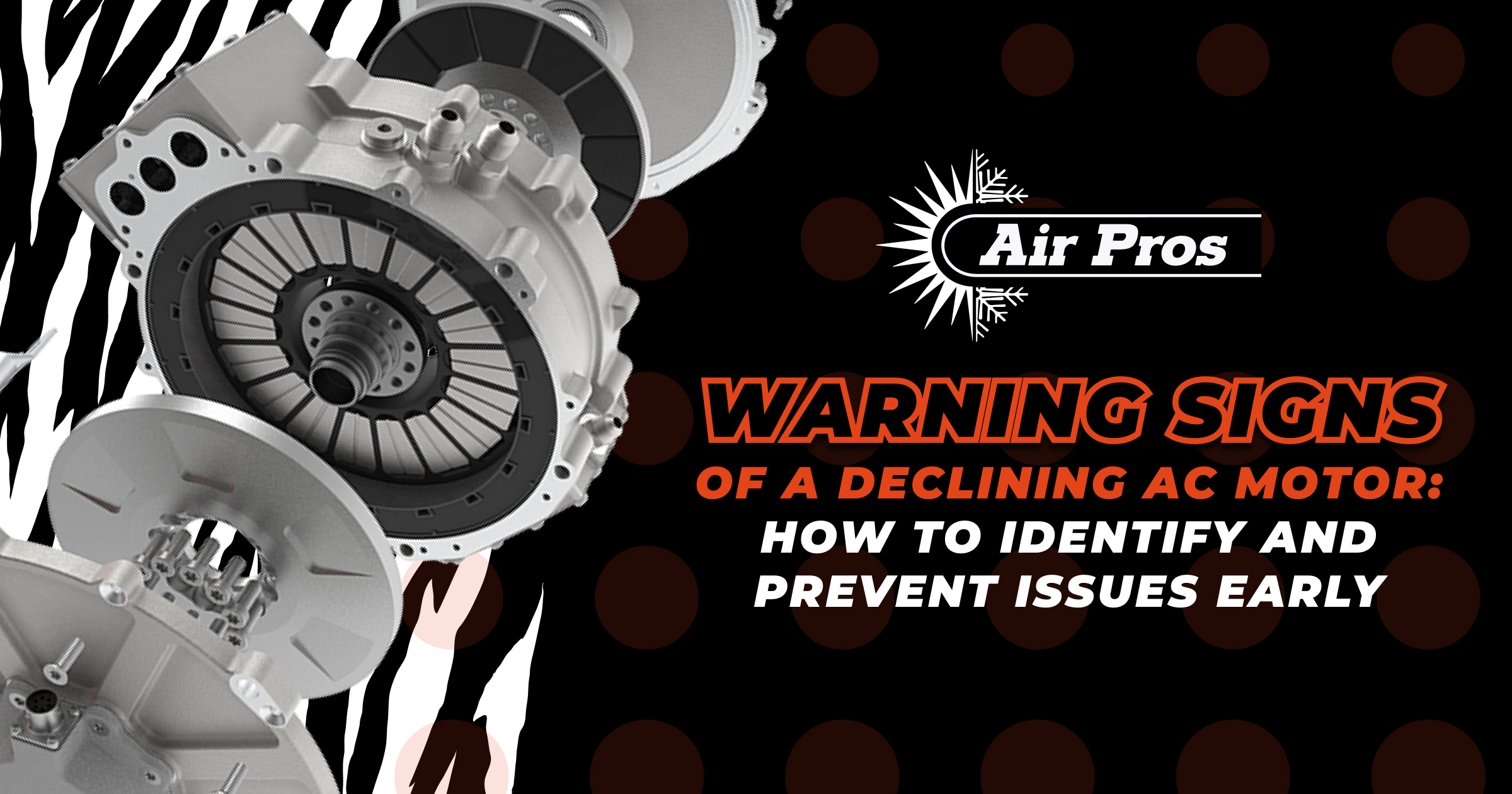 Identify and Prevent Issues Early
Air conditioning units are an absolute necessity in Miami, FL. After all, the hot weather lasts far beyond the traditional summer months.  A fully functioning air conditioning unit provides that saving grace from the heat to all Miami residents. Being aware of potential problems and following some necessary steps to prevent them. As the top HVAC repair techs in Miami, we will cover the subject of AC motors, their potential problems, and how to prevent them. 
The Role of the AC Motor
The AC motor is responsible for driving the compressor, which is the heart of the entire system. Typically two types of motors are used in HVAC units: the blower motor and the compressor motor. Without a functioning motor, your AC will not have the necessary power to provide the needed cooling temperatures. 
Signs That the Motor is Declining
Sometimes AC motors have problems that an HVAC repair tech in Miami must promptly address. Check out these signs of AC motor decline and be prepared for issues in your own air conditioning unit. 
Strange Noises
Sometimes the HVAC unit makes odd sounds that indicate a potential problem. The typical sounds that you should be aware of include the following: 
Grinding
This type of sound is usually a hint of worn-out bearings, which will need to be replaced. 
Humming
If your motor is overheating, it may begin to make a humming sound. 
Rattling
Sometimes the parts of a motor become loose or damaged, which can cause an unmistakable rattling sound. 
Reduced Efficiency
A declining AC motor could be a sign that it isn't performing as efficiently as it once did. This could result in higher energy bills, slower performance, or a drop in output. If you notice this issue in your AC, you should contact an HVAC repair in Miami to have the issue diagnosed and repaired. 
Overheating
As we said, you may hear a humming sound if the AC's motor is overheating. This is a definite indication of a worn-out motor. If it is left unchecked, it will result in motor failure. 
Vibrations
If your AC motor is vibrating excessively, it could be a sign that it's out of balance or that its components are wearing out. This could cause damage to other parts of the system or lead to a complete motor failure.
Burning Smells
One of the most concerning signs of a declining motor is a burning smell from the vents. If you pick up on this smell, turn off the AC as soon as possible and call an HVAC repair tech in Miami as soon as possible. If not addressed, this will lead to a motor failure or even a fire.
Tips to Prevent AC Motor Decline
When the AC motor declines, it can create real pain with repairs and a malfunctioning air conditioning unit. This is both expensive and inconvenient because, in Miami, we need a reliable air conditioning unit. 
Proper Installation
First, ensure that a licensed HVAC repair tech in Miami properly installs your AC. Improper installation will lead to many problems with the air conditioning unit, including motor decline, malfunctioning compressor, and many other essential parts. 
Use a Surge Protector
Power outages happen during hurricane season in Miami. Ensure that your home is equipped with a whole-house surge protector to protect your electronics and expensive appliances like the AC, heater, and fridge. 
Address Repairs Promptly
The key to a well-functioning AC motor is keeping up with the repairs. If you notice that something is off, having an HVAC repair tech in Miami fix it before it grows into a bigger problem is important. Motors and compressors wear out when they have to function in a unit that is in disrepair. 
Avoid Overworking the Motor
Overworking the motor can lead to premature decline. Avoid setting the thermostat too low, which can cause the motor to work harder to maintain the desired temperature. Also, avoid blocking air vents or registers, reducing airflow and putting additional strain on the motor.
Regular Maintenance 
Finally, regular maintenance will help keep your motor and the entire AC system in tip-top shape. We recommend an annual maintenance check to ensure the unit works smoothly, efficiently, and with minimal problems. 
Get Professional HVAC Repair Services in Miami Today!
Are you worried about the state of your AC unit? Contact Air Pros today to schedule a maintenance or repair check by calling (844) 575-1288.
Full System Health Check
Test Amps & Voltage
Safety Device Check
Starting Price
Preventive Maintenance
2 Visits Per Year
Highly Reliable
Financing Available
Annual Savings
With Any Repair Made To
Residential Central Air
Conditioner or Furnace Unit
Great Value
Keep Costs Low
Professional HVAC Team
Financing Options
Available
AIR PROS HOTTEST AIR CONDITIONING DEALS FOR HOMEOWNERS
Apply Now for 100% Financing On New AC Systems & Repairs
Schedule a friendly service tech to come around your neighborhood in the next hour or two.