Reasons for an Inefficient Furnace
Reasons for an Inefficient Furnace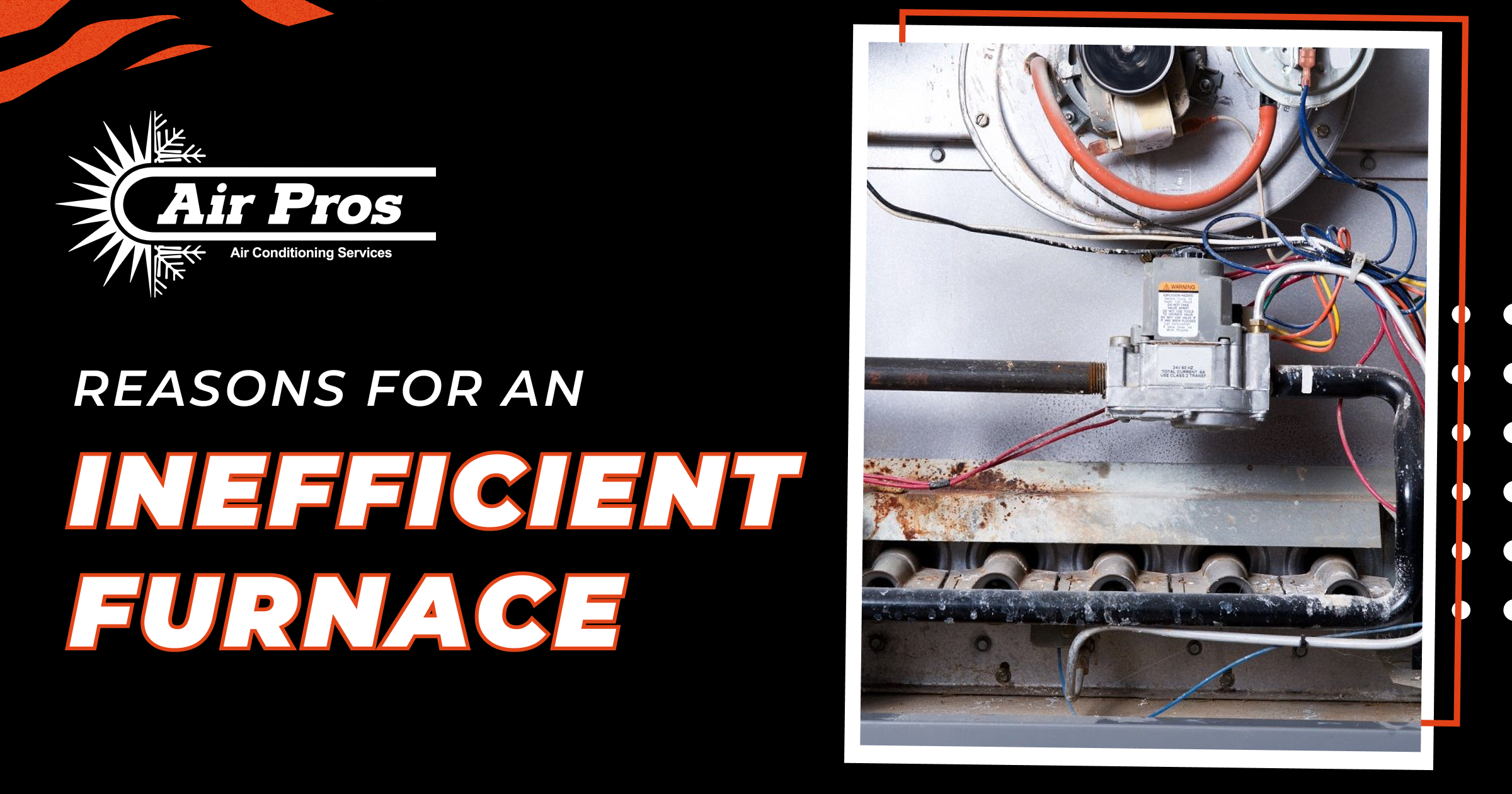 In honor of "National Repair Done Right Month", we will highlight one of the most common repairs that most furnaces require going into the fall and winter months. This repair is to optimize the efficiency rates of a furnace. Unfortunately, with time the efficiency rates of furnaces drop and require minor repairs in order for them to heat homes well. 
In this article, Air Pros' furnace repair techs will define what furnace efficiency is and go over some of the common reasons for its rating to decrease. Read on to prepare yourself for another winter season. 
How is Efficiency Rated?
The job of a furnace is to distribute warm air throughout the home to allow you to enjoy a cozy and comfortable winter. The furnace's efficiency is measured by a very specific rating called annual fuel utilization efficiency (AFUE). This rating measures the rate at which a furnaces converts energy into heat. For optimal efficiency, it is best to have a furnace with a 90% or higher AFUE. 
The efficiency of your furnace will largely depend on the size of your home and the number of occupants in it. In order for it at the best efficiency levels, it is best to consult a furnace repair tech during your purchasing decisions. 
Why is Your Furnace Not as Efficient as Before?
Decreased efficiency is common in older furnaces that simply got the normal wear and tear on them. In other cases, decreased efficiency is also the product of poor furnace maintenance. Below are the common factors that lead to poor efficiency and eventual furnace repair service.  
Dirty Filters
One of the most common culprits of poor furnace efficiency are dirty filters. As the warm air is dispersed throughout the home, it travels through ducts, filters, and vents before entering the room. During that process, filters clear the air of any dust and debris in order to provide the highest quality of air for the home. 
With time, the air filters accumulate dust and debris that slow down air flow. As a result, your furnace will be needlessly working harder to heat the home. This will cause a breakdown in the furnace and will require a call to the furnace repair techs. Furthermore, clogged air filters will decrease the indoor air quality of your home. 
Possible Air Leaks
Sometimes efficiency rates decrease because of air leaks inside the home. Whether it is an open window, a crack in the air duct system, or poor insulation, air leaks will distort the temperatures of your home and cause the furnace to work harder to heat your home. A local furnace repair tech can inspect your heating system for air leaks to prevent increased energy costs. 
Seeing as it is "National Repair Done Right Month", the techs at Air Pros put together a comprehensive guide on how to clean your air ducts by yourself. Check it out on our blog. 
Dirty Igniter
As your furnace works to heat your home, it will accumulate a buildup of gas. That buildup will create and clog that will keep the igniter from firing up correctly to produce the required heat. When this happens, you may also hear a popping or banging sound when you turn on the furnace. 
To fix this problem, the igniter will need to be cleaned. However, this job can be very risky and it is best to contact a professional furnace repair tech for this repair. Read our blog to find out why some furnace repairs are best left to the pros. 
Poor Insulation
Quality insulation can go a long way in helping maintain the efficiency of your heating system. It works well to keep the outside air from entering the home, thereby maintaining the present temperatures inside. Sometimes insulation requires repair or replacement, depending on the age of the home and the time of the insulation's service. For this reason, it is essential to keep with furnace maintenance inspections where the insulation is also checked for its quality and preparedness for the harsh winters. 
Do you know about the different types of insulation materials? Read our blog to learn about the pros and cons of using blown-in insulation in your home. 
Quality Furnace Repair
Is your furnace prepared to serve your home at the most optimal rates this winter season? As part of "National Repair Done Right Month", Air Pros invites you to contact only the best furnace techs to ensure that your furnace is ready to keep you warm throughout the winter months. With something as costly and important as a furnace, only the expert technicians from Air Pros qualify to get the job done right. Contact us today by calling (754) 240-9449.
Full System Health Check
Test Amps & Voltage
Safety Device Check
Starting Price
Preventive Maintenance
2 Visits Per Year
Highly Reliable
Financing Available
Annual Savings
With Any Repair Made To
Residential Central Air
Conditioner or Furnace Unit
Great Value
Keep Costs Low
Professional HVAC Team
Financing Options
Available
Schedule a friendly service tech to come around your neighborhood in the next hour or two.