How To Clean My Air Ducts
How To Clean My Air Ducts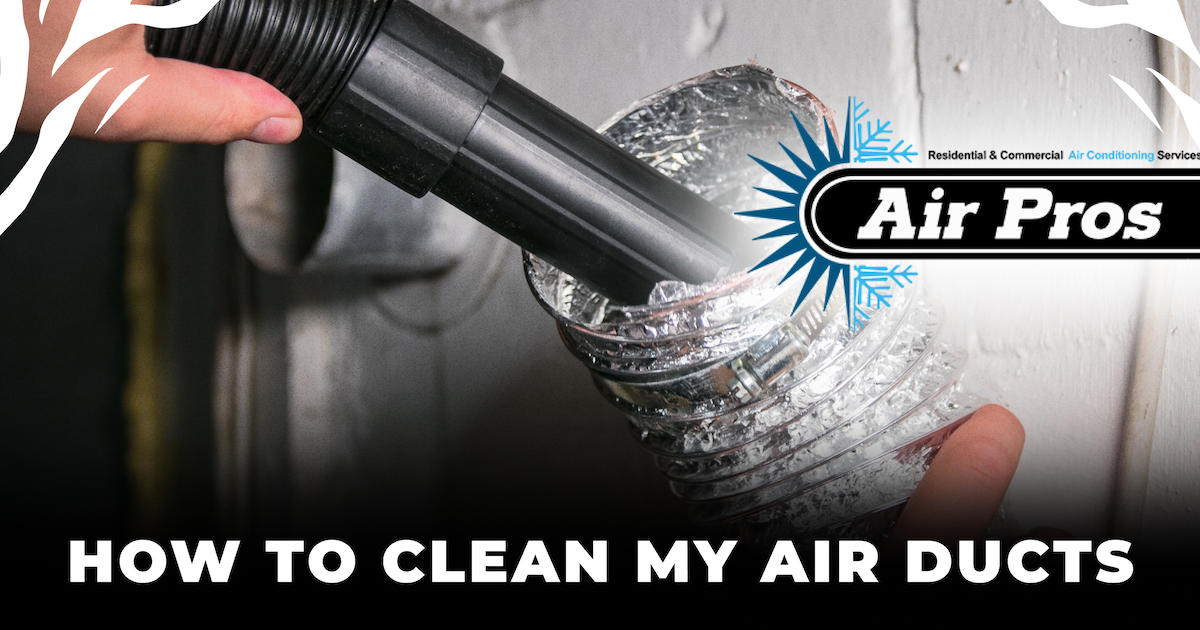 The air conditioning system in our home and its various components are essential to a cool and comfortable home environment. One of the most vital duties that the AC system has is to ensure the quality of the indoor air. It does this by extracting humidity, dust, debris, and other unfavorable particles. With the help of the AC's work, we are able to enjoy a cool and clean atmosphere in our homes. 
Because the quality of indoor air is dependent on the AC, it is important that the system itself is clean. Clean air ducts play an integral role in air quality and the function of your AC. Because nobody wants a dusty home, we put together a few guidelines on how to ensure that your air ducts are clean. 
Can I Clean My Air Ducts Myself?
Many home maintenance tasks require the help of a professional and are often very costly. However, keeping up with Clean air ducts does not have to be expensive. In fact, with the right tools and quick, easy tips, it is totally possible to do this task by yourself.
We recommend cleaning your air ducts at least once a year by incorporating this into your spring cleaning routine. Alternatively, you can also take the time to clean the air ducts after a particularly hot summer. It is important to note that after periods of heavy HVAC use, air ducts do accumulate more dust than usual. In this case, we recommend cleaning out the ducts as needed. 
Tools Needed
To carry out this necessary task, you will need some basic tools, which include the following: 
Vacuum with a nozzle attachment and a long hose

Rotobrush air duct cleaning

machine

A big brush, such as a toilet brush or paint brush

Screwdriver for your vents

Paper towels 

Air filters to replace the old ones at the end of your job
A Note About the Rotobrush Air Duct Machine 
Most people do not own these machines because they are very expensive. However, depending on the condition of your ducts, it may be useful to call a professional technician. Air Pros use this machine to perform a deep clean of the ductwork, ensuring that every speck of dust, mold, bacteria, and debris is eliminated. 
A regular vacuum will do just fine to clean out the supply registers of the ducts, where the bulk of dust accumulates. However,  if your home hasn't had the ducts cleaned before or it has been a while since the last cleaning, you may want to consider hiring a professional Rotorbrush air duct cleaning service. 
Steps for Cleaning Air Ducts
Now that we've gathered all the tools we need let's break down the steps for how to clean air ducts. 
Remove the vent covers

by using your screwdriver.

Wash the covers

and set them to dry. 

Cover the vents with paper towels

. This will prevent the spread of dust as you work on cleaning out the ducts. 

Brush off the dust

from the vents, loosening up any clumps of debris at the openings. 

Vacuum up the dust

and wipe down the ducts, where needed. 

Change the air filters

– this step is the sweet cherry on top, ensuring that the air coming through your cleaned air ducts remains clean as it travels through the filters. Otherwise, the process of cleaning your ducts will go to waste if your filters remain dirty.

Replace the vent covers

and enjoy your clean air! 
Benefits of Clean Ductwork
Clean ducts don't just provide clean air. Although that is very important, they also ensure an efficiently functioning air conditioning system. The better maintained your air ducts are, the better airflow you will receive. This will also help prolong the lifespan of your HVAC unit, allowing you to enjoy a cool summer without unnecessary repairs. 
Call AC Repair in South Miami, FL
Clearly, cleaning air ducts isn't too difficult and is totally possible to DIY. However, most of us just don't have the time for this type of work. The AC techs at Air Pros air available for your air conditioning maintenance and repair services 24/7. Our professional and efficient techs will clean your ducts and perform any other high quality AC services. Our prices and level of expertise are unbeatable in South Miami and its surrounding areas. Contact us today by calling (877) 561-9730. 
Full System Health Check
Test Amps & Voltage
Safety Device Check
Starting Price
Preventive Maintenance
2 Visits Per Year
Highly Reliable
Financing Available
Annual Savings
With Any Repair Made To
Residential Central Air
Conditioner or Furnace Unit
Great Value
Keep Costs Low
Professional HVAC Team
Financing Options
Available
AIR PROS HOTTEST AIR CONDITIONING DEALS FOR HOMEOWNERS
Apply Now for 100% Financing On New AC Systems & Repairs
Schedule a friendly service tech to come around your neighborhood in the next hour or two.