Blown-In Insulation Pros and Cons
Blown-In Insulation Pros and Cons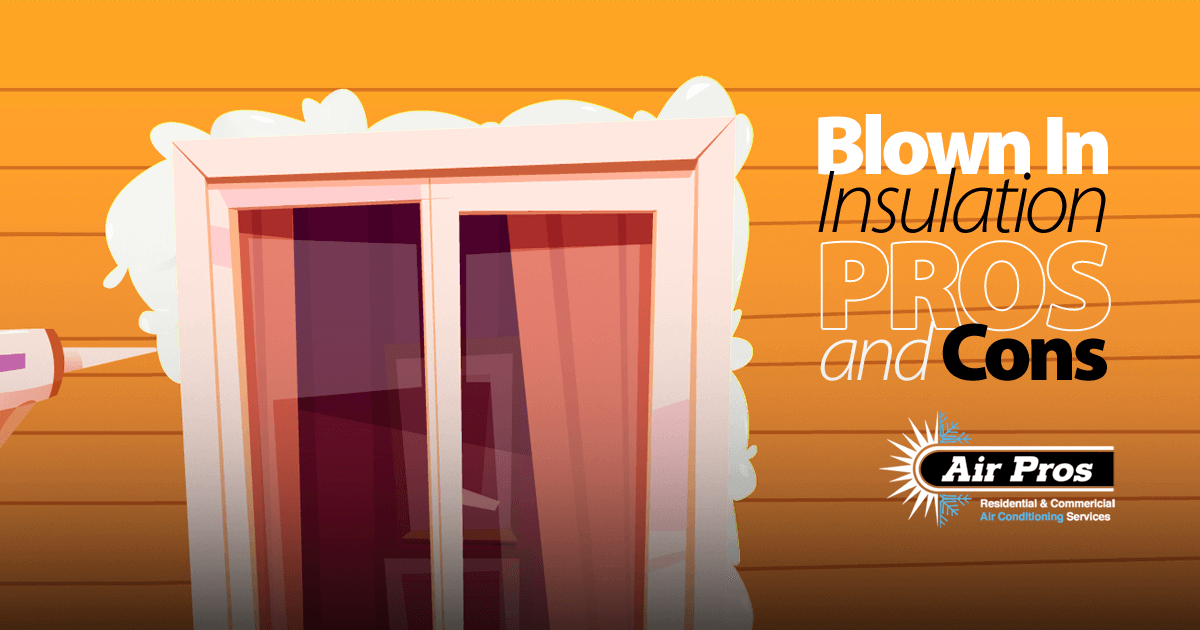 Insulation inside the home is very important because it helps keep the temperatures consistent. Depending on the season, the hot or cold air comes into the house through the highest point of the house, the attic. Insulation blocks the outside air out, allowing the home's residents more control over the temperatures inside. 
There are various forms of insulation but this article will explore blow-in insulation and it's pros and cons. 
Why Choose Blown-In Insulations?
Blown-in insulation is exactly how it sounds. When installing this insulation, technicians will use a special machine to blow the insulation into place. The material used for this insulation is often cellulose, fiberglass, and rock wool. It is very thick, lumpy, and feels like a rigid styrofoam. 
Blown-insulation is very popular among homeowners and insulation technicians. It fits in small crack and spaces, and provides very dynamic options for installation. Read more to learn about the pros and cons of blown-in insulation. 
Pros
Blown-insulation is able to fit into the tiniest corners that are hard to reach with other forms of insulation. This is especially beneficial for smaller homes that have very limited space for insulation. Additionally, blown-in insulation also offers many of the following benefits: 
Increased Efficiency
Blown-in insulation is able to absorb the warm temperatures produced by your heater in the winter and keep out the heat in the summer months. Your HVAC system will work less and allow you to save money on energy bills. This efficiency will also prolong the health and longevity of your AC unit and promote optimal comfort inside the home. 
Safe For The Home
Blown-in insulation offers the home an additional level of safety. For example, fiberglass insulation is completely fireproof. Most materials used for blown-in insulation are treated with minerals that naturally repel insects, rats, and mice from populating in the attic. 
Because of its wonderful ability to control temperatures, blown-in insulation also absorbs condensation that forms in the air. As we all know, excess condensation can cause a lot of damage to the structure of the home. The assistance in controlling it with insulation is always welcomed as it promotes a healthy structure. 
Soundproof
Some forms on blown-in insulation like fiberglass and cellulose also provide soundproofing to the attic. This bonus is a unique feature that prevents excess sound from traveling outside your home. Got a party going on inside? No worries, your neighbors will still be comfortable and not bothered with the sound. 
Cons
As with most things in life, there are also a few cons that counter the pros of blown-in insulation:
Difficult To DIY
Many people are independent and prefer to do things themselves. They often ask, "Why hire a blown in insulation tech near me if I can do it myself?" The explanation here is simple. Without the proper equipment, most homeowners will struggle insulating their homes by themselves with this blown-in material. 
Additionally, it is necessary to calculate the right amount of insulation to use. If too much is installed, it will sag and will not function properly. To spare yourself the hassle, call a professional to install the insulation for you. 
Requires Thorough Sealing 
To allow proper venting, it is essential to put in air sealing first. This will help the air vent better through the attic and prevent moisture from getting in. If moisture seeps into the insulation, mold may develop if isn't discovered right away. 
These cons seem a bit dreadful. However, when insulation is installed by a professional, these risks will be reduced and even eliminated. Allow one of our professional technicians to do this hard work for you. Contact us today for your attic inspection, estimate, and service options. 
Full System Health Check
Test Amps & Voltage
Safety Device Check
Starting Price
Preventive Maintenance
2 Visits Per Year
Highly Reliable
Financing Available
Annual Savings
With Any Repair Made To
Residential Central Air
Conditioner or Furnace Unit
Great Value
Keep Costs Low
Professional HVAC Team
Financing Options
Available
AIR PROS HOTTEST AIR CONDITIONING DEALS FOR HOMEOWNERS
Apply Now for 100% Financing On New AC Systems & Repairs
Schedule a friendly service tech to come around your neighborhood in the next hour or two.