Why is My AC So Loud? Common Causes and Solutions
Why is My AC So Loud? Common Causes and Solutions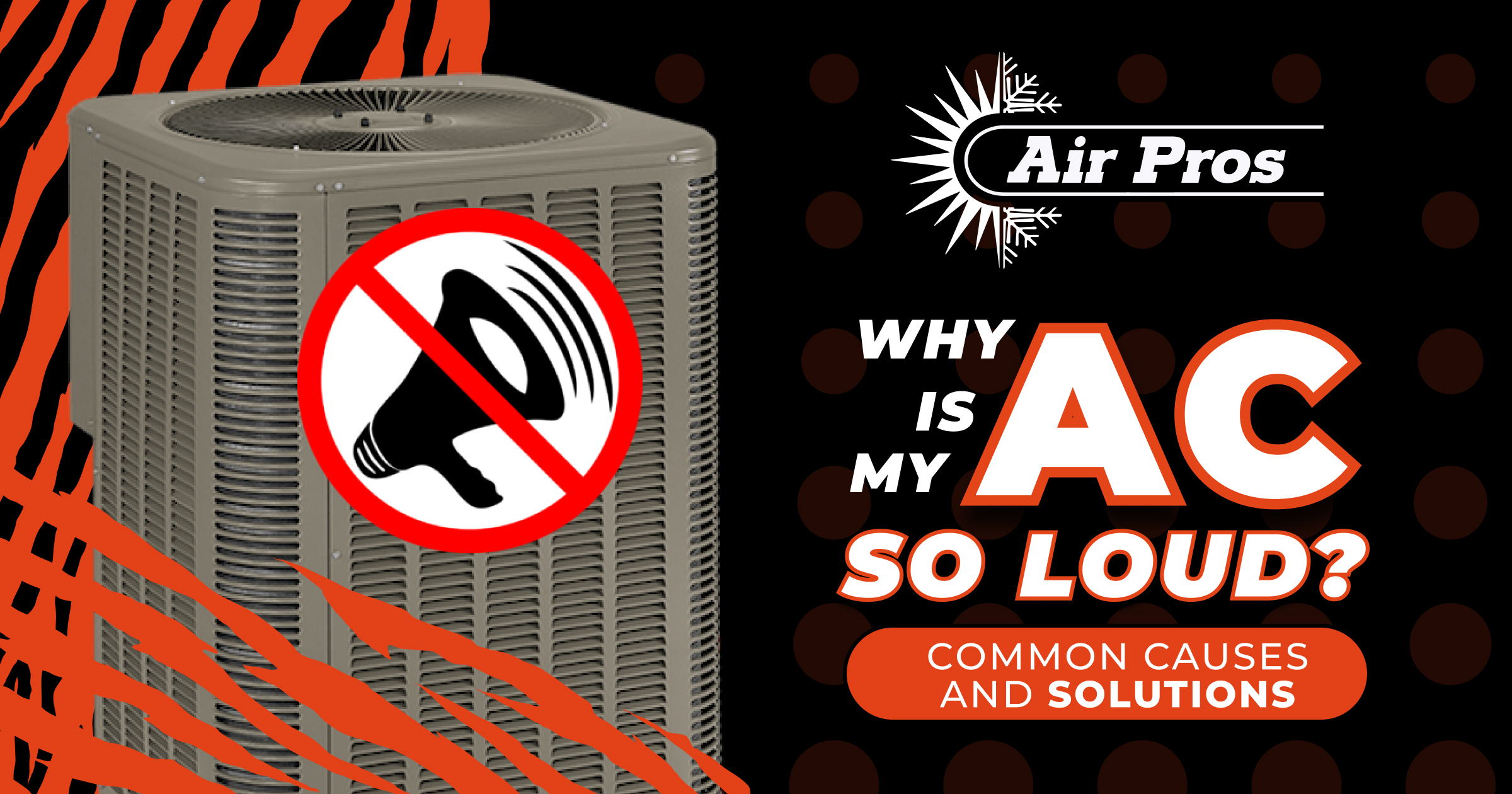 Like most people, you appreciate the cool relief your air conditioning system provides during the hot summer months. However, if your AC is making excessive noise, it can be difficult to relax and enjoy your home. Figuring out what causes that noise can be a bit of a mystery if you're not a certified AC repair technician. In this blog, we will review some of the different sounds your air conditioning can make and how they are caused. 
Different Types of Sounds and Their Causes
Air conditioners make a variety of different sounds. Some sounds are normal, while others indicate a needed repair. Sometimes this involves a simple AC fan repair; other times, the repair is more extensive. Below are the different types of odd sounds that you may hear coming from your unit:
Humming or buzzing

Rattling or shaking

Squealing or screeching

Hissing or whistling

Clicking or tapping
Below, we will discuss some of the different reasons behind these sounds. 
Broken AC Parts
Air conditioning units are mechanical units made of different components that help circulate the air throughout the house. If any of these parts break, they may produce banging sounds. If you hear these types of sounds, find an "AC repair service near me" on Google to help you find a technician who can repair this issue. 
Loose Fan Blades 
When the fan blades become loose, the unit will produce a humming sound that will not go away until the AC fan is repaired. These fan blades must be repaired or tightened as possible because if they break off, they may land in the unit's electrical system. This will cause a total system failure and may require a unit replacement. 
Broken Thermostat
If the thermostat is at the end of its lifespan, it may begin to turn on and off rapidly. In this case, you will hear the clicking sounds that the thermostat makes when it turns on. However, you will hear it more often than usual. This issue requires repair because there may be bigger electrical issues behind the frequent cycling of the thermostat. A failing thermostat will prevent the AC from producing the optimal temperatures in the home while causing your energy bills to spike. 
Refrigerant Fluid Leak
Refrigerant fluid is essential to any HVAC system because it helps the unit cool or warm the air it absorbs. Without it, the unit will not work properly to deliver the needed temperatures to the home. Sometimes, certain malfunctions of the air conditioning unit can cause the refrigerant fluid to leak out, causing a hissing sound. If it has been going on for a while without attention, the unit will make a high-pitched whistling noise. This problem is more than just an AC fan repair; it involves diagnosing the underlying issue and subsequent restoration. 
Poor Maintenance 
Sometimes those weird sounds are caused by poor maintenance. A simple collection of debris that isn't cleared out during regular maintenance services can cause a loud, whirring noise. Without appropriate maintenance, your AC will display a variety of problems that go beyond these odd sounds. We recommend searching for a local "AC repair service near me" and getting your unit up to date with its maintenance to avoid the nuisance of repairs and the noise they create. 
Old Age
It is inevitable; an AC unit ages and wears out over time.  Worn out parts cause screeching sounds that are unbearable when the AC is working. Sometimes replacing those parts is a good option, but other times, you will need to replace the unit altogether and avoid paying money for excessive repairs. 
AC Repair Services Near Me
Have you been hearing any of these odd sounds coming from your AC? If so, contact Air Pros today for fast and high quality repair services to restore your AC to its proper working condition.
Full System Health Check
Test Amps & Voltage
Safety Device Check
Starting Price
Preventive Maintenance
2 Visits Per Year
Highly Reliable
Financing Available
Annual Savings
With Any Repair Made To
Residential Central Air
Conditioner or Furnace Unit
Great Value
Keep Costs Low
Professional HVAC Team
Financing Options
Available
AIR PROS HOTTEST AIR CONDITIONING DEALS FOR HOMEOWNERS
Apply Now for 100% Financing On New AC Systems & Repairs
Schedule a friendly service tech to come around your neighborhood in the next hour or two.