Understanding the Costs of AC Repair
Understanding the Costs of AC Repair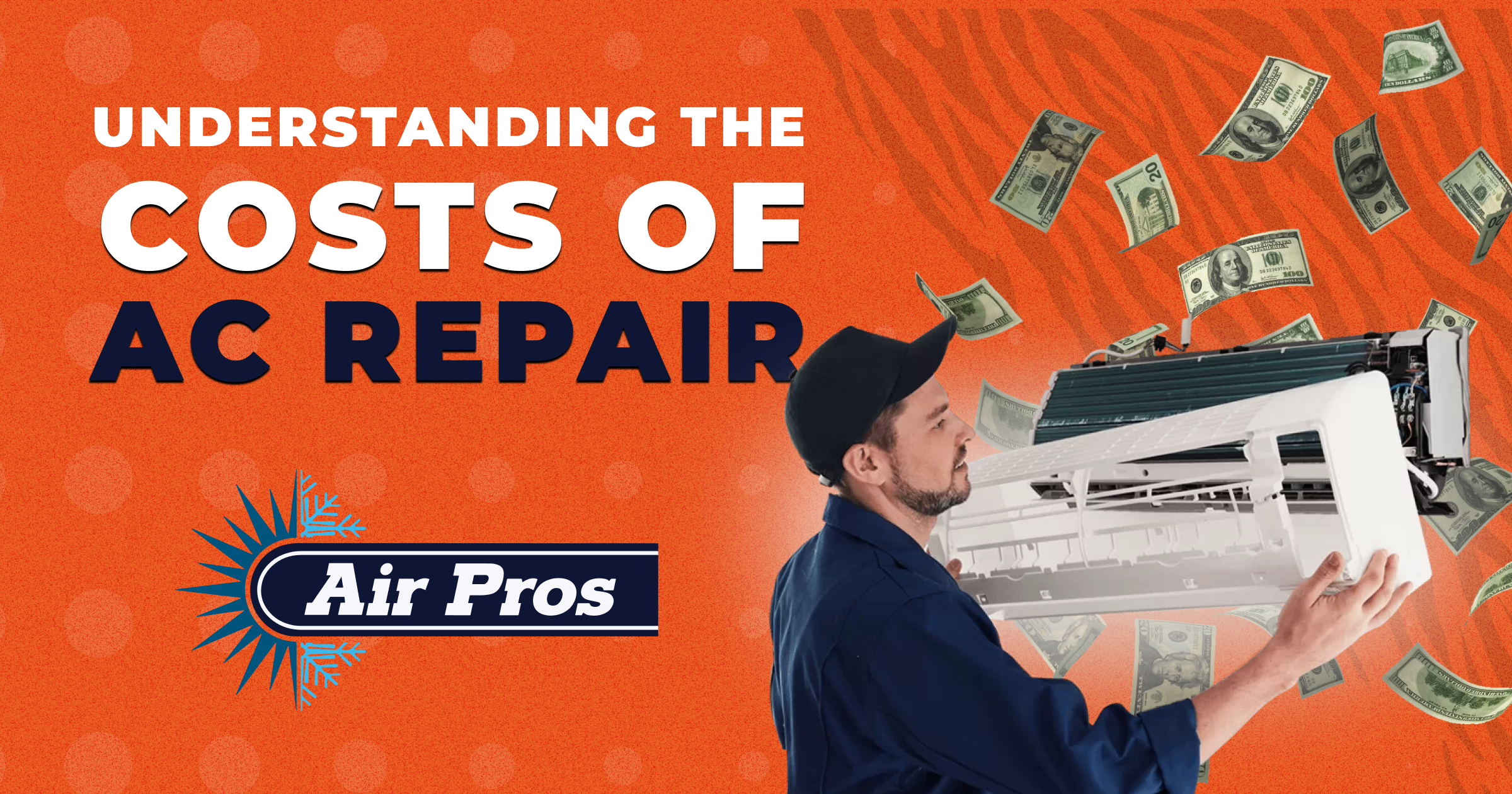 If you've ever had your air conditioning unit repaired, you may have raised an eyebrow or two upon seeing the total costs of the repair. These services, after all, are not always simple and require the attention of a specialist. At Air Pros, we offer the best repair prices and will beat any competitor. However, it always helps to understand the factors that drive these prices to mitigate any surprises. Read on to learn how the costs of AC repairs are determined and prepare yourself for any future repairs. 
How AC Repair Costs Are Determined
As with any service, AC repairs require the use of certain equipment, parts, hours of labor, and other weighing factors. The nationwide average costs of AC repairs range between $200-$800. Obviously, these prices will fluctuate with inflation and market demand. 
Costs of Parts
The various parts of an AC unit can be pretty costly to replace. Many of them are in high demand, and depending on the manufacturer, they aren't all that easy to find. The heart of the AC is its compressor, which can easily cost as much as a car transmission. With that high cost, it may be worth just replacing the entire unit altogether. And no, we do not make any profit off of the AC parts we install. Thus, we will provide you with a fair assessment and proposed solution that will be in your best interest. 
Efficiency of New Equipment
The HVAC industry continues to get better and better with advanced technology that optimizes the efficiency of new equipment. These optimal efficiency levels will cost more than older, less efficient parts. The good news is that efficient air conditioning units and their parts are often made with higher quality. They will help you save money on monthly energy bills and help you enjoy a longer lifespan of your AC unit. So in a way, paying extra AC repair costs for better equipment will serve you well in the long run. Learn how to get the most out of your current AC unit with these tips on prolonging its lifespan. 
Refrigerant Fluid Refills
If you have an air conditioning unit that runs on refrigerant fluid levels, you probably noticed that Freon refills have gone up in price. This is because it is currently being phased out due to its direct involvement in depleting the earth's ozone layer. In other words, it is bad news for the environment. In 2020, the U.S. Environmental Protection Agency forbade any more production or importing of refrigerant fluids. As its availability decreases, the pricing will continue to rise and thus, affect the costs of your AC repairs.  Learn more about how freon works on our blog. 
Licensing Costs
Sometimes the costs to keep an air conditioning technician's license plays a role in the cost of air conditioning services. Professional service is never cheap, but with Air Pros' skilled and certified technicians, you can trust that you will receive value for the fees you pay. We will get the job done right the first time because we are experts in the field. 
Warranty of Services
The best air conditioning repair techs will always warranty the repairs they provide. This means that if anything should go wrong with the performed repairs, you will get a resolution without incurring additional AC repair costs. You may see a charge that will cover the warranty on your bill, but it is like a gift that will save you money and stress down the road. This warranty of services is very important and we do not advise you to hire a technician without one. 
Get the Best Rates of AC Repairs with Air Pros!
Are you in need of air conditioning repairs for your home? If so, contact Air Pros, the fairest AC repair providers of them all. You will receive the best rates and the most amazing quality of services. We will be able to provide an assessment of your current issues and recommend the best possible steps to restore the comfort levels in your home. Contact us today at (877) 561-9730 .
Full System Health Check
Test Amps & Voltage
Safety Device Check
Starting Price
Preventive Maintenance
2 Visits Per Year
Highly Reliable
Financing Available
Annual Savings
With Any Repair Made To
Residential Central Air
Conditioner or Furnace Unit
Great Value
Keep Costs Low
Professional HVAC Team
Financing Options
Available
AIR PROS HOTTEST AIR CONDITIONING DEALS FOR HOMEOWNERS
Apply Now for 100% Financing On New AC Systems & Repairs
Schedule a friendly service tech to come around your neighborhood in the next hour or two.