How to Prepare for Hurricane Nicole's Impact
How to Prepare for Hurricane Nicole's Impact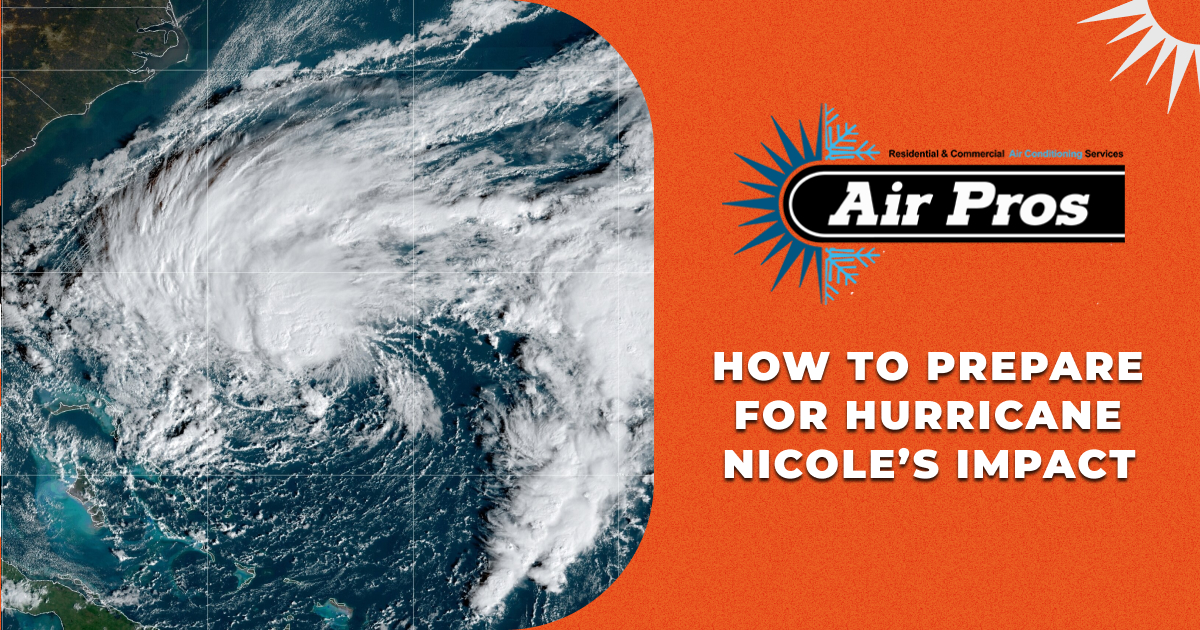 While we're still trying to catch our breaths after Hurricane Ian, weather reports forecast another blow by Hurricane Nicole. In this article, we will go over some of the basic information on what to expect from this store, how to prepare for it, and how to recover from it. Read on and prepare your home and family for another major storm. 
What to Expect from Hurricane Nicole
According to weather reports and Florida's Division of Emergency Management, Hurricane Nicole is a Category 1 storm. Hurricane Nicole is a tropical storm from 411 miles east of Vero Beach, Florida. Winds are expected to blow at 65 miles per hour. It is expected to arrive on Florida's East Coast with its devastating power by Wednesday. 
In light of this upcoming storm, a State of Emergency has been issued for 34 counties by Governor DeSantis, who provides direction for emergency preparedness for this hurricane. But what exactly does one do to prepare for such a storm? Below, we will give some valuable tips to help you prepare for Hurricane Nicole. 
How to Prepare for Hurricane Nicole 
Upon hearing this news, your initial reaction may be to panic. But we urge you to take a deep breath and take the following steps toward preparing yourself and your family for this storm. 
Gather Emergency Supplies
If the storm hits your area, ensure your supplies are prepped and ready to go at a moment's notice. Gather them together in one place or storage container that is easily accessible. Here are some items to pack in the emergency supply kit: 
Food and water

First Aid kit

Prescription medication

Flashlights & batteries

Important personal documents

Extra hygiene products (soap, toothbrush, etc.)

Extra set of clothing

Fire extinguisher



Prepare the Car
Stow any vehicles in the garage and ensure that your car has a full gas tank in case you need to evacuate. 
Prepare the Home
To preserve your home as best as possible, we recommend taking the following steps: 
Bring in any toys, bikes, grills, and other items inside.

Protect the windows and doors with storm shutters or by nailing plywood on the windows to ensure they don't shatter from the strong winds. `

Be prepared for a power outage! Gather candles and matches. If you know you'll be gone for the storm, turn the power off at the breaker to prevent a power surge in your home. If the power goes down, unplug major appliances until the power is back. 

Have a supply of water ready for drinking and bathing. 
How to Recover from Hurricane Nicole
Once Hurricane Nicole does its damage and goes on its way to other parts, you will most likely be left with a mess to clean up. Before heading home or outside to start the clean-up, wait for approval from local authorities, which will state if it is safe to do so. As you begin the recovery process, check the following parts of your home for needed repairs: 
Electricity
Is the power back on? Are all appliances working alright? If your power is not back, there may still be a power outage, or a repair tech might need to help you. 
When plugging things back into the outlets, check for water damage first. Also, be wary of any sparks or burning. If you notice any of these things, you will need the assistance of an emergency electrician before you can use those outlets. 
Water Supply
The magnitude of Hurricane Nicole may leave you without a water supply in your home. Check the sinks and faucets to see if water is coming through your home. Have a plumbing inspection after the storm. 
Check the HVAC System
A tropical storm like Hurricane Nicole is strong enough to damage your air conditioning system severely. Even if your power is back on, your AC may need to be fixed. Check for the following repairs required in your HVAC system: 
If the outdoor unit has any visible damage or has been moved from its place, it will need to be assessed for repair or replacement by a technician at

Air Pros

. 

If you can turn on the AC, check the vents for burning smells. Contact a local AC repair technician if you smell burning, and turn the AC off immediately. 

Be aware of any foul odors throughout the home. A hurricane storm will disrupt the indoor air quality of your home and cause excess mugginess and poor odors. An

air quality test

may be a great idea to ensure that you breathe good-quality air in your home. 
Another problem you can expect in an AC after a storm is misaligned or detached parts, air leaks in the ducts, and refrigerant fluid lines.  
Contact Air Pros for Assistance
Are you in need of assistance with recovery after Hurricane Nicole? Whether you are just making those preparations for it to hit or are now trying to get your home back in order, the techs at Air Pros are prepared to assist you in making the proper repairs or replacements to your AC. Contact us to learn about the service options available for your home by calling (877) 561-9730.
Full System Health Check
Test Amps & Voltage
Safety Device Check
Starting Price
Preventive Maintenance
2 Visits Per Year
Highly Reliable
Financing Available
Annual Savings
With Any Repair Made To
Residential Central Air
Conditioner or Furnace Unit
Great Value
Keep Costs Low
Professional HVAC Team
Financing Options
Available
AIR PROS HOTTEST AIR CONDITIONING DEALS FOR HOMEOWNERS
Apply Now for 100% Financing On New AC Systems & Repairs
Schedule a friendly service tech to come around your neighborhood in the next hour or two.