Reasons to Upgrade to a Smart Thermostat
Reasons to Upgrade to a Smart Thermostat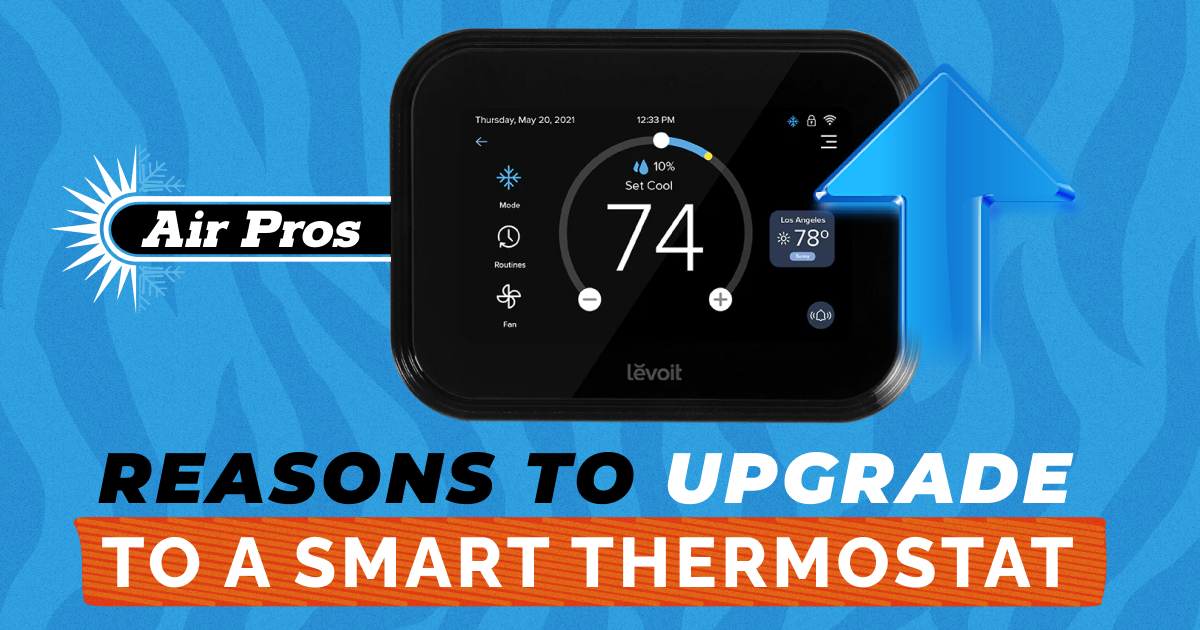 Thermostats play an essential role by signaling the AC to cycle on or off to regulate the temperature in the home. There are a variety of thermostats on the market, but in this blog, we will discuss the benefits of using a smart thermostat. 
A smart thermostat is different from manual models because it connects to the internet in your home. This allows the homeowner to control the heating and air conditioning system using an app on their smartphone or tablet. Some thermostats also have the capability to integrate with other smart systems like Google Home or Alexa. Though smart thermostat installation is a bit pricier when compared to a manual thermostat, its benefits make the investment worthwhile. 
Benefits of Using a Smart Thermostat
Isn't this a fancy gadget that will bring another expense to an already tight budget? We get this question at Air Pros, but we are here to tell you that these thermostats will provide you with cost-saving benefits and enhanced comfort at home. Here are some reasons why you would want to upgrade to a smart thermostat today: 
Increased Energy Efficiency
The energy efficiency offered by smart thermostats is reason enough to decide to upgrade. They are programmed to cycle the AC unit on and off, depending on the desired temperatures in the home.  By doing so, they save users an average of 8% on their utility bills, according to Energy Star. This means that your HVAC system will not work more than necessary, saving energy costs and helping you get the most out of your AC. Smart thermostat installations help conserve the use of ACs, thus preventing excess wear and tear that often leads to early replacements. 
Convenience and Control
Smart thermostats are also very convenient. You don't have to get up to change the TV channel, so why should you get up to change the temperatures in your house? When you have an app on your phone, adjusting your indoor climate is just a click away. Plus, because smart thermostats are controlled through an app, you can make changes without even being home. 
Improved Comfort 
Smart thermostats adjust themselves automatically based on the temperatures and humidity levels inside the home. As a result, you won't have to overthink having to change the settings because the thermostat will make them for you before you can notice the heat or mugginess. This will make for a more comfortable home environment with minimal inconveniences. 
Integration with Smart Home Systems
As previously mentioned, many smart thermostat installations integrate with smart home systems like Google Home and Alexa. This allows you to control the thermostat by voice. Smart thermostats can also be connected to smart shutters and windows, which allows better control of the temperatures throughout the home for the best possible savings and comfort levels. 
Cost Savings
With the help of a smart thermostat, your AC will only work when it needs to adjust the temperature inside the home. It can be programmed to not cycle on when you aren't home, making it an efficient and energy-saving device. 
An AC that doesn't cycle on and off all day is subject to less wear and tear. Hence, repairs won't be as common as those without a smart thermostat and the unit will last longer. . With these savings in mind, it isn't easy to pass on choosing a smart thermostat for the home. 
Contact Us for Smart Thermostat Installation 
Are you in the market for a new thermostat? Look no further than Air Pros, who will help set you up with a smart thermostat of your own! Give us a call to learn about the different thermostats we offer and set up an installation service for your home.
Full System Health Check
Test Amps & Voltage
Safety Device Check
Starting Price
Preventive Maintenance
2 Visits Per Year
Highly Reliable
Financing Available
Annual Savings
With Any Repair Made To
Residential Central Air
Conditioner or Furnace Unit
Great Value
Keep Costs Low
Professional HVAC Team
Financing Options
Available
AIR PROS HOTTEST AIR CONDITIONING DEALS FOR HOMEOWNERS
Apply Now for 100% Financing On New AC Systems & Repairs
Schedule a friendly service tech to come around your neighborhood in the next hour or two.