Texas Summer Storm Package
Texas Summer Storm Package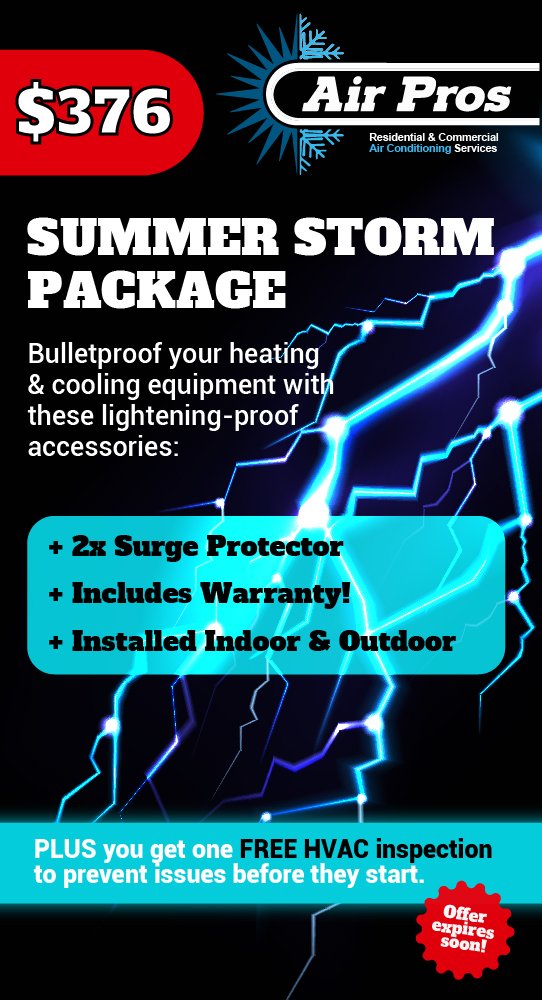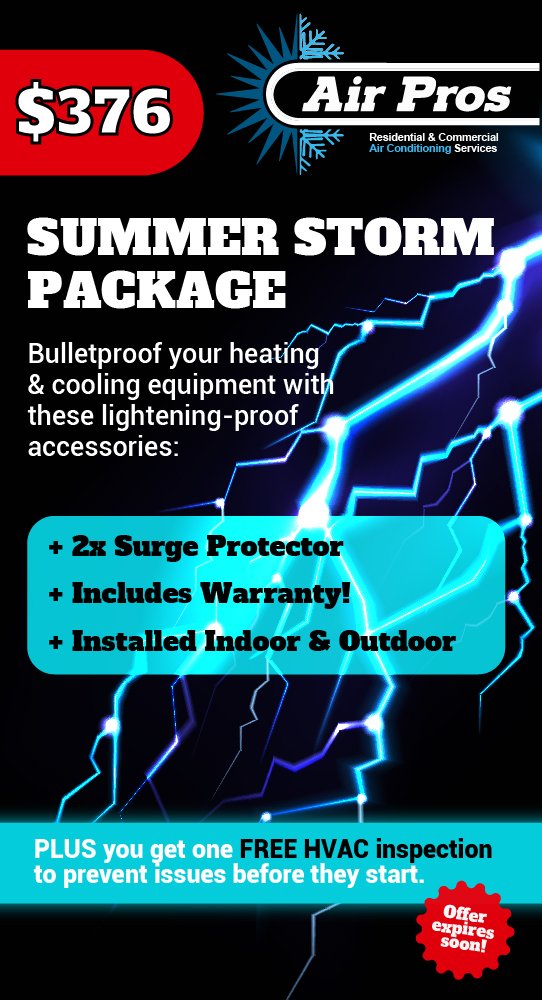 A STORM IS COMING
Power surges are the silent killer for home appliances and HVAC equipment. Stay ahead of dangerous storms with these bulletproof accessories expertly installed by our top gun HVAC team. Our team is standing by for your call!
We can quickly, securely and expertly install the following to BULLETPROOF your HVAC system for just $376 and includes the following:
Surge Protector x2
This protects high-efficiency cooling systems, hydronic heating systems, and ductless mini-splits from surges and spikes. It's rugged, reliable, outdoor rated and offers superior diagnostics
Includes Warranty
That's right! Your equipment is protected by warranty giving homeowners maximum peace of mind.
Indoor and Outdoor
Our equipment is installed on both the inside and outside of your homes (including condenser, compressors, air handlers,furnaces etc). This ensures a high degree of security for your heating and cooling system during powerful storms.
Feel secure doing a storm – call our team now to lock in this deal before the bad weather hits!
By failing to prepare, you are preparing to fail.
– Benjamin Franklin
Order Air Filters – NEW!
Duct & Dryer Cleaning Services – NEW!
Beastmaster Duct Cleaning – NEW!
Attic Insulation Services – NEW!
Repair
Install
Specials
Financing
Schedule Service Call
Full System Health Check
Test Amps & Voltage
Safety Device Check
Starting Price
Preventive Maintenance
2 Visits Per Year
Highly Reliable
Financing Available
Annual Savings
With Any Repair Made To
Residential Central Air
Conditioner or Furnace Unit
Great Value
Keep Costs Low
Professional HVAC Team
Financing Options
Available
Schedule a friendly service tech to come around your neighborhood in the next hour or two.