Spokane Area Veteran Awarded with Free Furnace Unit in Celebration of Veterans Day
Spokane Area Veteran Awarded with Free Furnace Unit in Celebration of Veterans Day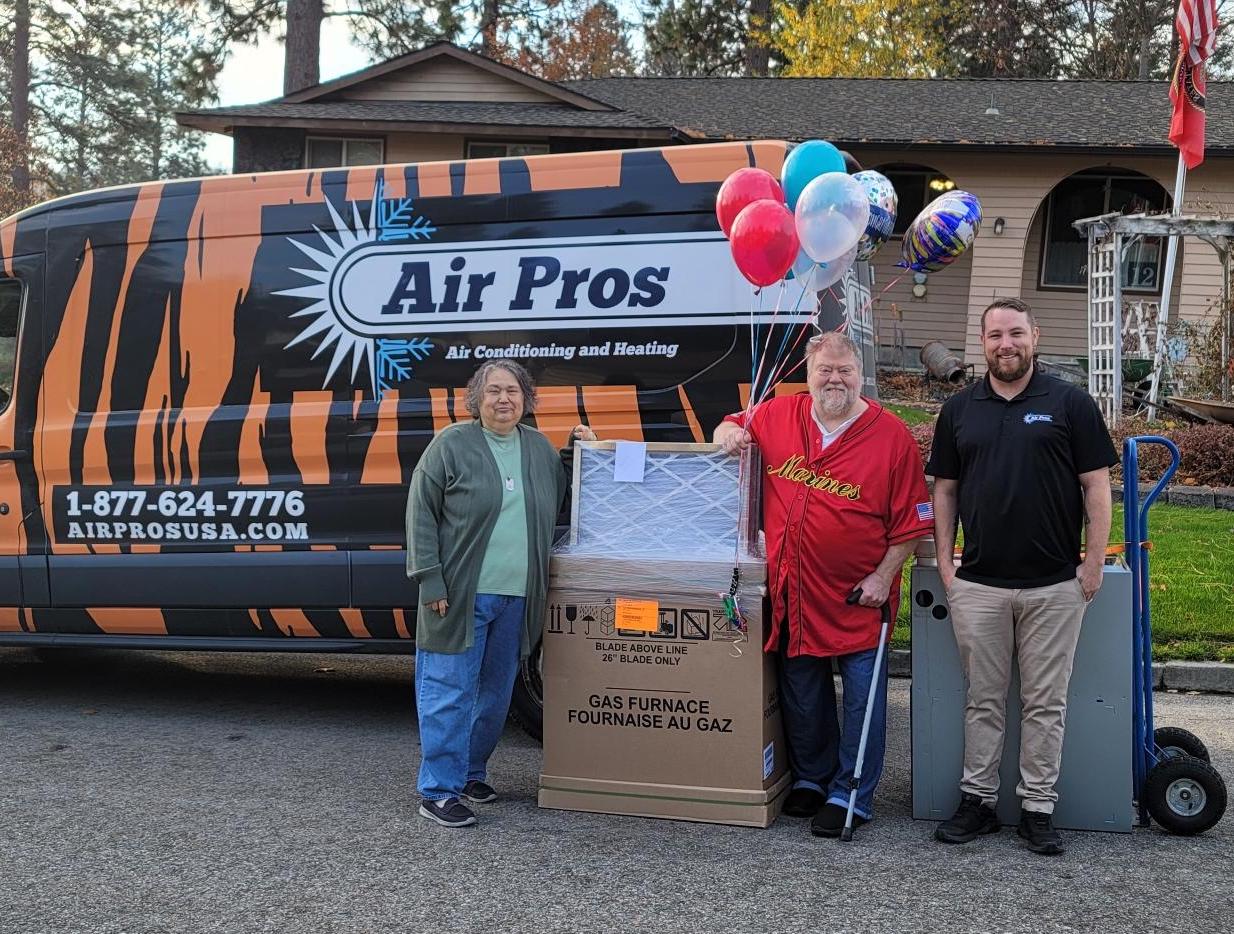 Local Veteran won public vote in Air Pros USA's Veterans Day Giveaway
Spokane, Washington (November 3, 2021) – Air Pros Residential and Commercial Air Conditioning Services (Air Pros USA) is thrilled to announce the winner of the company's 2nd annual Veterans Day Giveaway is Gary Heath, a local Veteran of the United States Marine Corps. Air Pros USA honored the local military hero at his Spokane Valley home by presenting him with a new furnace.
Gary Heath is a 75-year-old Vietnam Veteran who enlisted in the military right after graduating from high school when he was 17 years old, knowing he would be going to Vietnam. He was in the battle at Marble Mountain in Vietnam and blown out of a truck. Gary was also exposed to Agent Orange which has left him permanently disabled. Gary's wife of 51 years, Barbara, says that he was offered a Purple Heart but refused it.
Air Pros USA sponsored the contest to honor the men and women in the Spokane community who have served and sacrificed for our country by sharing their stories. Gary was nominated by his wife and after 10 days of public voting, he received the most votes to win the new furnace.
It comes just in time. Gary and Barbara's 28-year-old furnace is failing and they rarely turn it up higher than 68 degrees because it is too expensive to run.
Gary belongs to the Vietnam Veterans Group at the Vet Center in Spokane Valley, as well as The Marine Corps League charity organization. He is constantly doing things for other vets, and he helps with Toys for Tots every year, as well as participates in the Spokane Lilac parade.
Air Pros USA surprised Veterans in five cities this month with a free furnace or air conditioning unit. For more information about the company's Veterans Day GIveaway, visit www.airprosusa.com.
About Air Pros USA:
Air Pros USA was founded in South Florida in 2017 on the promise of integrity, reliability, and putting our customers first. The company has quickly expanded to many metro areas within Florida, Alabama, Mississippi, Colorado, Georgia, Texas, and Washington, with more locations expected to be introduced soon. Air Pros USA currently employs more than 450 experienced professionals in more than a dozen metro Service locations including Miami, Orlando, Dallas, Atlanta, Colorado Springs, Mobile and Spokane. For more information or details on franchise opportunities visit www.airprosusa.com.
For media inquiries, please contact:
Mayra Vasquez-Chavez
10 to 1 Public Relations
480-514-1070
mayra@10to1pr.com
Full System Health Check
Test Amps & Voltage
Safety Device Check
Starting Price
Preventive Maintenance
2 Visits Per Year
Highly Reliable
Financing Available
Annual Savings
With Any Repair Made To
Residential Central Air
Conditioner or Furnace Unit
Great Value
Keep Costs Low
Professional HVAC Team
Financing Options
Available
AIR PROS HOTTEST AIR CONDITIONING DEALS FOR HOMEOWNERS
Apply Now for 100% Financing On New AC Systems & Repairs
Schedule a friendly service tech to come around your neighborhood in the next hour or two.