Air Pros Gives Local Fort Myers Veteran New Air Conditioning Unit
Air Pros Gives Local Fort Myers Veteran New Air Conditioning Unit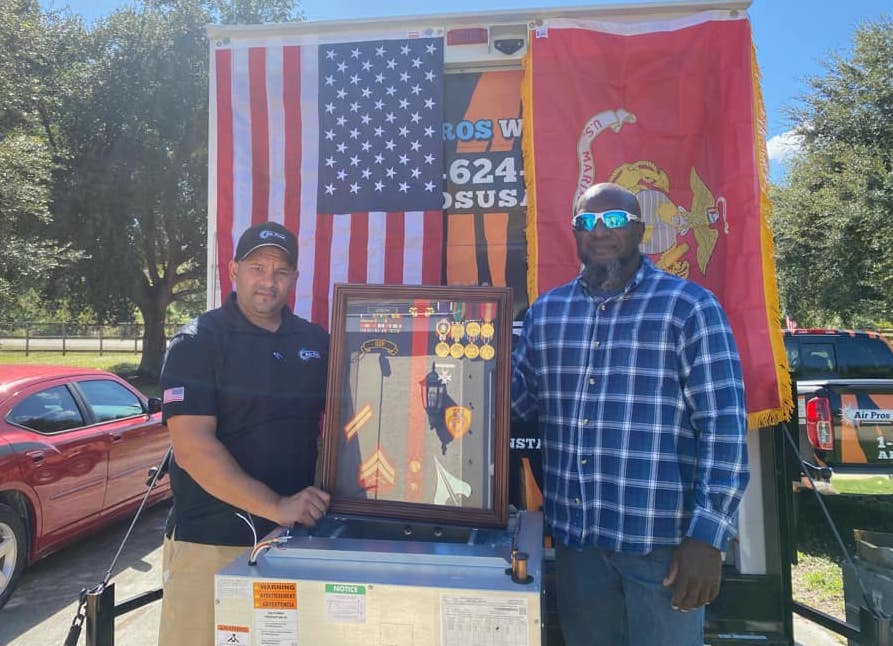 Air Pros is proud to announce the winner of the 2021 Fort Myers Veteran's Day A/C Giveaway is former Marine vet and Fort Myers area resident Bobby Joseph.  To help honor the incredible sacrifices men and women, who serve or have served for our country have, Air Pros Residential and Commercial Air Conditioning Services donated a brand new air conditioning unit and installation free of charge to the deserving veteran.
Mr. Joseph expressed extreme gratitude upon being selected as the winner of the 2nd annual Veteran's Day giveaway that Air Pros USA put on.  He served as a special forces and infantry machine gunner in the armed forces defending our country as a marine for over a decade and spent 3 tours in Iraq amongst several other countries abroad.  In his last tour in Iraq, Bobby was injured in an explosion and endured significant brain damage, from which he has spent years overcoming.  In spite of his hardships, he continues to make the most of every day and loves spending time with his horses in South Florida.  On top of that, he continues to stay involved in the local community and regularly gives speeches to motivate those around him.
Air Pros owner and founder, Anthony Perera expressed, "We are honored to be able to recognize a local military hero and provide him with a brand-new air conditioning unit and installation this Veterans Day.  We truly loved learning about our local Veterans through this giveaway. This is just a small way for us to express our gratitude for their service to our country."
Air Pros hosted the giveaway in an effort to give back to those who have given so much for our country.  This was one of 5 surprise AC or furnace giveaways in cities across the U.S. to help give thanks on this years Veteran's Day.  To learn more about Air Pros and how you can help give back to our country's incredible veterans, go to https://www.airprosusa.com.
Full System Health Check
Test Amps & Voltage
Safety Device Check
Starting Price
Preventive Maintenance
2 Visits Per Year
Highly Reliable
Financing Available
Annual Savings
With Any Repair Made To
Residential Central Air
Conditioner or Furnace Unit
Great Value
Keep Costs Low
Professional HVAC Team
Financing Options
Available
Schedule a friendly service tech to come around your neighborhood in the next hour or two.