Florida-Based Air Pros USA Teams up with Florida Gators Football and Alachua County Veteran Services Division to Provide Local Veteran with a free A/C Unit
Florida-Based Air Pros USA Teams up with Florida Gators Football and Alachua County Veteran Services Division to Provide Local Veteran with a free A/C Unit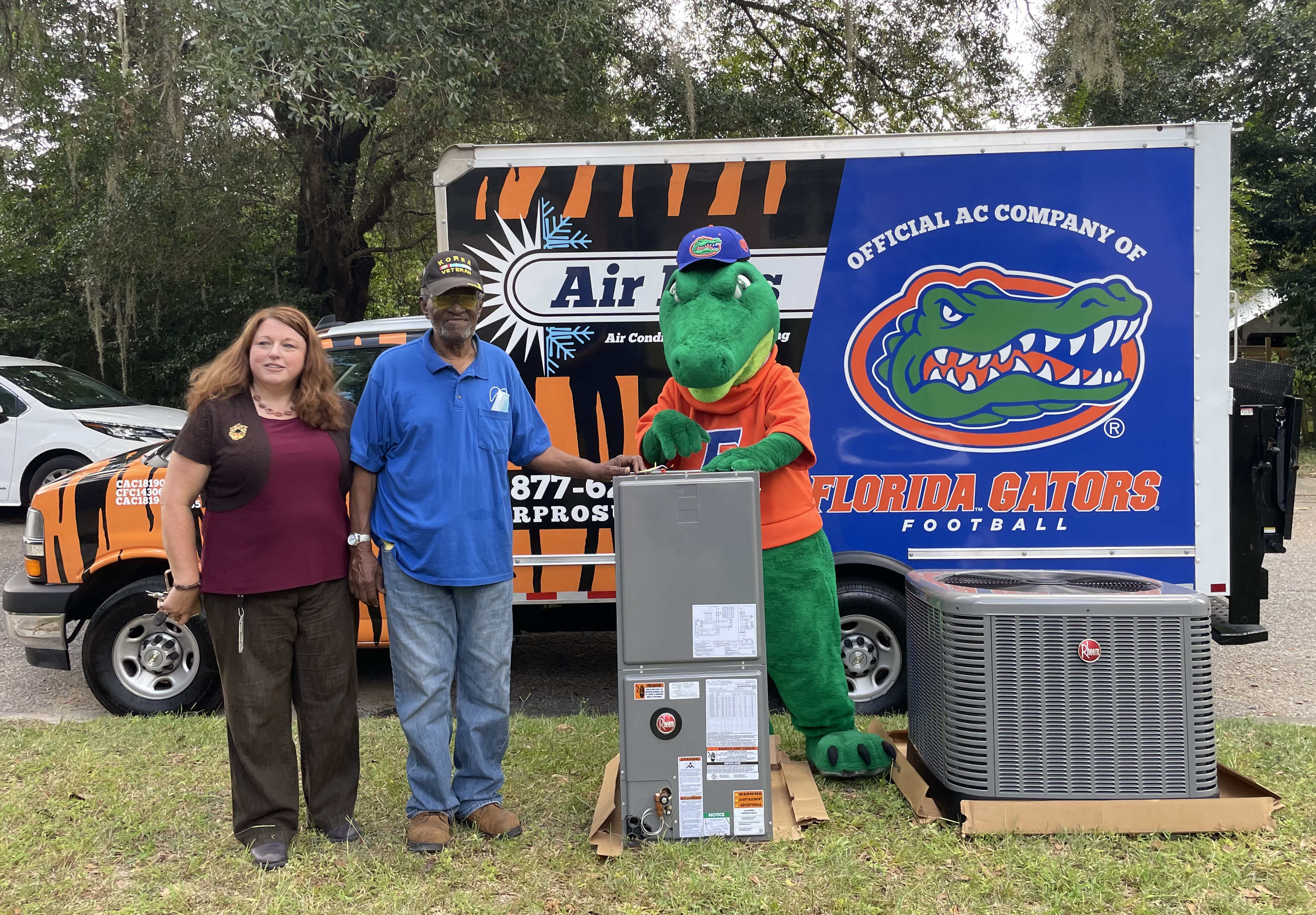 Gainesville, Florida (October 8, 2021 ) – The Florida Gators Sports Properties and Air Pros USA, a leading residential and commercial air conditioning services company and the official Air Conditioning partner for Gators football, will come together for the annual "Saluting Those Who Serve" initiative to recognize a local Veteran. Working with the Alachua County Veteran Services Division, Air Pros USA and the Florida Gators will award 88-year-old Eddie Thomas, a decorated Korean War Veteran, with a brand-new air conditioning unit and installation, free of charge.
Thomas was nominated by the Alachua County Veteran Services Division because of his service to the country and he has a 23-year-old A/C unit in need of being replaced. Thomas served in the United States Air Force from 1954-1958, as well as during the Korean War. His service included overseeing security at his base in Germany as well as the K-9 units. Thomas says that the military was ahead of its times in terms of diversity and inclusion to put him in such a supervisory role at a young age.
During active-duty Thomas earned a Good Conduct Ribbon, Overseas Service Ribbon, Outstanding Unit Award, Small Arms Expert Award, the National Defense Medal, the Korean Defense Service Medal and the United Nations Service Medal. His military service is such a source of pride for him. Thomas, who is legally blind, still volunteers and serves on the Korean War Veterans of America Color Guard at Veteran events and funerals.
Air Pros USA is continuously finding ways to give back to the community, including Veterans and military service members, to thank them for their service. For more information or details on franchise opportunities visit www.airprosusa.com.
For media inquiries, please contact:
Joanne Sgro-Killworth
10 to 1 Public Relations
480.363.0403
Full System Health Check
Test Amps & Voltage
Safety Device Check
Starting Price
Preventive Maintenance
2 Visits Per Year
Highly Reliable
Financing Available
Annual Savings
With Any Repair Made To
Residential Central Air
Conditioner or Furnace Unit
Great Value
Keep Costs Low
Professional HVAC Team
Financing Options
Available
AIR PROS HOTTEST AIR CONDITIONING DEALS FOR HOMEOWNERS
Apply Now for 100% Financing On New AC Systems & Repairs
Schedule a friendly service tech to come around your neighborhood in the next hour or two.