Indoor Air Quality Concerns in Thibodaux, LA
Indoor Air Quality Concerns in Thibodaux, LA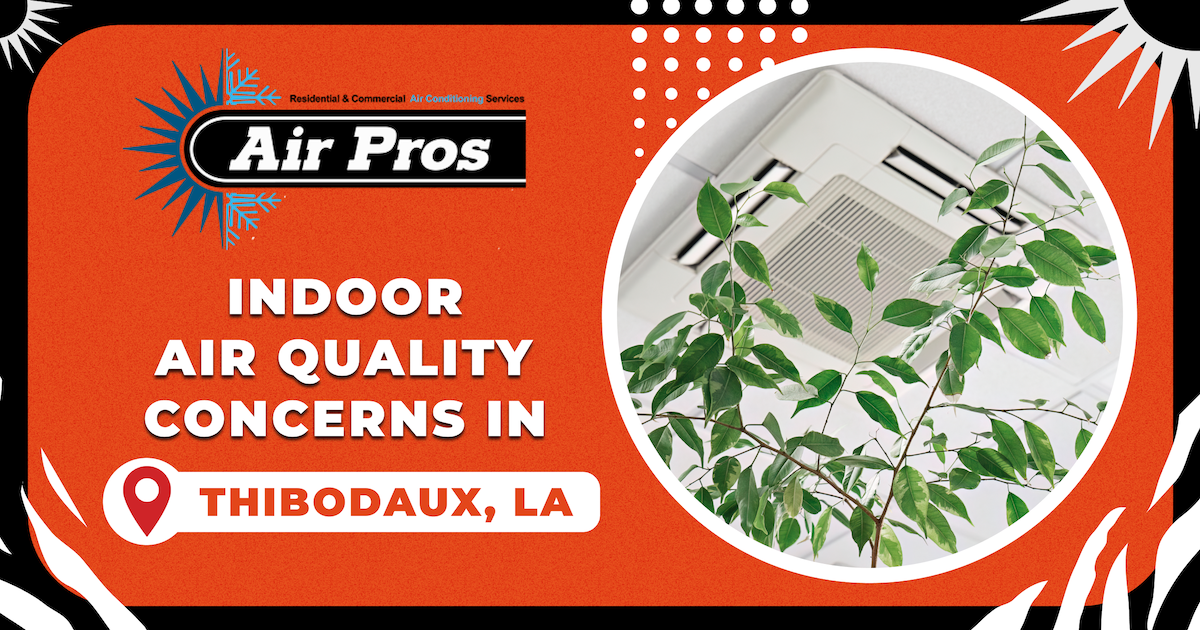 Air quality is important both on the inside and the outside of the home. Air quality in Louisiana is particularly concerning to many residents throughout the states. So how does the state's air quality measure up in relation to other parts of the country? In Louisiana, the air quality varies from city to city, with Thibodaux as the 7th most polluted city, according to IQAir. 
It is probably not surprising to know that outdoor air quality affects the indoor air greatly. In this article, we will discuss what factors of Louisiana's air play a role in the indoor air quality concerns of its residents. We also provide a few tips for how to enhance indoor air quality despite the outdoor air. 
Chemical Contaminants
The air quality in Louisiana is greatly affected by the chemical plants built throughout the state. These plants emit large amounts of toxins into the air that affect the air throughout their regions, including the insides of people's homes. Because of these emissions, Louisiana has poor air quality in comparison to other states throughout the country. 
Chemical contaminants are also present in homes and they can be found in older furniture, old wall coverings, and harsh cleaning products. Poor indoor air quality affected by chemicals often lead to bad health outcomes. If you feel that the air in your home is somewhat compromised, it may be time to reach out to an HVAC company for help. 
Excessive Humidity
Louisiana is located in a region that is very tropical and therefore, humid. The muggy air is nearly constant and doesn't hesitate to enter the home. Too much moisture inside the home leads to an increase in mold. Mold is a great effect on the air quality in Louisiana. If it is in the air, it can be very harmful to the body and will lead to upper respiratory health challenges. 
The air conditioning unit does its best to pull out all the moisture but on particularly humid days, a humidifier will come in handy. Some humidifiers can be a standalone devices placed inside the home and others are attached directly to the HVAC system. It will provide that extra support in extracting the extra moisture in the air and promoting a fresher, cleaner quality of air.
Stale Air 
With high humidity levels, it is common to develop stale air inside the home. The staleness is caused by the lack of circulation of air throughout the house. If your home doesn't have an air conditioning unit or a ceiling fan, this stale air will be ever present in your home. Stale air compromises the indoor air quality in Louisiana as it causes an unfavorable smell. 
Depending on the level of stale air, it can become harmful for one's health. It is possible to develop headaches, fatigue, exacerbated allergies, and other respiratory conditions. Stale air also causes certain skin irritations.
Ways to Enhance Indoor Air Quality in Louisiana
Clearly, indoor air quality is very concerning in Louisiana. For the sake of your health, it is extremely important to ensure that you take the necessary steps to improve the air in your home. Air Pros offers a variety of Indoor Air Quality Services that will help protect your home. Below is a quick snapshot of the various ways Air Pros can help you enhance your air quality: 
Indoor Testing Service: This test allows the technicians to get a baseline of the quality of your air by testing for dust, pollen, mold, and other factors that affect the air. 

Indoor Air Quality products: air cleaners and filters, UV air purifiers, HEPA filters, and ventilators
We also offer duct cleaning and dryer vent cleaning that removes all the debris and prevents it from circulating in the air. Our prices are affordable and most days, you can request same day service.  
Recently, we wrote an article on how UV air purifiers work to enhance your indoor air quality in Louisiana. Check it out and learn about air purifiers. 
Contact Air Pros for Indoor Air Quality Services!
Are you in need of indoor air quality testing and services? Contact Air Pros today to schedule your test with one of our NATE Certified service technicians. Our techs will help you live a healthy and comfortable life in your home. Call us today at (877) 561-9730.
Full System Health Check
Test Amps & Voltage
Safety Device Check
Starting Price
Preventive Maintenance
2 Visits Per Year
Highly Reliable
Financing Available
Annual Savings
With Any Repair Made To
Residential Central Air
Conditioner or Furnace Unit
Great Value
Keep Costs Low
Professional HVAC Team
Financing Options
Available
AIR PROS HOTTEST AIR CONDITIONING DEALS FOR HOMEOWNERS
Apply Now for 100% Financing On New AC Systems & Repairs
Schedule a friendly service tech to come around your neighborhood in the next hour or two.