How to Prep Your HVAC for Spring
How to Prep Your HVAC for Spring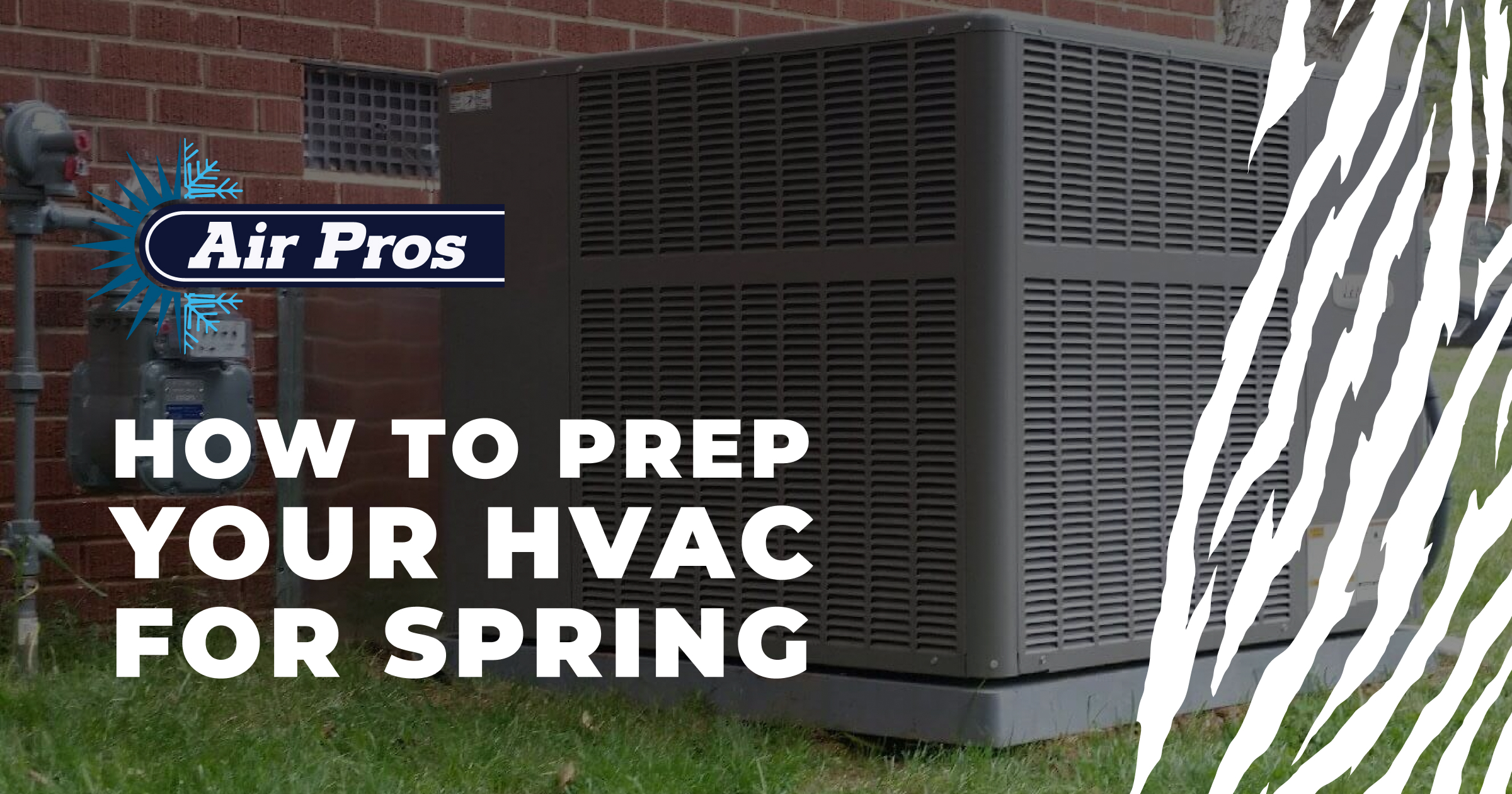 Springtime is fast approaching and with it will come different weather temperatures. As we look forward to those warm spring days, it is important to consider the air conditioning unit and ensure that it is ready for a new season of work. As the top AC repair experts in Weston, FL, we at Air Pros provide several tips on how to prep your HVAC for the spring and summer. 
Is your HVAC Unit Prepared for the Spring Season?
Change the Air Filters
How many times have you changed your air filters through the winter months? More than likely, your HVAC was busy keeping your home comfy and cozy all winter long. After that reliable performance, it probably accumulated a large amount of dust and debris in the air filters. To maintain good indoor air quality, it is important to have those filters cleaned or changed at least every six months. 
Clogged air filters lead to poor efficiency levels, high energy bills, and quicker wear and tear of the HVAC unit. If you do not keep up with your filters, you will find yourself calling AC repair in Weston, FL more often. 
Test the Thermostat
It is a good practice to check your thermostat at the start of every season. Because the thermostat controls the rest of the HVAC unit, any of its disrepair will lead to a poorly functioning unit. 
One of the most common issues with thermostats is old batteries that need to be replaced. With low batteries, your thermostat won't perform as well and this will translate over to the entire HVAC unit. Luckily, you don't have to call AC repair in Weston, FL to have this fixed as it is fairly easy to replace the batteries by yourself. 
Have Your Indoor Air Quality Tested
As we all recover from the winter festivities, we must admit that all the cooking, baking, and parties we threw probably left the indoor world in need of a bit of TLC. Contact a local AC service company to have the quality of your indoor air tested. An indoor air quality test will let you know how your indoor air quality is and provide suggestions on what you can do to improve it. 
Indoor air quality plays a significant role in the health of everyone inside. If it's too dusty or stuffy, you or your family members may develop upper respiratory problems like allergies and asthma. 
Sometimes the AC repair techs in Weston, FL discover mold growing in places where you would least expect it. Mold is a nightmare for many homeowners and must be dealt with in a timely manner. 
Clean the Outdoor Unit Area
It is possible that the area around the outdoor unit of your HVAC is inundated with stuff. If this is very much the case for you, don't feel bad. It happens all the time as that area is a magnet for all clutter, toys, debris, and all other forms or dirt. Take the time to clear the area and ensure that it is clear of all stuff. Doing so will ensure that nothing gets into the unit that would hinder its performance. 
Sometimes dirt and debris gets caught on the AC coils. This will slow down the efficiency of the unit and can even cause it to produce hot air instead of cold. Because of this, keeping the outdoor AC unit neat and tidy is very important. 
Schedule an HVAC Maintenance Visit
One of the best things you can do to prepare your HVAC for the spring is to schedule a maintenance visit. As you go through your spring cleaning checklist, a maintenance inspection is the most appropriate action to take as it makes sure your AC is working at its best and is as clean as possible. A regular maintenance check will go a long way towards prolonging the lifespan of your HVAC unit and minimizing the amount of future repairs. 
Quality AC Repair in Weston, FL
How do you think your AC will fare in the coming months? Do you have anything you're concerned about? If so, contact Air Pros today to get the best AC repair services in town. Whether you need a repair or a regular tune-up, we are just one phone call away to ensure that your home is as comfortable as ever before. Call us at (877) 561-9730.
Full System Health Check
Test Amps & Voltage
Safety Device Check
Starting Price
Preventive Maintenance
2 Visits Per Year
Highly Reliable
Financing Available
Annual Savings
With Any Repair Made To
Residential Central Air
Conditioner or Furnace Unit
Great Value
Keep Costs Low
Professional HVAC Team
Financing Options
Available
AIR PROS HOTTEST AIR CONDITIONING DEALS FOR HOMEOWNERS
Apply Now for 100% Financing On New AC Systems & Repairs
Schedule a friendly service tech to come around your neighborhood in the next hour or two.