How Much Does It Cost to Replace an AC Unit
How Much Does It Cost to Replace an AC Unit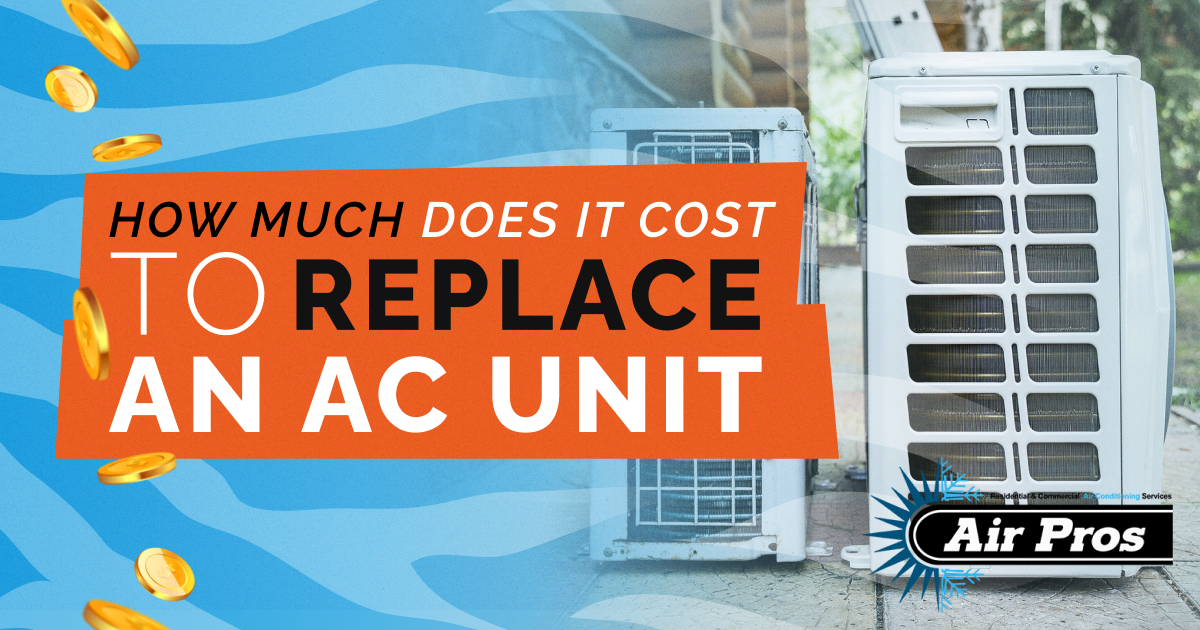 The fall season is now upon us. As the warmer months come to a close, you may be considering replacing your AC unit, especially if your present one hasn't functioned very well over the summer months. With the rising cost in almost every industry, it is essential to do your due diligence in researching the best possible options for your AC unit replacement. 
As season AC techs, we at Air Pros know all the common questions homeowners typically ask prior to purchasing a new unit. In this article, we will break down the costs of AC units and what to expect when you're making your purchase. 
Did you know that you can finance your HVAC unit? Check out our Financing Options to learn more. 
What Makes the Average Cost to Replace an AC System
There are several factors that go into the cost of replacing an AC system. The unit purchase, labor, and type of air conditioning unit you choose, all go into account when calculating the grand total for this project. But the main peak points are in the new unit's energy efficiency levels, ductwork, and labor costs.
Energy Efficiency Levels
Energy efficiency is essential in an air conditioning unit. It is rated by the amount of energy it uses to produce the cooling effect in your home. The goal is to have your AC unit use the least amount of energy to produce the most optimal levels of cool air. The higher the efficiency level, the higher the average cost to replace an AC system. 
It is important to note that aside from the initial costs, the efficiency levels of your new AC will also determine the long-term monthly operational costs of the unit. Low-efficiency air conditioning units will drive your monthly fees higher, making a more significant dent in your wallet over the course of years you use that AC unit. 
High-efficiency levels also prolong the lifespan of your AC unit. Check out some of our tips on how to maintain your AC's efficiency levels on our blog. 
Ductwork
If you are electing to install a central AC unit in your home for the first time, it may be required to install ductwork before the actual AC installation. Ductwork is the artery system of an AC that facilitates cool air throughout the home with the help of air vents and filters. This process requires material and is very labor intensive. Thus, it will increase the costs of your AC installation. 
Prior to AC installation, your AC tech will take the time to inspect any current ductwork for needed repairs. If repairs are required, AC replacement costs will be higher. To avoid this from happening, we recommend keeping up with regular AC maintenance inspections where ductwork will be inspected and repaired if needed. 
Labor Costs
Not every AC installation process is the same. Some homes will require more work than others. For example, we sometimes find that pouring a bit of concrete is necessary to create a flat surface on which to place the outdoor unit. This process adds to the average cost of replacing the AC system. However, most air conditioning installation technicians will take the time to inspect your current AC system and the needs of your home to assess the fees prior to beginning the work. 
Are you thinking about financing your new AC unit? Read our blog to learn everything you need to know about AC unit financing. 
Quality AC Installation
Are you in need of a new air conditioning system for your home? Air Pros provides the highest quality AC installation services for a price you can afford. Our friendly technicians have been providing these installations for many years and are experienced in addressing any of your concerns and challenges. Contact us today for your quote or to schedule a visit with one of our highly qualified technicians. Call us at (877) 561-9730.
Full System Health Check
Test Amps & Voltage
Safety Device Check
Starting Price
Preventive Maintenance
2 Visits Per Year
Highly Reliable
Financing Available
Annual Savings
With Any Repair Made To
Residential Central Air
Conditioner or Furnace Unit
Great Value
Keep Costs Low
Professional HVAC Team
Financing Options
Available
AIR PROS HOTTEST AIR CONDITIONING DEALS FOR HOMEOWNERS
Apply Now for 100% Financing On New AC Systems & Repairs
Schedule a friendly service tech to come around your neighborhood in the next hour or two.