Five Ways to Improve Indoor Air Quality Today
Five Ways to Improve Indoor Air Quality Today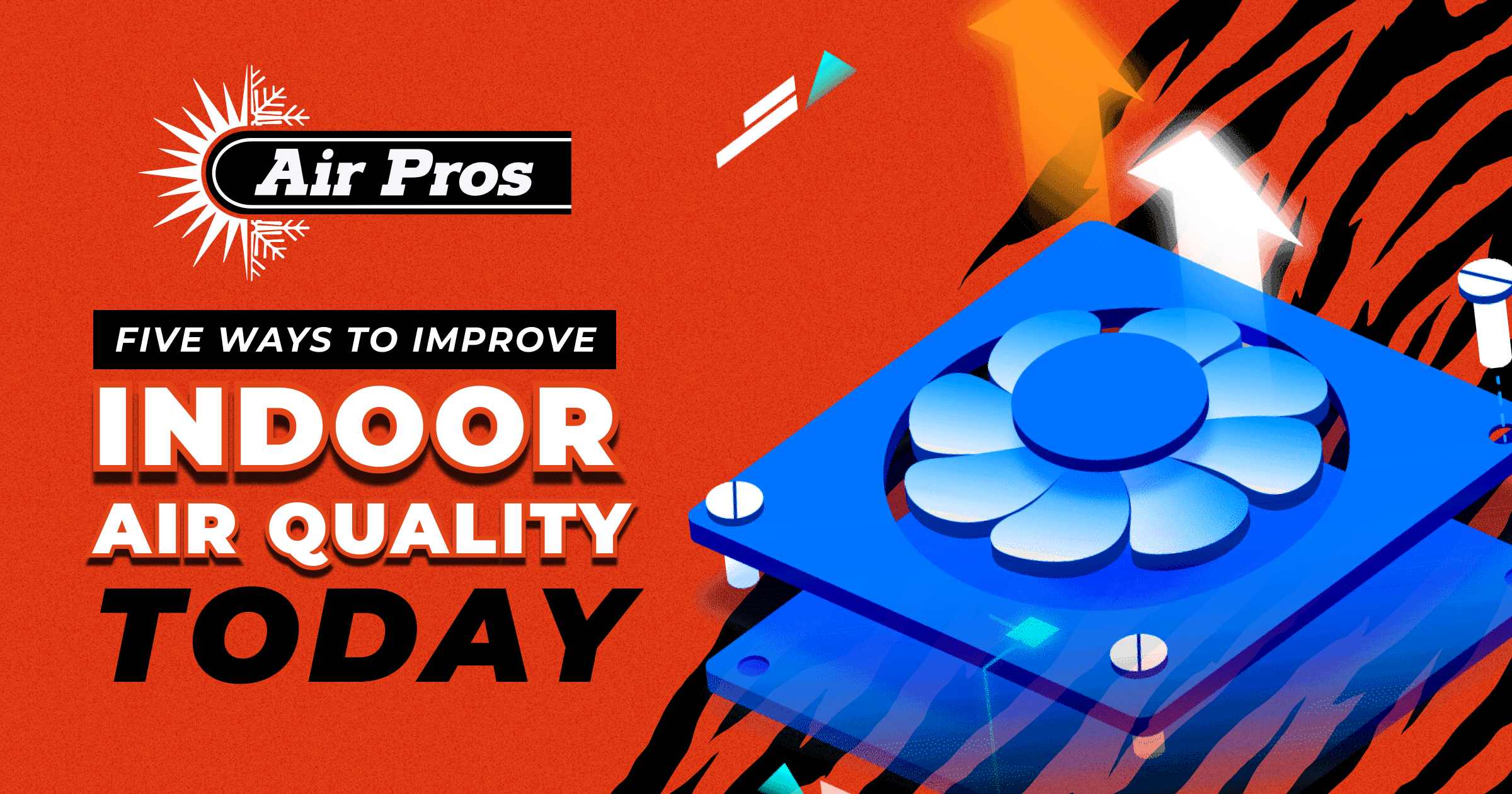 The home's indoor air quality is an essential part of healthy living.  Pollutants, debris, dust, and allergens accumulate inside the house occasionally  and must be addressed to promote a healthy breathing environment. As the top emergency AC repair techs in Miami, we at Air Pros specialize in enhancing and improving the air quality of our customers' homes. 
In this blog, we will go over some of the characteristics that make up good indoor air quality and explain the situations in which poor indoor air quality is considered an emergency. Finally, we will leave you with five tips you can use today to help improve the air you breathe at home. 
How is Good Indoor Air Quality Defined?
According to the Environmental Protection Agency, indoor air quality is based on the number of pollutants found around and within a building or structure and how it affects the health and well-being of its occupants. Good indoor air quality isn't defined as the absence of pollutants but as practices that keep these pollutants under control so that they are not harming the health of those inside. 
Most air conditioning repair companies offer an indoor air quality test that measures the presence of pollutants, allergens, and other organisms in the air. That test must reflect these pollutants within a specific percentage for the home's air to be deemed safe for breathing. 
When is Poor Indoor Air Quality Considered an Emergency AC Repair 
Is indoor air quality ever a cause for immediate concern? As the top experts in this area, we are here to tell you that there are several instances in which the air you breathe is considered an emergency in Miami and requires AC repairs immediately. These situations are outlined below: 
The Smell or Presence of Mold
If the home has a moldy odor, you should take the smell as a hint to investigate. If you follow the smell, you may discover the presence of mold. However, whether you discover those moldy spots, you must call a professional who can narrow down its cause. They will be able to remove the mold and its accompanying smells. When mold persists in the home, it will cause adverse health outcomes like asthma, allergies, and other respiratory problems. It will also cause damage to the structures of the house. 
Refrigerant Leaks
You may have a refrigerant fluid leak if you smell chemicals. That smell may be accompanied by a hissing noise or even a puddle around the AC unit. Refrigerant fluid is toxic; if it leaks from the unit, you must contact an AC emergency repair tech in Miami. 
Blocked or Dirty Air Filters
Dirty air filters cause the air to get stuffy and even muggy because they block proper air circulation throughout the house. When the air filters are clogged, you must have them cleaned or replaced to prevent potential problems with your health and the air conditioning unit. 
Electrical Issues 
In rare but urgent circumstances, electrical issues within the air conditioning system can cause a fire in the home. The smell of burning, the sight of sparks, or tripped breakers may cause poor indoor air quality and a hazardous situation in the house. If you suspect these issues, turn the air conditioning system off at the breaker and call an emergency AC repair tech in Miami for help. 
Simple Steps to Enhance Your Home's Air Quality
Maybe you're not experiencing any of the aforementioned problems in your home. However, you still want to do what you can to maintain a healthy breathing environment in your home. Here are some tips for how you can achieve quality indoor air with a few simple steps: 
Ventilate Your Home
Occasionally open the doors and windows in your home to let fresh air flow  through. Doing so will remove any mugginess, dust, or foul smells that originate in the house. 
Use Air Purifiers
Buy air purifiers that will kill any pollutants and allergens in the air. This will help you keep allergies at bay.
Keep Your Home Clean
Make it a habit to dust your home and run the vacuum. These small cleaning practices will help you keep the indoor air clean and sanitary. 
Maintain Your HVAC System
Keep up with regular maintenance services provided by your local Miami AC technicians as they make sure your unit and ductwork are clean. This service prevents that unit from releasing negative pollutants into the air. 
Avoid Smoking Indoors
Lastly, avoid smoking cigarettes indoors as that smoke gets trapped inside the home and affects the respiratory health of everyone in it. 
Emergency AC Repair in Miami
Are you experiencing any challenges with your indoor air? Call Air Pros today for prompt and reliable services that will help narrow down the cause of poor indoor air quality and restore it to a healthy level. 
Full System Health Check
Test Amps & Voltage
Safety Device Check
Starting Price
Preventive Maintenance
2 Visits Per Year
Highly Reliable
Financing Available
Annual Savings
With Any Repair Made To
Residential Central Air
Conditioner or Furnace Unit
Great Value
Keep Costs Low
Professional HVAC Team
Financing Options
Available
AIR PROS HOTTEST AIR CONDITIONING DEALS FOR HOMEOWNERS
Apply Now for 100% Financing On New AC Systems & Repairs
Schedule a friendly service tech to come around your neighborhood in the next hour or two.