Challenges to Prepare for your Orlando HVAC Replacement
Challenges to Prepare for your Orlando HVAC Replacement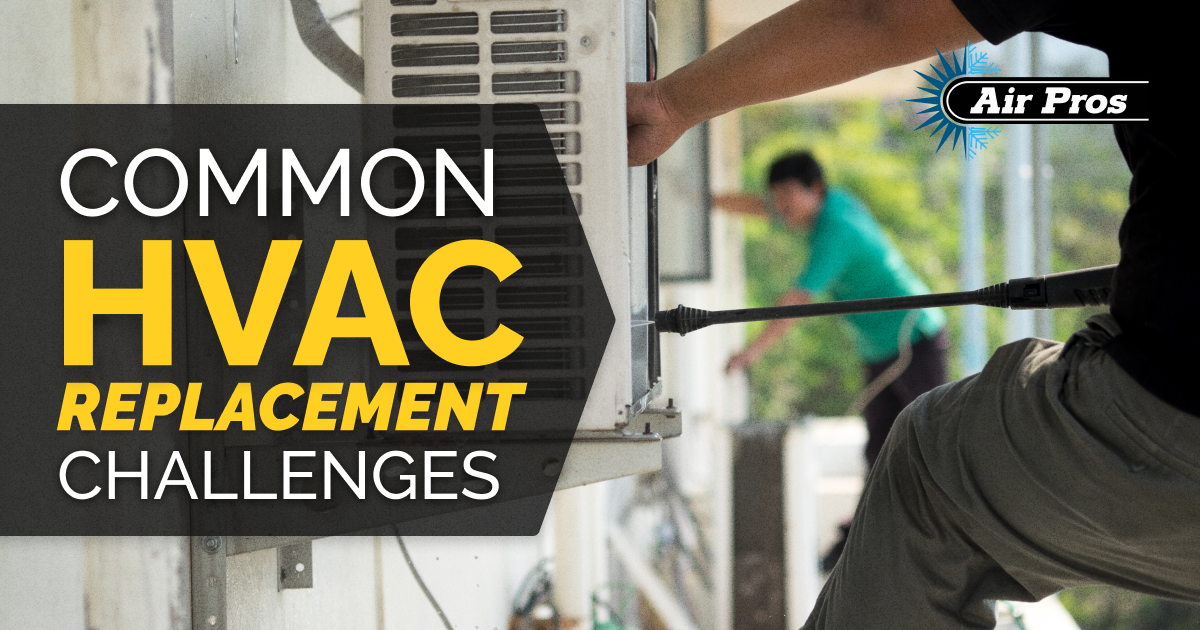 Replacing an air conditioning system is no small feat. There are many factors to consider in terms of the whole AC replacement process, such as appropriately sizing the unit and ensuring it is placed in the right place. Additionally, the process involves the disconnection and disposal of the older unit. As Orlando's top HVAC repair tech, we've handled more than our fair share of HVAC replacements. To ensure this process goes smoothly, we will provide our top tips for preparing your home for a new air conditioning unit.
Ensuring a Quality Air Conditioning Replacement
Because HVAC systems are mechanical and electrical, they eventually wear out. You've probably decided to replace your unit because it has been showing one or more of the following signs of wear:
Progressively increasing energy bills
Poor indoor air quality
Lack of airflow coming from the vents
Poor cooling performance
Excessive need for repairs
The unit shut down completely
Regardless of the reason propelling you toward an HVAC replacement, you will need to be thoroughly prepared for this complex process. Here's what you need to do to ensure your new AC unit works well in your home:
Get the Right Size AC Unit
One of the first factors to consider when replacing your AC unit is its size. If your new unit is too big or too small to accommodate your home, there will be many issues with its performance and efficiency levels. Plus, the unit will not last as long in your home and necessitate another replacement. Thus, we recommend consulting an Orlando HVAC repair tech who will assist you in determining the correct size of your unit.
Clear the Area Around the Existing AC Unit
The area around the air conditioning unit must be prepped for the replacement service. Even if you're not going to be the one to replace the AC, it won't hurt to take a few minutes to remove any items around the unit and sweep up any debris. This will help the technician get to work quicker, minimizing the downtime required for the replacement and installation.
Make Space Inside for the Installation
After you prep the outdoor area for the installation, do the same thing around the indoor unit. Clear the area around the indoor AC unit and move any furniture or objects that could obstruct the installation process, allowing the Orlando HVAC repair technician easy access to the unit.
Protect Your Belongings
Oftentimes, the installation process can get messy as it disturbs the dust and debris stuck in the vents and ducts, causing it to flow inside the home. We recommend covering any furniture or valuable items around the installation area to keep them clean.
Plan for Any Necessary Downtime
The length of time that it takes to replace an air conditioning unit varies depending on the size of your home and the type of AC being installed. There will be some downtime during the replacement service, so it is wise to plan for it, especially if it is hot outside. Consider using ceiling fans to stay cool. Also, this may be a good time to plan activities outside the home as the air conditioning unit is being installed.
Arrange for Proper Disposal
Work with your HVAC contractor to ensure the proper disposal of your old AC unit. Many HVAC companies offer disposal services or can guide you on how to handle it responsibly. Be sure that the old unit is stowed away from children and pets for safety.
Hire A Professional Installation Technician
Perhaps the most important part of the whole AC replacement process is hiring a professional, reputable, and experienced HVAC contractor. AC replacement is not a DIY project; this can potentially violate safety and building codes. An improper installation also leads to poor HVAC performance.
When searching for an HVAC repair tech in Orlando for your installation, seek out professionals with the following qualities:
Professionalism in communication, conduct, and appearance
Substantial experience and expertise in the HVAC industry
The contractor must have all the appropriate licenses and certifications to perform the installation
A good reputation must follow the contractor to verify the quality of service they deliver
Leading Orlando HVAC Repair Services
No one is more qualified for an HVAC replacement service than the techs at Air Pros. Contact us today to get started on the HVAC replacement process for your home.
Full System Health Check
Test Amps & Voltage
Safety Device Check
Starting Price
Preventive Maintenance
2 Visits Per Year
Highly Reliable
Financing Available
Annual Savings
With Any Repair Made To
Residential Central Air
Conditioner or Furnace Unit
Great Value
Keep Costs Low
Professional HVAC Team
Financing Options
Available
AIR PROS HOTTEST AIR CONDITIONING DEALS FOR HOMEOWNERS
Apply Now for 100% Financing On New AC Systems & Repairs
Schedule a friendly service tech to come around your neighborhood in the next hour or two.