Can I Cool My House Without An AC?
Can I Cool My House Without An AC?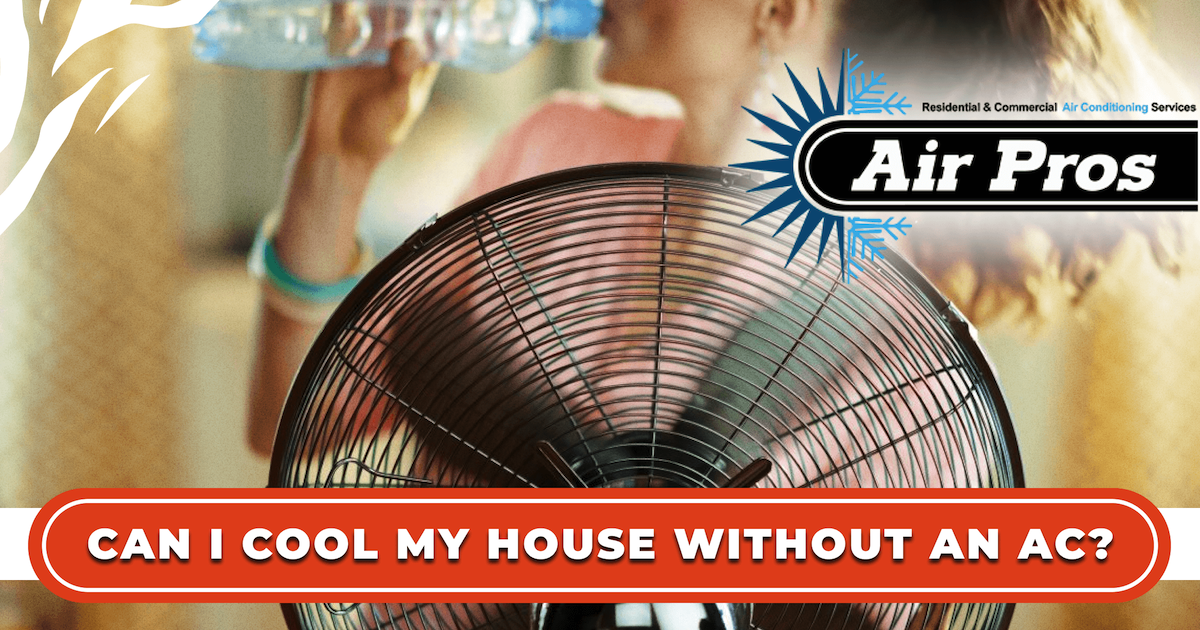 The use of an air conditioning unit to cool your home can get very expensive over the summer. This is especially true during weeks of heat waves when the AC works around the clock. Some people do not own an air condition unit inside their homes. In times like these, they are forced to become creative and cool their homes without the use of this modern convenience. 
Whether you are trying to save on your energy bills, or you simply do not have AC in your home, you may be wondering how to cool your home alternatively. We compiled a few simple tips for you to use when you do not have access to an AC unit to cool your home. 
Set Your Ceiling Fans To Rotate Counterclockwise
One of the first simple tips for cooling your home without an AC is to set your ceiling fans to rotate counterclockwise. This step may seem too easy but it is very effective. This will create airflow that goes against the circulation of the air that is in the room. The small disturbance of air will allow you to cool off significantly. After some time, Airflow will adapt to the new direction set by the ceiling fans. This will cause a decrease in that cooling effect that it originally creates. Thus, it is important to change the direction of the ceiling fan's rotation to continue to disturb the airflow.
Insulate Your Attic And Walls
Attic insulation plays a huge role in the temperature of your home. It keeps the outside air from coming in, allowing cool temperatures to stay as they are inside. This is especially useful if there is a heat wave outside and if you are having to use ceiling fans to cool off. Insulation is extremely effective and helps keep the home cool during the summer months and warm during the winter months. We recommend having your insulation inspected annually to make sure that it is in the best condition. 
Cover Your Windows
Covering windows is extremely helpful and keeps out the warm rays of the sun from the house. You will be surprised at how effective this is at keeping you cool. Even if you do have an AC in the home, covering the windows will help it work more efficiently. We recommend investing in some high-quality black out curtains that will block out the outside heat. If you aren't a fan of blackout curtains, there are other options such as blinds. There are also window tints that bounce the warm rays off the windows. This is an excellent option for those who prefer a more minimal look inside the home,  devoid of any curtains or anything else hanging. 
Install A Whole-House Fan
A whole house fan uses outside air to cool off the entire house. It may sound counterproductive to pull in the air from the outside heat, but it works wonderfully. Using outdoor events a haul whole-house fan will remove the hot air and circulate the cold air throughout the home. This is a cost-effective and healthier alternative to using a central AC. It will help decrease your energy bills, use more natural air, and increase the quality of your indoor air. Whole-house fans provide benefits all around, both economically and environmentally.
Install Cooling Curtains
We already talked about blackout curtains and how helpful they are with keeping the heat outside. Cooling curtains are a different breed of curtains. While they also can be black, their essential feature is that they are also thermal curtains. Thermal material has the wonderful ability to keep temperatures consistent. They will block out the heat coming from the outside and help keep the cool air inside. Most link curtains are made with multiple layers to increase their effectiveness. While they may be a little pricey, they will be worth it in the long run if they help you save costs on AC usage. 
Do You Need an AC?
So what are your plans for keeping yourself cool this summer season? Which of these options will you implement in your home? Our technicians have decades of experience and training to help you have the coolest summer possible. Contact us today or fill out an inquiry form on our website to learn more about ways to cool your home without the use of an AC. 
Full System Health Check
Test Amps & Voltage
Safety Device Check
Starting Price
Preventive Maintenance
2 Visits Per Year
Highly Reliable
Financing Available
Annual Savings
With Any Repair Made To
Residential Central Air
Conditioner or Furnace Unit
Great Value
Keep Costs Low
Professional HVAC Team
Financing Options
Available
AIR PROS HOTTEST AIR CONDITIONING DEALS FOR HOMEOWNERS
Apply Now for 100% Financing On New AC Systems & Repairs
Schedule a friendly service tech to come around your neighborhood in the next hour or two.