The Importance of Occasionally Opening Doors and Windows
The Importance of Occasionally Opening Doors and Windows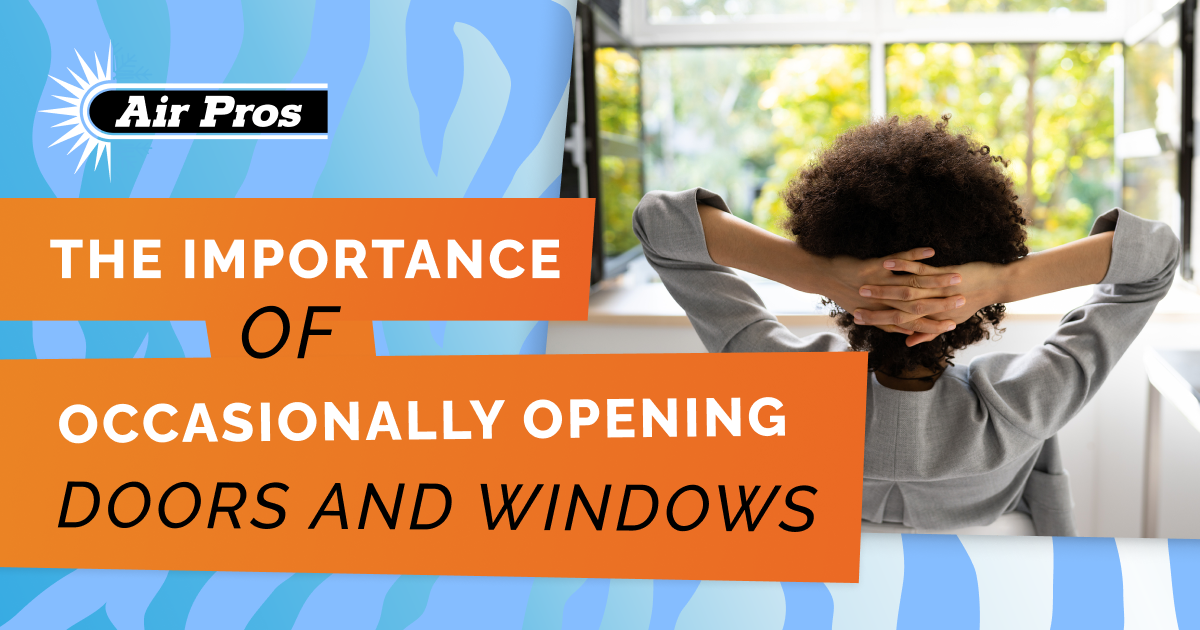 No matter what time of year it is, Florida's weather is always beautiful, sunny, and mostly hot. Because of that, we often find ourselves cranking up the AC at all hours of the day. After all, the air conditioning units in Miami are particularly important in maintaining a comfortable and livable environment at home. However, operating the AC all the time is also not optimal for the unit itself, or for the people living inside the home.
We suggest that those with an AC unit in their home turn it off occasionally, and open their doors and windows instead. There are several benefits for doing so and as the leading emergency AC repair techs in Miami, we would like to discuss them and encourage you to open up your doors and windows today.
Prevent AC Emergency Repairs
The top reason to open your doors and windows today is to give your AC unit a break. Despite it being tempting to keep the AC on all day long, prolonged use without breaks will speed up its wear and tear. Before you know it, you will find yourself scrambling to find a technician to repair your AC, which always seems to come around during the most inconvenient times. Taking a break occasionally will allow it to rest and extend its life expectancy. So avoid those emergency AC repairs in Miami, FL and give your AC a break today.
Refresh Your Mood
Your mood will instantly be lifted by fresh air coming in from the outside. The extra dose of oxygen will permeate your senses and do you a lot of good. The stuffiness and dust produced by the AC can adversely affect your mood if you spend a prolonged amount of time indoors with it because you are not getting the oxygen you need. Fresh air from the inside will refresh your mind and spirit.
On the other hand, there is nothing that will damper your mood more quickly than when your AC breaks down. Especially if you have a planned event in your home with multiple guests set to arrive. This is one of the many situations we have seen unfold time and time again. If you're in this same boat, give AirPros a call to access the top AC emergency repair service in Miami. 
Lower Your Energy Bills
Additionally, you will be able to reduce your energy costs by opening your doors and windows. And in today's economy, the last thing most people want is to pay more on energy bills. The AC unit will be turned off as a result of opening the doors and windows, so your wallet will be spared from extra energy bills. Additionally, the occasional break will help you preserve your AC's efficiency level.  
On the flip side, you may need the assistance of an emergency AC repair tech in Miami, FL if your bills are increasing without an increase in AC use. Check out our blog on why your AC is inefficient in your home. 
Air Out Your Home
Dust and debris will accumulate in the HVAC system as it operates, which causes the air to become stuffy and even muggy. When you open up your doors and windows, an invigorating gust of fresh, cool air wafts through a stuffy home and refreshes it. 
Your home will be ventilated when you open the doors and windows. This will improve the indoor air quality and eliminate stuffiness and odors. Therefore, we encourage you to open your windows and doors today. Whether it's in the cool of the morning or when the sun goes down in the evening, your home will take a sigh of relief and welcome the fresh outdoor air. 
24-Hr Emergency AC Repair Miami
Do you think your AC unit needs an emergency repair? Contact AirPros today to receive high quality repair services from the best technicians in town. We pride ourselves on providing prompt and efficient service to help you live in comfort. Call us today to learn more about the options available to you at (877) 561-9730.
Full System Health Check
Test Amps & Voltage
Safety Device Check
Starting Price
Preventive Maintenance
2 Visits Per Year
Highly Reliable
Financing Available
Annual Savings
With Any Repair Made To
Residential Central Air
Conditioner or Furnace Unit
Great Value
Keep Costs Low
Professional HVAC Team
Financing Options
Available
AIR PROS HOTTEST AIR CONDITIONING DEALS FOR HOMEOWNERS
Apply Now for 100% Financing On New AC Systems & Repairs
Schedule a friendly service tech to come around your neighborhood in the next hour or two.