5 Things Hurting Your AC Performance
5 Things Hurting Your AC Performance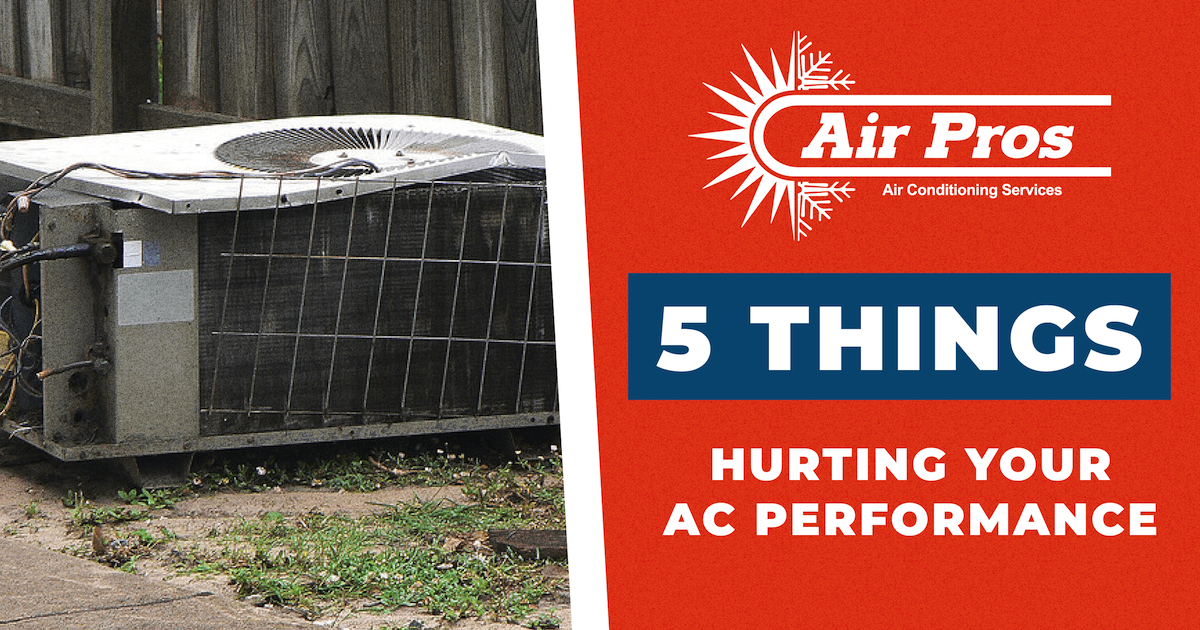 In the heat of the summer, there is nothing more important than the cooling reprieve provided by air conditioning. But what's even better than an AC is a fully functioning, efficient unit. 
Perhaps you have an air conditioning unit and while it cools well enough, you may wish that it would do better. The good news is that it is possible to improve the efficiency of your AC. There are several things that could be hurting your AC's performance and we outline five of them below.
Lack Of Maintenance
Regular maintenance is extremely important to the health and longevity of an air conditioning unit. It is recommended to have an AC maintenance inspection at least annually or bi-annually. These maintenance inspections should be treated like doctors appointments for air conditioning units. During these inspections, the air-conditioning repair technician will ensure that the unit is in the best health. The tech will recommend any necessary repairs and make all the cleaning and adjustments required. After the technician is done, your AC will be optimized to work to its best potential. A regular maintenance check will allow you to save money in the long run and enjoy a cool summer.
Undersized Unit
Sometimes an AC won't work the way you want it to because it is too small to accommodate your house. This problem is very difficult to pinpoint because each AC unit is built for a specific capacity in square footage. For this reason, it is extremely important to ensure that the highest qualified professional does the initial installation of your AC unit. Also, if you have any doubts it is very important to have a professional take a look at the size of your unit. This problem isn't something that a person without an HVAC certification can typically handle. 
Whether you need a new AC unit installation or a consultation on how to maximize the use of your unit, our AC repair service techs will be available to handle your needs. 
Filter Issue
Air filters are extremely important in helping the air conditioner extract heat from the air it releases through the vents. As it carries out its function, The air filter also extracts dust and debris from the air. By doing so, it gets dirty and burdened with the dust and debris. This slows down the function and efficiency of the AC unit. It is then tasked to work harder to produce the same amount of cool air that is required for your home. To avoid this issue, make it a habit to check your air filters at least every 6 to 8 weeks to ensure that they are cleaned or replaced if needed.
Improper Installation
The installation process of an Air conditioning unit is fairly complicated. if your AC unit was installed by someone who isn't a trained service technician, you may end up with problems down the line. When installing the unit, the technician has to follow certain protocols and connect all the coils, ducts, and cables. He or she has to take extra care to install the refrigerant coils and ensure that all the fluids and belts are placed properly. 
Clearly, this isn't something that a regular person without the proper training and certifications can do. So how do you repair an air conditioner that is installed incorrectly? The best thing to do is to ask your local Air conditioner repair service to help you out. 
Leaking Ducts
leaking ducts can be a serious problem in the home. Some signs that the ducts of your AC unit are leaking is if your home is dustier than usual. You will also notice an uneven distribution of cold air and that some places throughout the home are not being cooled. 
Problems with the ducts will result in a compromised air quality, higher bills, lack of coolness in the air, and frequent repairs. The best solution here is to keep up with regular maintenance inspections of your AC. If a problem with the ducts is detected right away, it will be repaired before these issues arise.
When was the last time you had an air conditioning repair tech conduct a maintenance service on your AC? If it has been a while, contact us today to schedule your AC maintenance visit. This will surely help you enjoy your summer in your beautiful home to the fullest.
Full System Health Check
Test Amps & Voltage
Safety Device Check
Starting Price
Preventive Maintenance
2 Visits Per Year
Highly Reliable
Financing Available
Annual Savings
With Any Repair Made To
Residential Central Air
Conditioner or Furnace Unit
Great Value
Keep Costs Low
Professional HVAC Team
Financing Options
Available
Schedule a friendly service tech to come around your neighborhood in the next hour or two.