Signs That Your Insulation Needs Replacement
Signs That Your Insulation Needs Replacement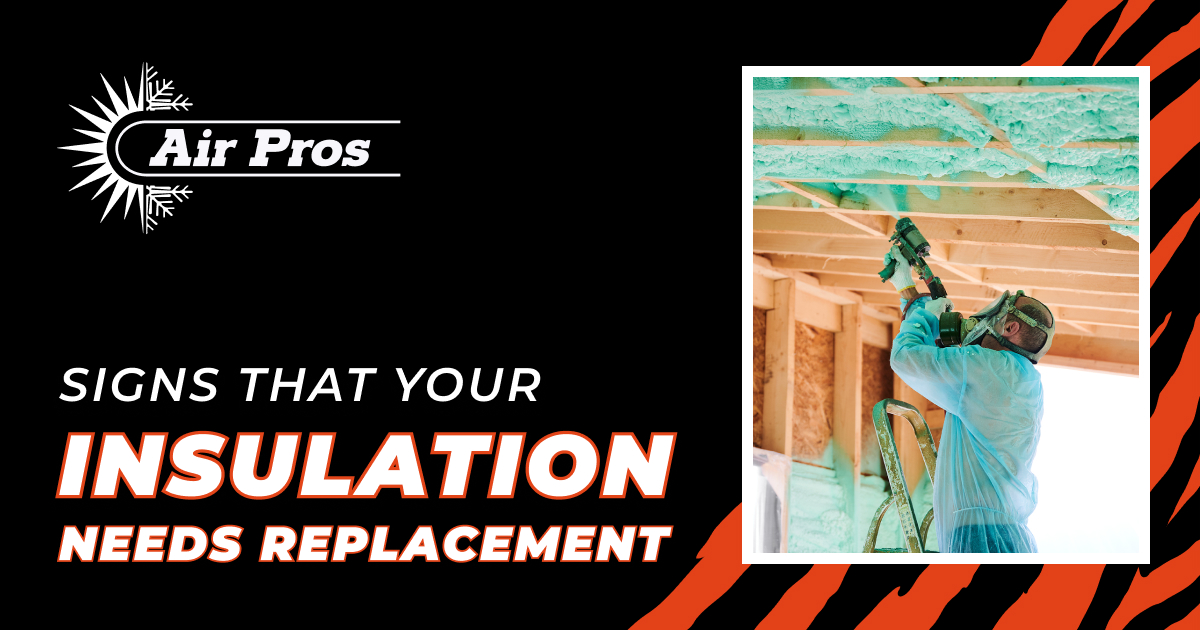 Many people give more thought to their home's insulation when something goes wrong. Insulation plays a vital role in the background of our homes to ensure that we are as comfortable as possible. It is a hidden lining that brings together the entire atmosphere of the house. 
As experts on the topic of home insulation, Air Pros have seen all the problems that are caused by poor insulation. In this article, we will discuss the telltale signs that it is time to call one of the blown-in attic insulation contractors for a possible insulation replacement. 
When to Call a Blown In Attic Insulation Techs Near Me
Blown-in insulation plays a vital role in the structure and comfort of a home. It's crucial to keep up with maintenance and repair. When was your insulation last inspected? If it's been a while, we encourage you to call a blown-in attic contractor to check your insulation. 
Below are some common signs that you may have a problem with your home's insulation. If you notice any of these issues, you may need the help of an expert. 
Poor Cooling and Heating Efficiency
It may seem that your home can't get cool enough over the summer or warm enough over the winter months. The quality of the home's insulation plays a direct role in the efficiency of the HVAC system because it blocks the outside temperatures from coming inside. 
If the insulation has worn off or isn't installed, the outdoor temperatures will infiltrate the home and cause the HVAC system to work harder. This will decrease its efficiency and create a less-than-ideal home where the temperatures are never correct. If you're dealing with issues consistently regardless of the weather outside, give one of the blown-in attic insulation contractors a call. 
Water Leaks 
Insulation can keep extra condensation and water out of your home. If your insulation is worn out or installed incorrectly, it can leave excess water inside and cause a leak. These leaks will cause damage to your walls and ceiling and can even lead to mold. 
It's not a secret that water leaks in the ceiling are entirely a nightmare for most homeowners. However, with the help of a blown-in attic insulation contractor like the ones at Air Pros, you will find yourself breathing easy as the experts fix this issue. 
Pest Problem
Various issues can cause an increase in pests around your home. They increase in number when there is a present sewer leak, increased moisture levels, or when there is anything they perceive as food. If these issues are not currently in your home, you may have insulation problems. If it is in bad shape, it will develop holes that allow pests to get in and make nests inside. Pests are not pleasant to deal with, and if you feel the issue escalates, it may be time to call a blown-in attic insulation contractor to inspect the insulation. 
Frozen Pipes
The job of insulation is to protect the home and systems from cold, frigid temperatures. Frozen pipes will not allow the water to flow correctly in your home. Worst, it can lead to a burst pipe and costly repairs. We recommend having your insulation inspected at least once a year before the colder seasons.
Are you currently in the market to have new insulation installed? Check out our blog on the pros and cons of choosing blown-in insulation. 
Poor Odors
Another common reason insulation needs to be replaced is when there is a lingering odor in the home after a deep cleaning of the entire house and HVAC systems. If everything has been cleaned and thoroughly inspected, you may have an underlying issue with the insulation. Insulation can trap mold, and its odor is unmistakable and dangerous. In the event of mold growth, the insulation will need to be replaced. We recommend consulting an insulation contractor regarding potential mold in the insulation. 
Blown In Attic Insulation Contractors Nearby
The expert technicians at Air Pros will assess your insulation needs. They will help make repairs or formulate a plan for replacing the insulation. Contact us today at (754) 240-9449.
Full System Health Check
Test Amps & Voltage
Safety Device Check
Starting Price
Preventive Maintenance
2 Visits Per Year
Highly Reliable
Financing Available
Annual Savings
With Any Repair Made To
Residential Central Air
Conditioner or Furnace Unit
Great Value
Keep Costs Low
Professional HVAC Team
Financing Options
Available
Schedule a friendly service tech to come around your neighborhood in the next hour or two.