Gas Fireplace Maintenance 101
Gas Fireplace Maintenance 101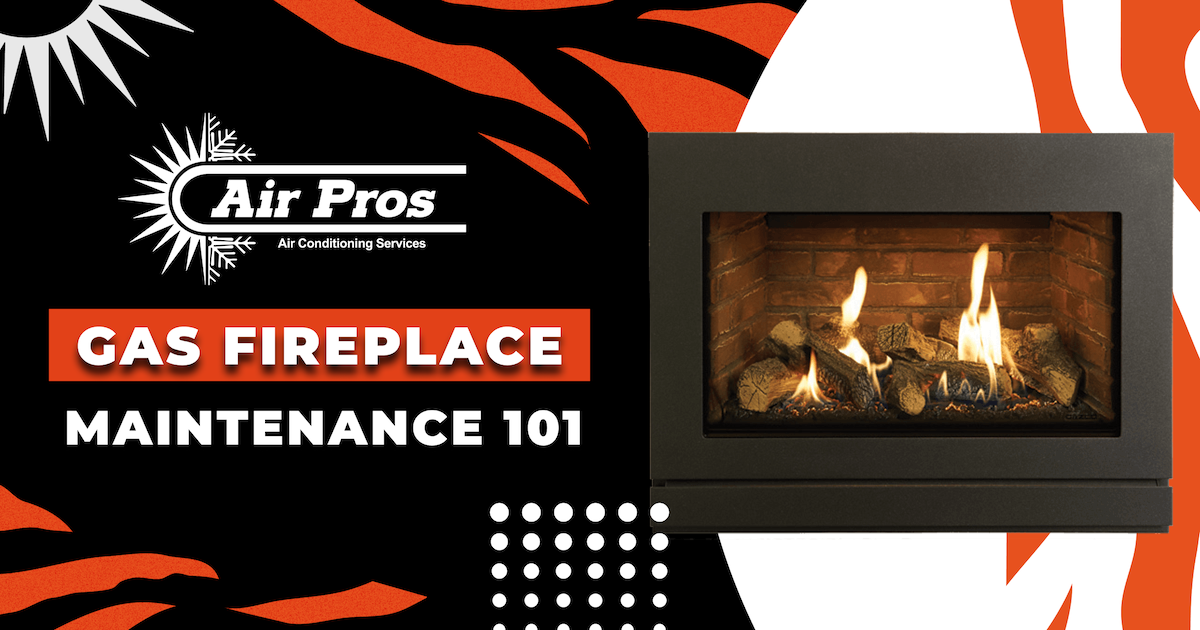 Over the years, gas fireplaces have become very popular in homes that use natural gas as a power source. Their recent popularity isn't surprising as gas fireplaces are fairly easy to maintain and even easier to light up. We are all about convenience, and the ability to have a nice, roaring fireplace without having to gather wood is very appealing to many residents across the country.
In this article, we will discuss the importance of gas fireplace maintenance. We will also give a brief overview of how to clean a gas fireplace. Read on to learn how to take care of your fireplace.
Why Gas Fireplace Maintenance Important?
Though daily upkeep isn't required for a gas fireplace, proper maintenance is still required. Fireplaces that are powered by gas must be periodically inspected for dirt, debris, and, most importantly, carbon monoxide leaks. A leak of carbon monoxide can be a potentially dangerous situation that can lead to the death of those inside.
Additionally, many gas fireplaces accumulate dirt and dust that must be cleaned out. This cleaning process can be done by the homeowner or a fireplace technician.
How Often to Clean a Gas Fireplace
Part of gas fireplace maintenance is keeping up with a monthly cleaning schedule, even if it isn't being used. This is essential because the accumulation of dust and debris can harm the mechanisms and some parts of the fireplace. Below is a brief overview of the tools and steps for cleaning a fireplace.
Tools Needed
Hand broom

Vacuum with a hose attachment

Cheesecloth/nylon net

Non-ammonia gas cleaner

Warm water

Cleaning rags
1. Turn Off the Gas
The first thing you should do prior to cleaning your fireplace is to turn off the gas. This is a safety precaution to ensure that you don't get burned in the process. Also, make sure that the fireplace is completely cooled off prior to doing anything.
2. Take Apart the Fireplace
Part of gas fireplace maintenance and cleaning involves disassembling the components of the fireplace. At this time, take apart the logs, burner unit, mesh curtain, and doors. This step will help simplify the cleaning process.
3. Brush and Inspect
Using your hand broom, sweep away any dust and debris, ensuring that everything is clean. While you do this step, keep an eye out for any cracks, holes, and large burn marks. This may need to be repaired before any further use.
4. Vacuum
Dust and cobwebs accumulate most frequently in a gas fireplace. Use your vacuum's hose attachment to suction out any dust and cobwebs. Also, make sure that the pilot light and gas components are wiped down with a soft cloth. Be wary of using any sprays on these components, as that can pose a great hazard.
5. Polish Glass and Metal
If your glass doors have become cloudy, use a glass cleaner and a soft rag to clean the glass. This step must be done regularly to ensure proper gas fireplace maintenance. Metal screens should be cleaned with soft materials like an upholstery brush. This will prevent harsh scratches and other defects on the metal.
6. Wipe Down the Mantle
The mantle and hearth of the fireplace tend to develop a lot of soot. Use your cloth to clean it out for a nice, clean finish.
7. Reassemble the Fireplace
Once everything is cleaned, reassemble the fireplace back into its original position. After everything has been put back, it will be safe to turn the gas on again.
8. Check Exterior Vents
The last step in this process of gas fireplace maintenance is to check the exterior vents for any leaves, animal nests, and insects. These various forms of debris lead to blockages that prevent the vents from releasing air outside.
Maintaining your fireplace is essential for the upcoming fall and winter months. Check out our blog to learn about the common reasons for furnace repairs as well!
Contact Air Pros Today for Gas Fireplace Maintenance!
Gas fireplace maintenance inspections with one of Air Pros' experienced and professional techs can make the process of cleaning your gas fireplace easier Contact us today to learn about our services and to schedule a visit by calling (877) 561-9730.
Full System Health Check
Test Amps & Voltage
Safety Device Check
Starting Price
Preventive Maintenance
2 Visits Per Year
Highly Reliable
Financing Available
Annual Savings
With Any Repair Made To
Residential Central Air
Conditioner or Furnace Unit
Great Value
Keep Costs Low
Professional HVAC Team
Financing Options
Available
AIR PROS HOTTEST AIR CONDITIONING DEALS FOR HOMEOWNERS
Apply Now for 100% Financing On New AC Systems & Repairs
Schedule a friendly service tech to come around your neighborhood in the next hour or two.