What Is the Outside Part of an AC Called?
What Is the Outside Part of an AC Called?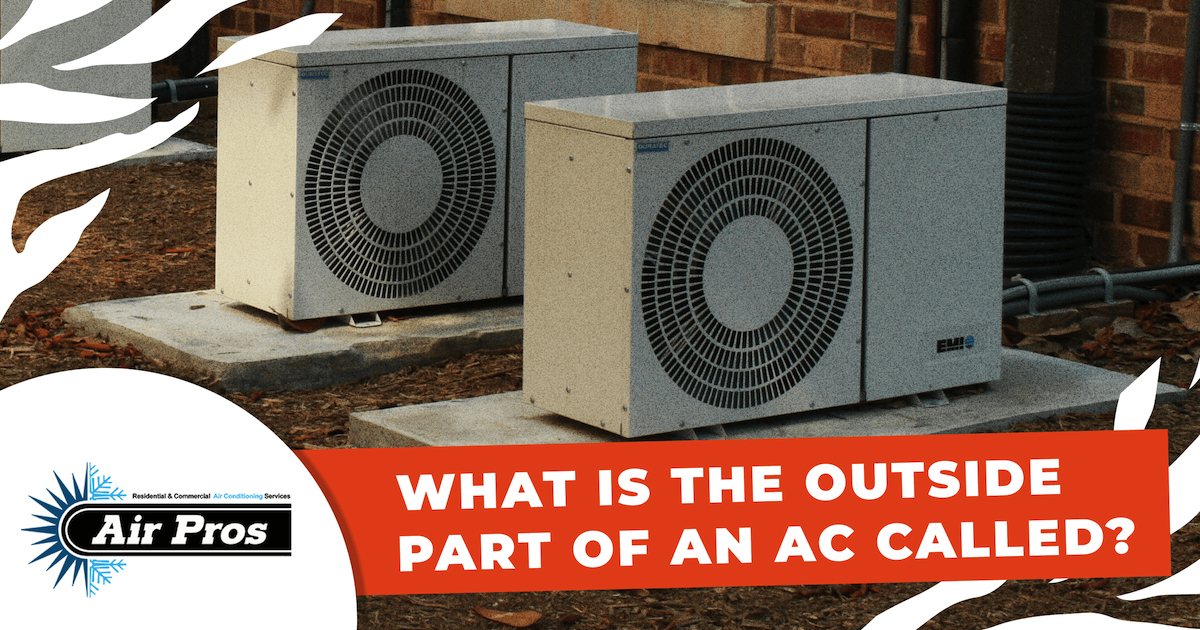 Most air conditioners have an outdoor unit. This is an important component that's also known as the condenser. Split and mini-split ACs as well as heat pumps use one to release heat into the air or absorb it into the refrigerant lines. The condenser is connected by these lines to the indoor air handlers.
Why Is the Condenser Located Outside?
While it's possible to produce heat, cooling doesn't work this way. It is merely the absence of heat. The condenser is located outside because it removes heat from your home. This heat must go somewhere, so the unit is designed to release and dissipate it outdoors. A condenser can also be quite loud, so placing it outside your home means you won't hear it running day and night.
How a Condenser Works
The condenser is a type of heat exchanger. It receives refrigerant that has been compressed under high pressure by the compressor. As refrigerant passes through the condenser, it changes from a gas back to a liquid in a process called condensation. It turns on and off automatically thanks to capacitors (which control motors) and a contactor (to turn the condenser on and off).
Most residential HVAC systems use an air-cooled condenser, which passes air over the condenser coil to release heat. In water-cooled condensers, water is in direct contact with the coil for this purpose, while evaporative condensers simply let water evaporate into the air without refrigerant.
Parts of the Condenser Unit
The unit, also known as a condenser cabinet, contains a few key parts present in all split AC systems. These include the:
Condenser Coil: Made of all-aluminum tubing or copper tubing with aluminum fins, the coil contains circulating refrigerant and allows for heat transfer to take place.

 
Condenser Fan: Circulates air so heat can be released through the coil. Airflow is essential for the coil and compressor to work, so the coil must be kept clean.
Condenser Compressor: Compresses gaseous refrigerant into a liquid, pumps it into the coil, and then passes it on to the evaporator coil where the liquid cools and expands.
Condenser for Heating
A heat pump may also use a condenser. In this configuration, compressed gas can be reversed to deliver heated air. Such a condenser system includes a temperature sensor that can be adjusted. It also includes a reversing valve and defrost timer. A heating condenser draws heat from outside air and cools it to the point frost forms. An automatic defrost control switches the unit into cooling mode to deliver hot gas through the coil; this defrosts it so the system can continue heating your home.
How Do I Know My Condenser Isn't Working?
These are some problems that mean it's time to service your outside condenser unit:
The Unit Won't Switch On or Off: The control board may be failing; if so, it won't allow communication between different components, so they won't work together. This can strain the unit and cause the entire condenser to fail.
Inefficiency: Dirt and debris tend to build up on condensers over time, since they're located outside. A lack of efficiency and increased wear and tear can result. Regular cleaning can prevent this and more serious repair issues.
Decreased Performance: If the condenser is running less reliably, the motor may be deteriorating. This tends to happen over time until it burns out completely.
The AC Doesn't Function: A bad relay switch will disable the fan, as this switch turns the fan on and off in response to whether the unit is running or not.
Lack of Cooling: When the condenser coil is physically damaged, your AC will run less efficiently. Coils can become corroded, clogged by debris, or impacted by falling rocks, tree branches, or hail.
Contact Air Pros
If the condenser unit or any part of your air conditioning system isn't working properly, Air Pros can help. We specialize in residential HVAC repair and installation. Our technicians are trained, licensed, and equipped with all the necessary tools to fix your AC on the spot. For AC installation, repair, tune-up, and maintenance services, schedule service on the web or call 844-605-1919.
Full System Health Check
Test Amps & Voltage
Safety Device Check
Starting Price
Preventive Maintenance
2 Visits Per Year
Highly Reliable
Financing Available
Annual Savings
With Any Repair Made To
Residential Central Air
Conditioner or Furnace Unit
Great Value
Keep Costs Low
Professional HVAC Team
Financing Options
Available
AIR PROS HOTTEST AIR CONDITIONING DEALS FOR HOMEOWNERS
Apply Now for 100% Financing On New AC Systems & Repairs
Schedule a friendly service tech to come around your neighborhood in the next hour or two.