The Main Parts of a Furnace
The Main Parts of a Furnace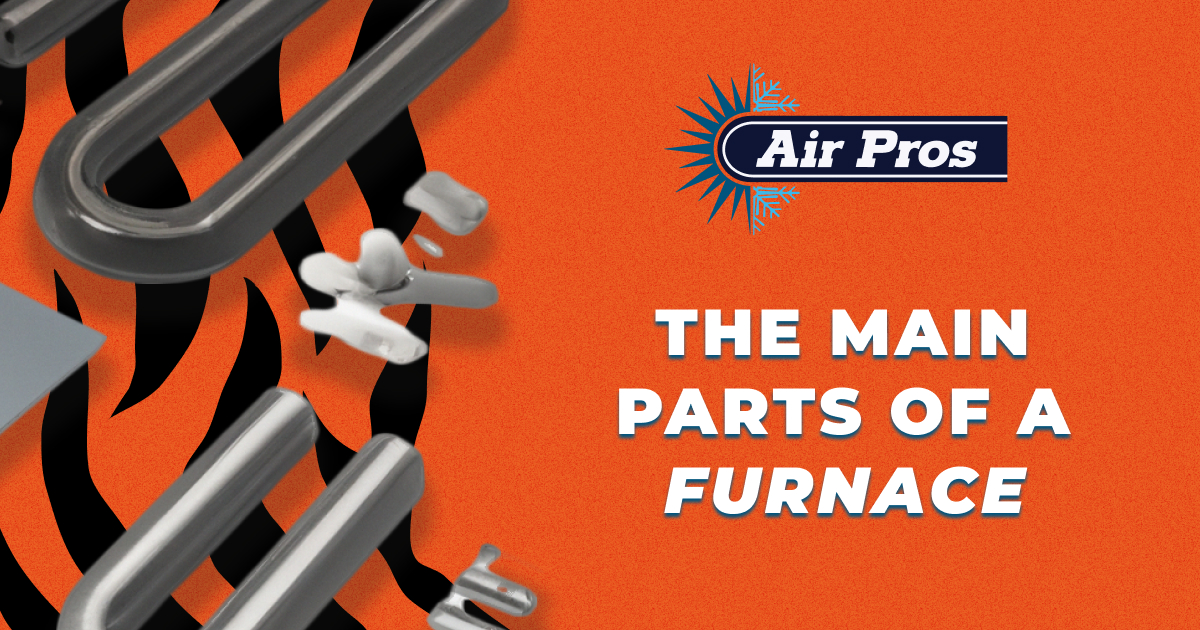 It isn't a secret that Colorado Springs gets pretty chilly in the winter months. Every home's furnace creates a warm, cozy haven for us all to retreat to when the weather turns chilly. Since the furnace is used quite often throughout the winter, it is essential to know some of its main parts to prepare you for potential repairs.  
As the leading heater repair expert in Colorado Springs, One Source Home Service knows everything, there is to know about the intricacies of furnaces. In this article, we will name the top six parts that keep your furnace working without a hitch.  
1. Air Filters
Air filters are very common in central heating systems. They are responsible for cleaning the air of all dust and debris before it is pushed out into the room. 
You may wonder, "When should I call a heater repair tech near me about my air filters?". 
To preserve the quality of your indoor air and the health of your HVAC system, it is crucial to clean or change the air filters at least every 2-3 months. If you've never done that before or want a pro to do it for you, a heater repair technician from One Source would be glad to help you out. 
2. Blower Motor
The blower motor of a furnace plays a vital role in keeping the blower moving to push out the warm air into the home. If you feel a lack of airflow coming from your vents, there may be an issue with the function of this motor. 
A heating repair tech in Colorado Springs must be called immediately if you smell a burning odor coming from your heating system. This smell is normally caused by a blower motor catching on fire. In this case, you will need to shut down the furnace immediately and call an emergency heating repair tech. 
3. Pilot Light
If your furnace is older than ten years, it is probably equipped with a pilot light that is kept on at all times with the help of gas. It is there to power up the entire furnace as soon as it gets the signal to begin its work. 
The most common question we get about pilot lights is, "What color of the pilot light indicates a call to a heating repair tech near me?". It is vital that the pilot light is blue, red, or yellow, which indicates proper chemical processes within the furnace. Call a heating repair tech immediately if the color differs from these three. 
4. Thermostat
Though the entire furnace is essential as a whole, it cannot function without a thermostat to control its temperature and operation times. When thermostats are miscalibrated, they can affect the efficiency of your heating system and lead to unnecessary heating repairs. 
If you have a manual thermostat, you must ensure that you change its batteries as needed to avoid hiccups. Most heating repair techs will recommend installing a smart thermostat because they operate without batteries and will save you money on energy costs in the long run. 
Heating costs can rack up over the winter months. Check out our tips for how to lower your heating costs this season. 
5. Air Ducts
Air ducts are an essential component of the heating system because they facilitate warm air throughout the home. Repairing air leaks in these ducts is one of the most common heating repairs in Colorado Springs. Leaking air ducts hurt the furnace's efficiency and will increase your energy bills. Though your bills will go up, your home will not be warmer. Your furnace will wear out quicker with persistent air leaks, leading to excessive heating repairs and an early replacement. 
Are you wondering if it's time to replace your furnace? Check out our blog for the most common signs of a furnace replacement. 
Top Heater Repairs Near Me
Do you need a heater repair tech for your furnace? One Source Home Service is your one-stop shop for all of your home repairs. We are available 24/7 for emergency furnace repairs and will provide you with the highest level of service for all your heating needs. Call us today at (719) 624-0494.
Full System Health Check
Test Amps & Voltage
Safety Device Check
Starting Price
Preventive Maintenance
2 Visits Per Year
Highly Reliable
Financing Available
Annual Savings
With Any Repair Made To
Residential Central Air
Conditioner or Furnace Unit
Great Value
Keep Costs Low
Professional HVAC Team
Financing Options
Available
Schedule a friendly service tech to come around your neighborhood in the next hour or two.