Signs That It's Time for AC Repair in Florida
Signs That It's Time for AC Repair in Florida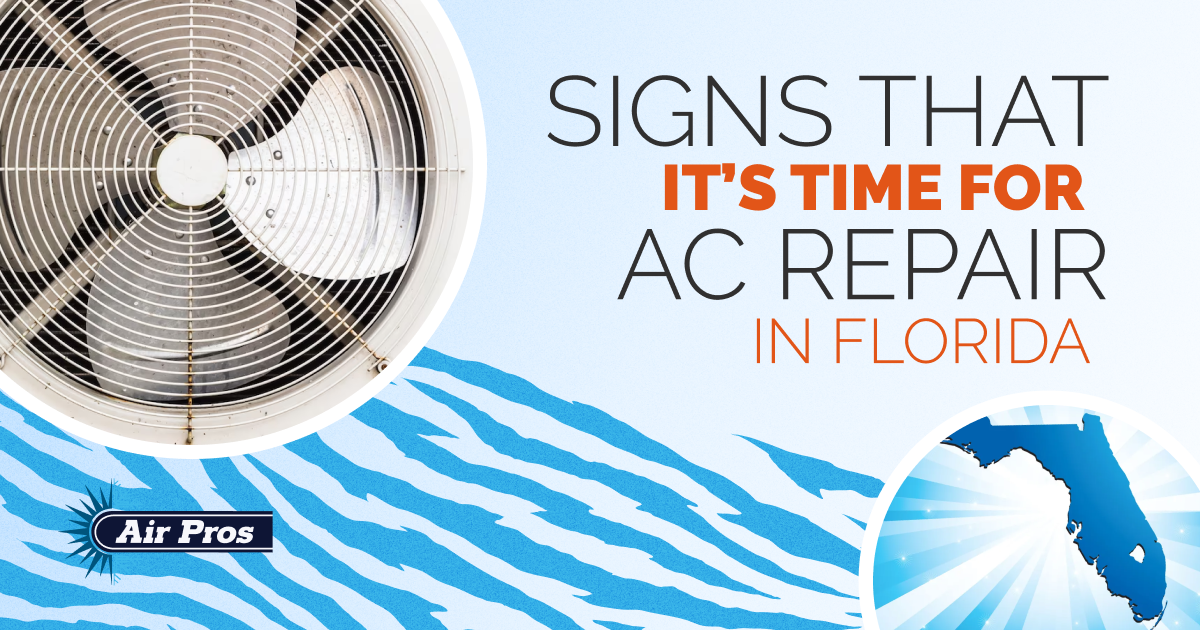 It is not a secret that the summers in Florida are warm. If you lived in the area for any amount of time, then you've probably taken full advantage of the air conditioning system within your home. 
After all, the humidity mixed with hot temperatures is enough to create discomfort on an otherwise beautiful, Floridian day. Seeing as ACs get some much wear in the region, we wanted to dedicate this blog to help you determine when you need air conditioning repair in Florida. 
Read on to learn about the required repairs for your AC so that you can maximize its benefits. 
It's Time for an AC Repair When…
The reason it is important to know when to call a repair tech is that timely repairs will make all the difference in the way your AC performs. Timely air conditioning repairs ensure the following:
A comfortable and healthy living environment.

Reduced energy costs.

A longer Lifespan for your air conditioner

Increased performance and consistent temperatures 

Peace of mind knowing that your air conditioner is working properly.
Thus, if you notice any of the signs of repair discussed below, we encourage you to call a licensed and insured Ft. Lauderdale AC repair technician sooner than later for help. 
1. Reduced Cooling Efficiency
When you notice that your home is taking longer than usual to cool, or isn't cooling at all, it is time to get help from a professional. Poor cooling efficiency can be explained by misaligned parts, clogged air filters, or cracks in the ductwork. Regardless of the issue, ignoring it won't make it disappear. Thus, it is best to have it investigated so that your problem is quickly resolved before it escalates. 
2. Poor Airflow
Another good reason to get an air conditioning repair in Florida is when there is poor airflow or none at all. Poor airflow can be caused by a variety of things including:
Low refrigerant fluid

Clogged air filters

Clogged coils

Obstructions or debris in the outdoor unit

Malfunctioning compressor

Broken blow motor
To figure out the culprit of poor airflow, there will be a need for a thorough inspection and professional repair. 
3. Unusual Noises 
If you hear odd sounds coming from your AC, there may be some underlying mechanical problems. Weird sounds include any grinding, squealing, or banging that must be investigated. We recommend calling a repair tech as soon as you can because the underlying issue can cause extensive damage if it is addressed quickly enough. 
4. Foul Odors
Are you picking up odd odors coming from the air conditioning unit? If you smell mold, mildew, or dust, you will need Ft. Lauderdale AC repair techs to come and diagnose the problem. 
If there are burning smells coming from the vents, you must turn off the unit immediately as it is indicative of something on fire. Be sure to call a tech immediately and do not turn the unit back on until the air conditioning professional says it is okay to do so. 
5. High Energy Bills 
If your energy bills have suddenly increased without any significant change in usage patterns, it could be due to an inefficiently operating AC system. It would be worth contacting a repair tech for at least a maintenance inspection to see if any malfunctioning parts need repair or adjustment. The longer you go without addressing the problem, the higher chance there is of your energy bills growing. 
6. Frequent Cycling On and Off
If your air conditioning unit turns off very quickly within a couple of minutes of turning it on, then you probably have a problem with short cycling. This problem causes excess wear and tear on the unit without actually creating that needed comfort in your home. Short cycling is caused by the following: 
Incorrectly sized AC unit

Thermostat issues

Clogged air filters

Refrigerant leaks

Faulty capacitors or relays

Blocked condenser unit

Air duct issues

Sensor malfunction
If you're experiencing this problem, you must contact a local AC repair tech as soon as you can for assistance. 
7. Water Leaks
Are you seeing pools of water around your unit or vents? This is normally caused by a refrigerant fluid leak that must be repaired as soon as possible. Refrigerant fluid is highly toxic and it can cause poor health outcomes if you or your household members come in contact with it. 
Plus, refrigerant fluid leaks will decrease its levels within the unit and cause problems with the unit's efficiency. Your AC will not be producing the desired temperatures while leading to its wear and tear. 
Fast and Reliable Air Conditioning Repair in Florida – Schedule Your Service Today!
Are you currently experiencing problems with your air conditioning unit? Contact us today to schedule your repair service to ensure that you can maximize the use of your AC unit.
Full System Health Check
Test Amps & Voltage
Safety Device Check
Starting Price
Preventive Maintenance
2 Visits Per Year
Highly Reliable
Financing Available
Annual Savings
With Any Repair Made To
Residential Central Air
Conditioner or Furnace Unit
Great Value
Keep Costs Low
Professional HVAC Team
Financing Options
Available
Schedule a friendly service tech to come around your neighborhood in the next hour or two.