Vote for a Local Veteran in Dallas-Fort Worth to Win a New AC in Veterans Day Giveaway
Vote for a Local Veteran in Dallas-Fort Worth to Win a New AC in Veterans Day Giveaway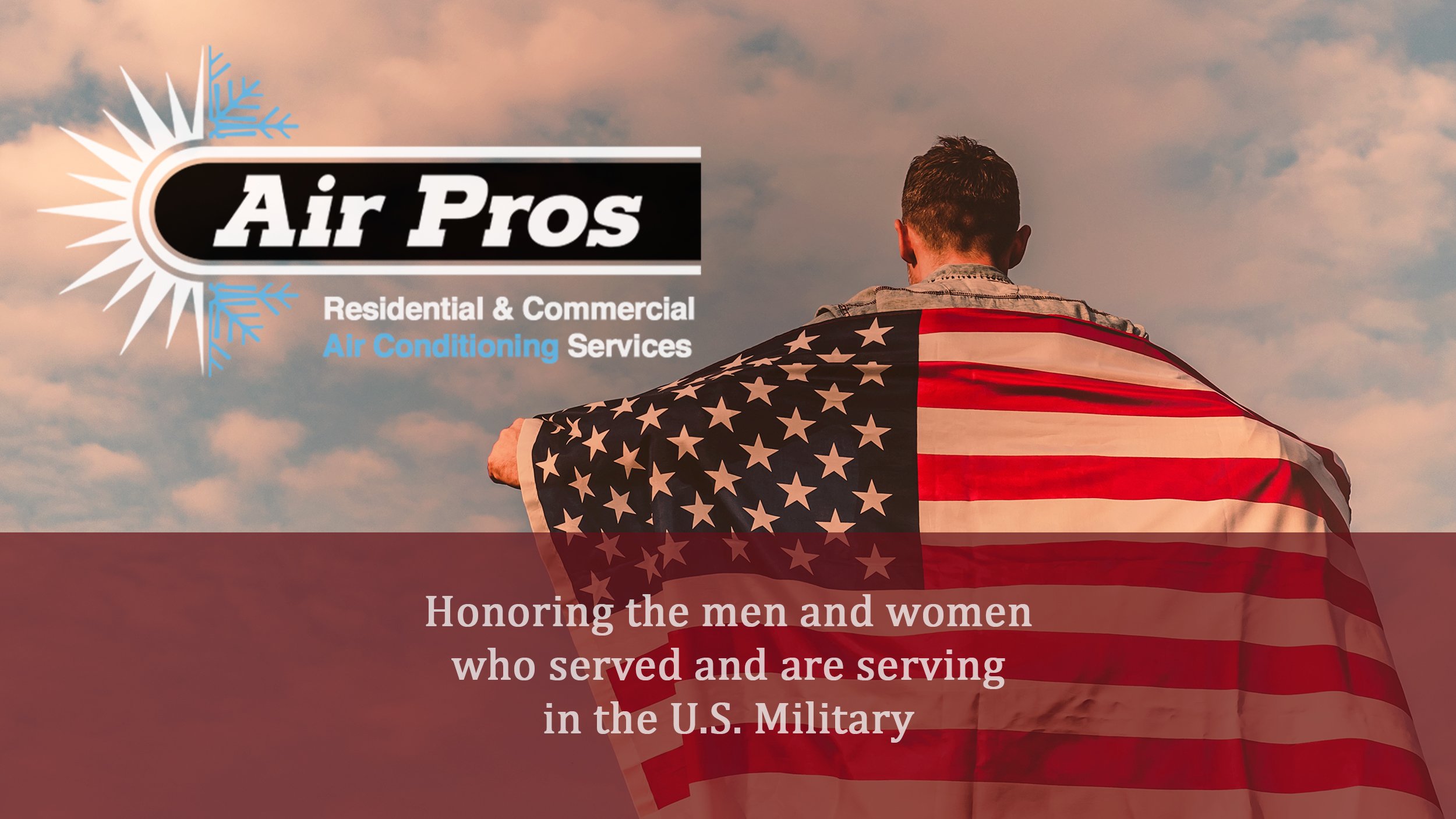 Dallas, TX (October 22, 2020) – Air Pros Residential and Commercial Air Conditioning Services (Air Pros USA) named three finalists in Dallas-Fort Worth for its Veterans Day AC Giveaway contest. Voting is now open for the public to decide which Veteran will win a new AC unit with complete installation, free of charge.
The three finalists, Anthony F. Marascola, Jerry Horton, and Kayellen Butler, were selected following a nomination process that required a short essay and application. Their stories are featured on the Air Pros USA's webpage, where the public can vote for a winner until Wednesday, November 4. The public can vote every day for their favorite Veteran, with a limit of one vote per day.
"I grew up in a military family with the values of honoring those who have given their everything to serve our country and keeping our communities safe," said Anthony Perera, founder of Air Pros USA. "This giveaway contest allows us to thank the Veterans and active-duty servicemembers for their sacrifices as well as help out a local family in one small way."
The winner of the Veterans Day AC Giveaway will be announced by Veterans Day on Wednesday, November 11, 2020.
About the Finalists: 
Anthony F. Marascola, Rockwall – Anthony is a 79-year-old Purple Heart recipient who served as a Marine in the Vietnam War from 1966 to 1968. In 1969, he completed his service at Camp Pendleton in California as an E-5 Sergeant. Anthony then spent 25-years working as an automotive mechanic at a small mom-and-pop shop in Richardson, Texas. Late in life, Anthony reunited with his childhood sweetheart, Judy, he retired at age 72, and the couple launched a trucking company to travel the country together. Judy nominated her husband because despite his heart condition, kidney problems, and being diagnosed with Chronic Lymphoid Leukemia, he is a hard-working man who continues to support and care for his family.
Jerry Horton, Balch Springs – Jerry served in the United States Army for almost 11 years, based at Fort Sill, Oklahoma, and Fort Hood, Texas, with assignments in Germany and South Korea. In 1979, his military base went into lockdown for weeks after the South Korean President was assassinated. Jerry completed his service as an E-6 rank Staff Sergeant and went to school to get his degree in criminal justice. Jerry proudly worked for the North Texas Tollway Authority for 29-years until his retirement. Today, he suffers from severe disabilities from neck and hip injuries which causes paralysis from the waist down and leaves him confined to his bed. He is dependent on his daughter and stepdaughter who come in daily to take care of him.
Kayellen Butler, Burleson –Kayellen joined the Navy in 1973 and was sent to boot camp in Orlando, which was the only one open to women at the time. She was stationed at the Naval Regional Medical Center at Camp Lejeune in North Carolina, was transferred to Millington in Tennessee where she reached Petty Officer 3rd Class and worked as a dermatology technician. After four years in the service, she was honorably discharged and began a new career with the U.S. Post Office that lasted 38-years. Kayellen was nominated by her daughter, Rachel, who joined the Navy 20-years ago and is currently on active duty as a Chief Mineman. She says her mother has been through so many hardships and deserves to be comfortable in her home.
For more information and a complete list of official rules for the Veterans Day Giveaway, visit https://airprosusa.com/veterans-day-air-conditioning-giveaway/.
About Air Pros USA:
Air Pros USA was founded in South Florida in 2017 on the premise of integrity, reliability, and putting our customers first. The company has quickly expanded to many metro areas within Florida, Colorado, Georgia, Texas, and Washington. Air Pros USA currently employs over 250 experienced professionals with 12 Service locations. For more information visit www.airprosusa.com.
For media inquiries, contact:
Josh Weiss, 10 to 1 Public Relations
480-789-0743
josh@10to1pr.com
Sharda Veeramally, 10 to 1 Public Relations
480-514-1070
sharda@10to1pr.com
Full System Health Check
Test Amps & Voltage
Safety Device Check
Starting Price
Preventive Maintenance
2 Visits Per Year
Highly Reliable
Financing Available
Annual Savings
With Any Repair Made To
Residential Central Air
Conditioner or Furnace Unit
Great Value
Keep Costs Low
Professional HVAC Team
Financing Options
Available
AIR PROS HOTTEST AIR CONDITIONING DEALS FOR HOMEOWNERS
Apply Now for 100% Financing On New AC Systems & Repairs
Schedule a friendly service tech to come around your neighborhood in the next hour or two.