Spokane Veteran Tim Mahnke Wins Free Furnace From Air Pros USA for Veterans Day
Spokane Veteran Tim Mahnke Wins Free Furnace From Air Pros USA for Veterans Day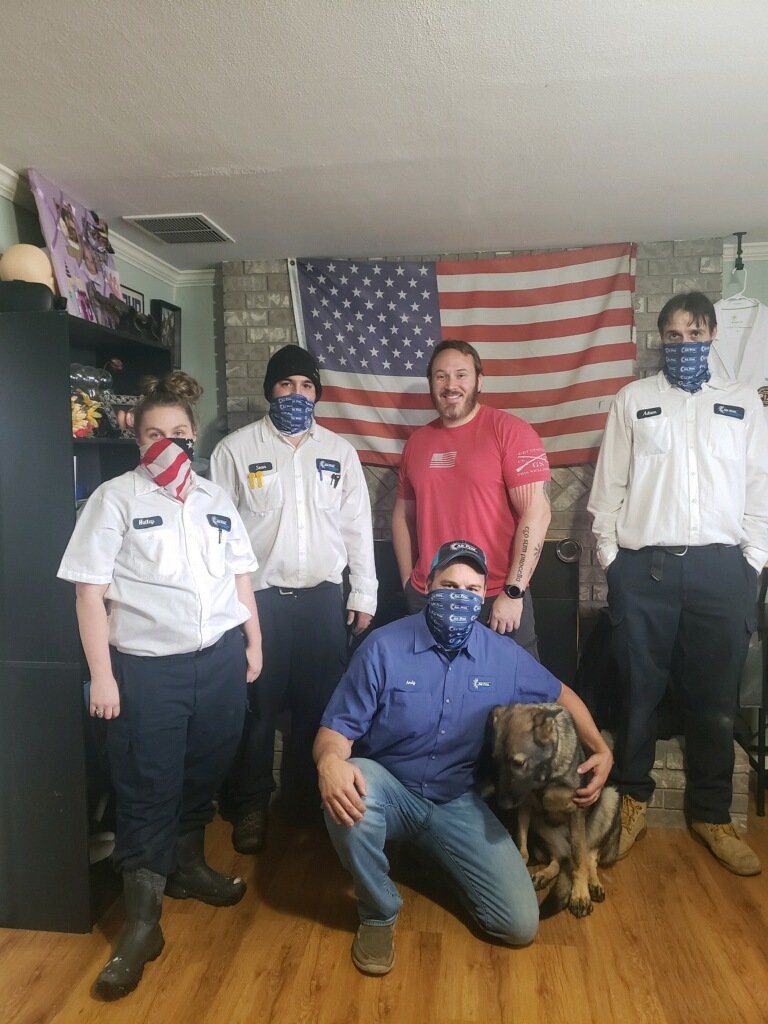 Spokane, WA (November 11, 2020) –Air Pros Residential and Commercial Air Conditioning Services (Air Pros USA) announced Tim Mahnke, a veteran of the United States Air Force, the winner of its "Veterans Day Furnace Giveaway" contest. Yesterday, Air Pros USA's technicians installed a brand-new furnace at Tim's home in Spokane, free of charge.
"I am very appreciative to have won this Veteran's Contest and be the recipient of the new furnace, it was totally unexpected. All of the installers did an amazing job and were incredibly knowledgeable. Thank you to the Air Pros Team for making this happen and my friend Diem for thinking of me and nominating me," said Tim Mahnke.
Air Pros USA sponsored the contest in Spokane to honor the men and women in our community who have served and sacrificed by sharing their stories.
"We are so honored to make life a little easier for a local military hero like Tim by providing a brand-new furnace and installation this Veterans Day," said Anthony Perera, founder of Air Pros USA. "We truly loved learning about our local veterans through this competition. This is just a small way for us to express our gratitude for their service to our country."
Tim served in the United States Air Force for four years and then went on to serve his local community as a Sheriff's Deputy in both Spokane County and Lewis County. After several years as a peace officer, he became a respiratory therapist and even risked his health to work at Providence Holy Family Hospital during the COVID pandemic. In June of this year, Tim enrolled in the University of Washington medical school to become a Physician's Assistant with the dream of joining the National Guard and work in the VA Center. Tim's current furnace is over 50 years old and no longer works properly to heat the home that he shares with five kids under the ages of 16, including a 2-year-old girl they are fostering.
Air Pros USA is proud to honor all of those who served our nation. The company sponsored similar contests to honor Veterans in Colorado, Texas, and Florida.
For more information about Air Pros USA, visit www.airprosusa.com.
About Air Pros USA:
Air Pros USA was founded in South Florida in 2017 on the premise of integrity, reliability, and putting our customers first. The company has quickly expanded to many metro areas within Florida, Colorado, Georgia, Texas, and Washington, with more franchise partners expected to be introduced soon. Air Pros USA currently employs over 250 experienced professionals with 12 service locations. For more information, visit www.airprosusa.com.
For media inquiries, please contact:
Sharda Veeramally
10 to 1 Public Relations
480-514-1070
Josh Weiss
10 to 1 Public Relations
480-789-0743
Full System Health Check
Test Amps & Voltage
Safety Device Check
Starting Price
Preventive Maintenance
2 Visits Per Year
Highly Reliable
Financing Available
Annual Savings
With Any Repair Made To
Residential Central Air
Conditioner or Furnace Unit
Great Value
Keep Costs Low
Professional HVAC Team
Financing Options
Available
AIR PROS HOTTEST AIR CONDITIONING DEALS FOR HOMEOWNERS
Apply Now for 100% Financing On New AC Systems & Repairs
Schedule a friendly service tech to come around your neighborhood in the next hour or two.