Air Pros and Blue Star Handing Out Glow Sticks for Halloween to Help Keep Kids Safe
Air Pros and Blue Star Handing Out Glow Sticks for Halloween to Help Keep Kids Safe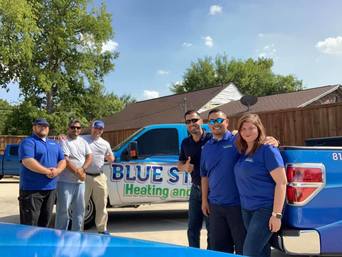 (Dallas, TX , October 24, 2019)— Trick or treating is a great memory for both parents and kids.  Air Pros Residential and Commercial Air Conditioning Services (Air Pros) and Blue Star Heating and Air (Blue Star)  want to make sure it stays that way. 
Understanding the inherent risk of kids in costume running around after dark while drivers are also easily distracted by all the activity, Air Pros and Blue Star will be handing out free glow sticks for children to wear over their Halloween costumes. The idea is to provide an extra piece of visibility for drivers.
"Excited kids darting from home to home while drivers are distracted by all that's happening around them is a dangerous combination, so Air Pros wanted to do our part to help keep our community safe by giving away free glow sticks," said Anthony Perera, Founder of Air Pros. "The glow sticks provide extra visibility for drivers, and they're also loved by kids so it's the perfect safety enhancement that everyone can appreciate." 
Starting on Saturday, October 26, Air Pros and Blue Star technicians will be carrying glow sticks in their vehicles the week of Halloween and parents can come and ask for one for each of their children to use on Halloween night.  Air Pros and Blue Star offices will also have glow sticks available. On Halloween night, some Air Pros and Blue Star staff will also place their wrapped trucks in neighborhoods and will be handing out glow sticks to kids and parents.  
Additional Halloween Safety Tips:
Cross the street at corners, using traffic signals and crosswalks. Look left, right and left again when crossing and keep looking as you cross. 
Put electronic devices down, keep heads up and walk, don't run, across the street.
Teach children to make eye contact with drivers before crossing in front of them.
Always walk on sidewalks or paths. If there are no sidewalks, walk facing traffic as far to the left as possible. 
Children should walk on direct routes with the fewest street crossings.
Watch for cars that are turning or backing up. Teach children to never dart out into the street or cross between parked cars.
Source: Safekids.org 
For more information about Air Pros visit www.AirProsUSA.com.  
About Air Pros:
Air Pros was founded in South Florida in 2017 on the premise of Integrity, Reliability, and putting our customers first.  The company has quickly expanded to many metro areas within Florida and now Dallas, Texas with more franchise partners expected to be introduced soon. To schedule an appointment call 877-299-0228 or for more information or details on franchise opportunities visit www.airprosusa.com
Media Contact:
Josh Weiss, 10 to 1 Public Relations
480-789-0743
josh@10to1pr.com
Natalka Zeleny, 10 to 1 Public Relations
480-676-9946
natalka@10to1pr.com
Full System Health Check
Test Amps & Voltage
Safety Device Check
Starting Price
Preventive Maintenance
2 Visits Per Year
Highly Reliable
Financing Available
Annual Savings
With Any Repair Made To
Residential Central Air
Conditioner or Furnace Unit
Great Value
Keep Costs Low
Professional HVAC Team
Financing Options
Available
AIR PROS HOTTEST AIR CONDITIONING DEALS FOR HOMEOWNERS
Apply Now for 100% Financing On New AC Systems & Repairs
Schedule a friendly service tech to come around your neighborhood in the next hour or two.