Florida-Based Air Pros USA Teams up with Florida Gators Football and Alachua County Veteran Services Division to Provide Local Veteran with a Free A/C Unit
Florida-Based Air Pros USA Teams up with Florida Gators Football and Alachua County Veteran Services Division to Provide Local Veteran with a Free A/C Unit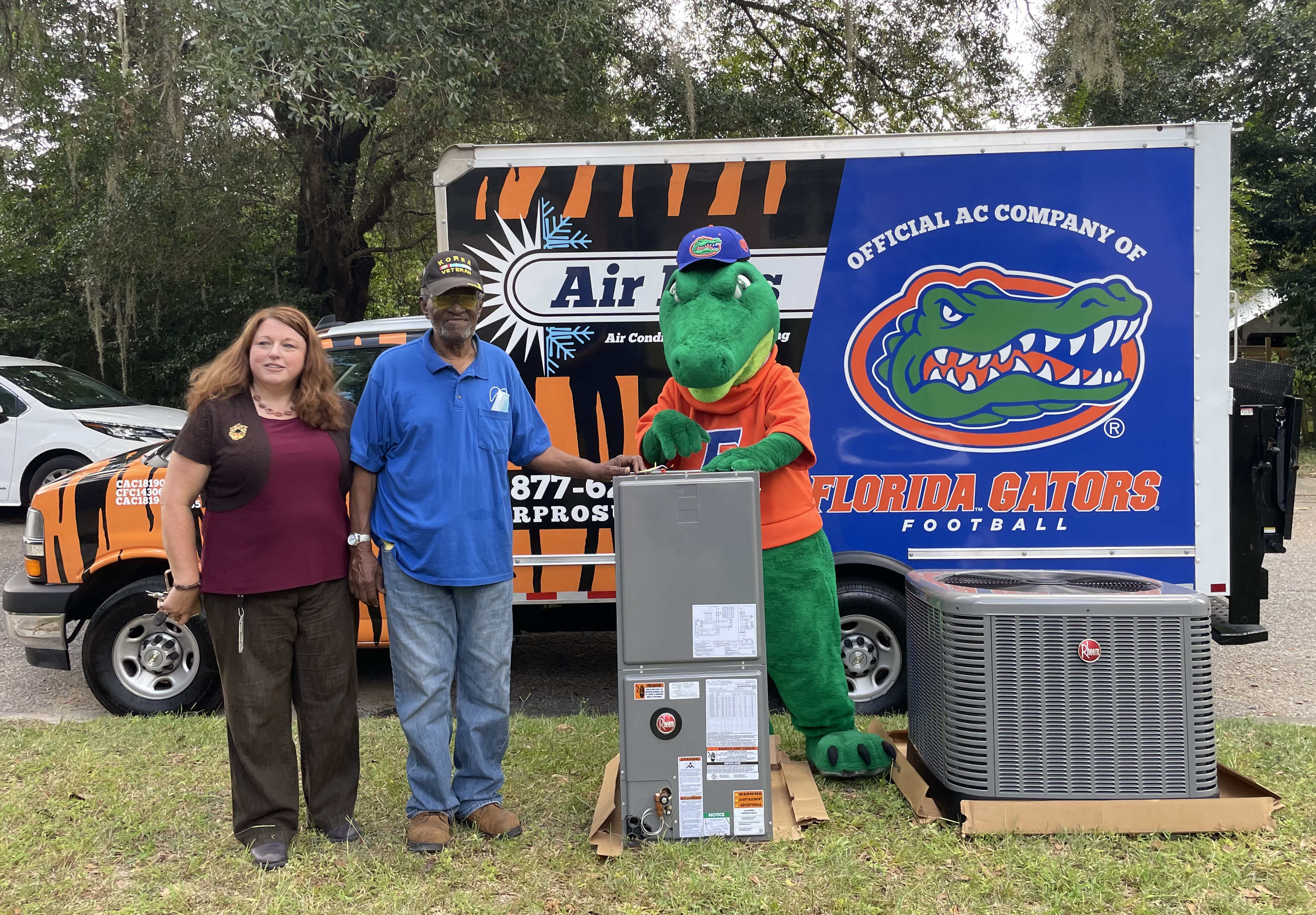 Gainesville, Florida (August 11, 2022) – The Florida Gators Sports Properties and Air Pros USA, a leading residential and commercial air conditioning services company and the official Air Conditioning partner for Gators football, came together for the annual "Saluting Those Who Serve" initiative with the Alachua County Veteran Services Division. They awarded Vietnam Army Veteran, Melvin Campbell, with a brand-new air conditioning unit and installation, free of charge.
Melvin is currently living in a 34-year-old mobile home with air conditioning that is not much newer. He lives with his wife who cares for him as his health is failing due to the sicknesses from herbicide exposure in Vietnam. Thomas served two tours in the United States Army during the Vietnam War. 
"We are thrilled that our Vietnam Veteran, Melvin Campbell was selected for this amazing opportunity," says Kim Davis, Executive Director for Alachua County Veteran Services Division. "Our Veteran Services Team is committed to the Veteran Community in South Florida. We thank Air Pros USA for providing this gift to such a deserving Veteran, that will certainly improve the quality of life for him and his family."
Melvin and his wife raised their family to be people who serve. His daughter plays an integral role in the community as a small business owner. She is married to a first responder who works as both a firefighter and paramedic. 
"We are grateful for this partnership as both Air Pros USA and the Florida Gators are passionate about giving back to the communities they serve," said Anthony Perera, Founder and Chief Growth Officer of Air Pros USA. "We work hard to honor those who have served our country with donations and giveaways. We also make an effort to hire Veterans as well." 
"We are thrilled to continue our partnership with Air Pros USA for our annual Saluting Those Who Serve initiative," said Scott Stricklin, Athletics Director at the University of Florida. "They join other prestigious companies in supporting the Florida Gators and are truly exemplary not only as one of the fastest growing heating and air conditioning companies in the state, but also in their commitment to Veterans and giving back." 
Air Pros USA is continuously finding ways to give back to the community, including Veterans and military service members, to thank them for their service. For more information visit www.airprosusa.com. 
About Air Pros USA
Air Pros USA was founded in South Florida on the promise of integrity, reliability, and putting our customers first. The company has quickly expanded to many metro areas within Florida, Alabama, Mississippi, Colorado, Georgia, Texas, and Washington, with more locations expected to be introduced soon. Air Pros USA currently employs more than 700 experienced professionals in more than a dozen metro service locations including Miami, Orlando, Dallas, Atlanta, Colorado Springs, Mobile and Spokane. For more information visit www.airprosusa.com.
# # #
For media inquiries, please contact:
Joanne Sgro-Killworth
10 to 1 Public Relations
Full System Health Check
Test Amps & Voltage
Safety Device Check
Starting Price
Preventive Maintenance
2 Visits Per Year
Highly Reliable
Financing Available
Annual Savings
With Any Repair Made To
Residential Central Air
Conditioner or Furnace Unit
Great Value
Keep Costs Low
Professional HVAC Team
Financing Options
Available
AIR PROS HOTTEST AIR CONDITIONING DEALS FOR HOMEOWNERS
Apply Now for 100% Financing On New AC Systems & Repairs
Schedule a friendly service tech to come around your neighborhood in the next hour or two.