Air Pros USA Teams Up with Miami Dolphins Football UNITES™ to Give Away Free A/C Units to a Military Family, a Foster Family and Mother in Need
Air Pros USA Teams Up with Miami Dolphins Football UNITES™ to Give Away Free A/C Units to a Military Family, a Foster Family and Mother in Need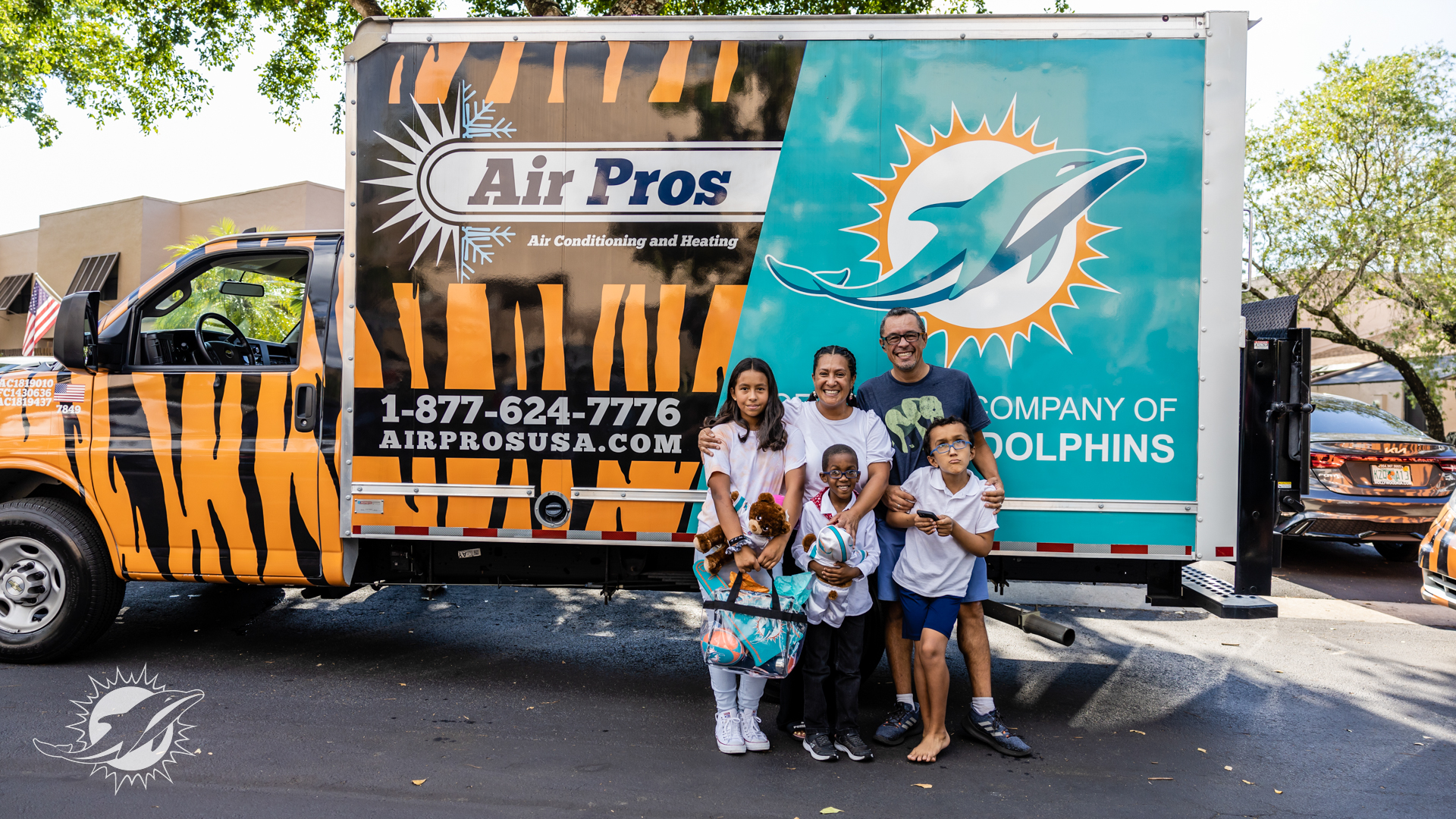 Davie, FL (December 20, 2022) – The Miami Dolphins Football UNITES™ program and Air Pros USA, a leading residential and commercial air conditioning services company and the official Air Conditioning partner for the NFL team, came together to provide new a/c units for those in need in the community. 
The first recipient was Sergeant First Class select Guillermo Oeding of Homestead. He was surprised with a new unit after being nominated by The Wounded Warrior Project, a Miami Dolphins Football UNITES™ community partner.
Representatives from Air Pros USA and the Miami Dolphins showed up on his doorstep to give the servicemember and his family a new a/c unit. He has been in the Army for the past 15 years and is hoping to continue to honorably serve his country until retirement. Sergeant Oeding has been deployed five times; including three times to Iraq, once to Afghanistan and once to South America. Sergeant Oeding not only takes full care of his immediate family but is also the caretaker for his mother. His 11-year-old service dog, Gunther also lives in the home.
"As a South Florida company, everyone at Air Pros USA is grateful for the opportunity to give back through our on-going partnership with the Miami Dolphins Football UNITES™ program, "said Anthony Perera, Chief Growth Officer for Air Pros USA. "Air Pros USA has always been a proud supporter of Veterans and servicemembers in need. Projects like this help not only uplift these families, but also their communities." 
A second donation was given to a Pembroke Pines family nominated by His House Children's Home.  Foster parents Pedro and Carolina have two biological children, one with special needs, as well as three adoptive children.  The loving couple actively helps encourage and motivate future foster parents by serving as role models. 
Their old A/C unit continuously broke down, resulting in costly repairs. With the new A/C system, they can have the comfort in knowing that their children can sleep in a climate-controlled environment and focus on their amazing work as foster parents.
The third recipient as part of this initiative was a local North Miami Beach mom, Jackie Fredrick. She was nominated for a new a/c unit in partnership with the North Miami Beach Police Athletic League (NMB-PAL). 
Fredrick has owned her home since 2011.  The 42-year-old mother of two suffers from Sickle Cell anemia, heart disease and has had brain surgery. Her need to have an updated unit that circulates clean air was urgent.

In addition to raising her 15-year-old son and 10-year-old daughter, Frederick also supports and cares for her 70-year-old mother. Both of her children participate in the NMB-PAL where she diligently ensures they are in attendance and participates in every program offered.
"It is a true blessing for her to receive a new unit for her home," says Lynda Roberts, Executive Director of NMB-PAL. "A new unit that will enhance the clean air flow throughout and make things a lot easier for her."
 "We are elated to be partnering with Air Pros for the third year in a row as we continue to support members of our South Florida community," said Miami Dolphins Senior Director of Community Relations & Youth Programs RaShauna Hamilton. "Thanks to our Football UNITES™ community partners Wounded Warrior Project, His House Children's Home and the NMB-PAL, we were able to identify and provide families in need with a new air conditioning unit to keep them cool through the Florida heat." 
###
About Air Pros USA:
Air Pros USA was founded in South Florida in 2017 on the promise of integrity, reliability, and putting our customers first. The company has quickly expanded to many metro areas within Florida, Alabama, Mississippi, Colorado, Georgia, Louisiana, Texas, and Washington, with more locations expected to be introduced soon. Air Pros USA currently employs more than 450 experienced professionals in more than a dozen metro Service locations including Miami, Orlando, Dallas, Atlanta, Colorado Springs, Mobile and Spokane. For more information visit www.airprosusa.com.
About the Miami Dolphins:
The Miami Dolphins, owned by Chairman of the Board & Managing General Partner Stephen M. Ross, are the oldest major-league professional sports franchise in the state of Florida, having joined the NFL as part of the AFL-NFL merger in 1970. The organization has played in five Super Bowls, winning championships following the 1972 (VII) and 1973 (VIII) seasons. The franchise also has won five conference championships and 13 division championships. The Dolphins play home games in Miami Gardens at Hard Rock Stadium and have worked tirelessly to inspire a healthier, more educated and united South Florida community. The organization hosts the largest fundraiser in the NFL with the Dolphins Cancer Challenge, raising more than $45 million to Sylvester Comprehensive Cancer Center, has impacted more than 60,000 youth high school players, coaches and teams through the Junior Dolphins program and has worked with more than 100 South Florida organizations though Football UNITES™ presented by Baptist Health programming. For more information, visit dolphins.com. 
Media Contact:
Joanne Sgro-Killworth
10 to 1 Public Relations
Full System Health Check
Test Amps & Voltage
Safety Device Check
Starting Price
Preventive Maintenance
2 Visits Per Year
Highly Reliable
Financing Available
Annual Savings
With Any Repair Made To
Residential Central Air
Conditioner or Furnace Unit
Great Value
Keep Costs Low
Professional HVAC Team
Financing Options
Available
AIR PROS HOTTEST AIR CONDITIONING DEALS FOR HOMEOWNERS
Apply Now for 100% Financing On New AC Systems & Repairs
Schedule a friendly service tech to come around your neighborhood in the next hour or two.