Our Rheem Central AC Financing Option
Our Rheem Central AC Financing Option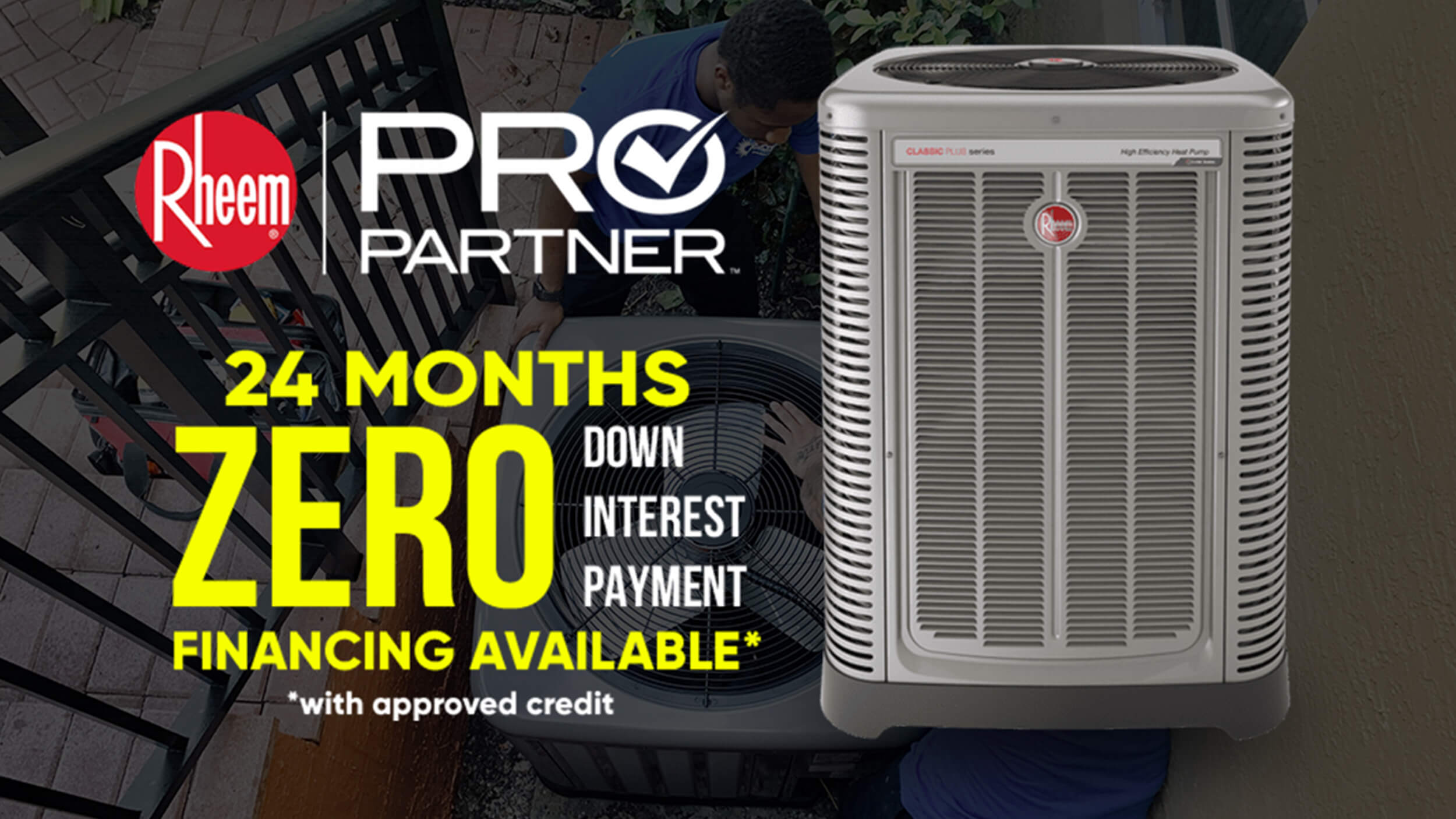 Quality is one of the reasons Rheem air conditioning units and other products from this trusted manufacturer often get positive customer reviews and high ratings. This is also why Air Pros installs and services top-quality air conditioning systems from Rheem. At the same time, we realize a new cooling system can be an investment. That is why we offer a convenient Rheem financing option.
Expand Your Comfort Options with Rheem Financing
With financing, you can choose a new AC install in Weston, FL, that's in line with your preferences and needs. For instance, financing can make a top-quality split-system central air conditioner affordable. This type of system consists of two main parts – a compressor outside and an internal unit. Pipes link these parts, not ductwork. These systems are appealing since they have high Energy STAR ratings. Rheem also offers convenient "all-in-one" commercial package air conditioners.
Invest in a System Correctly Sized for Your Living Spaces
Budget concerns may have you considering a smaller unit. While the smaller Rheem comfort products can be highly efficient in the right environments, it's important to get a system that's correctly sized. If you go with a unit that's too small, you may need AC repair more often because your system is working harder to maintain the desired temperature. Thanks to the Rheem financing we offer, you can enjoy optimal efficiency and comfort.
Our Rheem Financing Option Explained
We offer 24-month financing on Rheem comfort product purchases. With approved credit, you will be able to choose the AC install that's right for your needs without any downpayment. You also benefit from zero interest and 2-full years to pay off your Rheem purchase.
Convenient Financing for Repairs
We also offer 100% financing options for AC repair. This means you do not have to put off air conditioning repairs that can make your system work more efficiently and extend the life of your unit. We'll gladly explain your options when you contact us about our Weston, FL, AC services.
Treat Yourself to the Comfort You Deserve
At Air Pros, our aim is to make sure that our valued clients in Weston and in all the many other areas that we serve will enjoy the many benefits of a smart and affordable AC install. If budget is a concern for you, ask about our Rheem financing option. We also offer a 10-year manufacturer warranty on all top brands.
Talk to one of our courteous, knowledgeable local reps to get started. You're welcome to contact us to schedule an initial consultation before you determine if you wish to explore financing options. You'll receive an honest, accurate estimate so you can make a well-informed decision about a new AC install. If financing is what you prefer to consider, we will guide you through the process to determine if you qualify.

Give us a call today or fill out the online form to discuss AC repair in Weston, FL, new installations, or replacement with a friendly member of our team here at Air Pros. We look forward to working with you.
Full System Health Check
Test Amps & Voltage
Safety Device Check
Starting Price
Preventive Maintenance
2 Visits Per Year
Highly Reliable
Financing Available
Annual Savings
With Any Repair Made To
Residential Central Air
Conditioner or Furnace Unit
Great Value
Keep Costs Low
Professional HVAC Team
Financing Options
Available
AIR PROS HOTTEST AIR CONDITIONING DEALS FOR HOMEOWNERS
Apply Now for 100% Financing On New AC Systems & Repairs
Schedule a friendly service tech to come around your neighborhood in the next hour or two.