9 Common Boiler Problems and How to Troubleshoot Them
9 Common Boiler Problems and How to Troubleshoot Them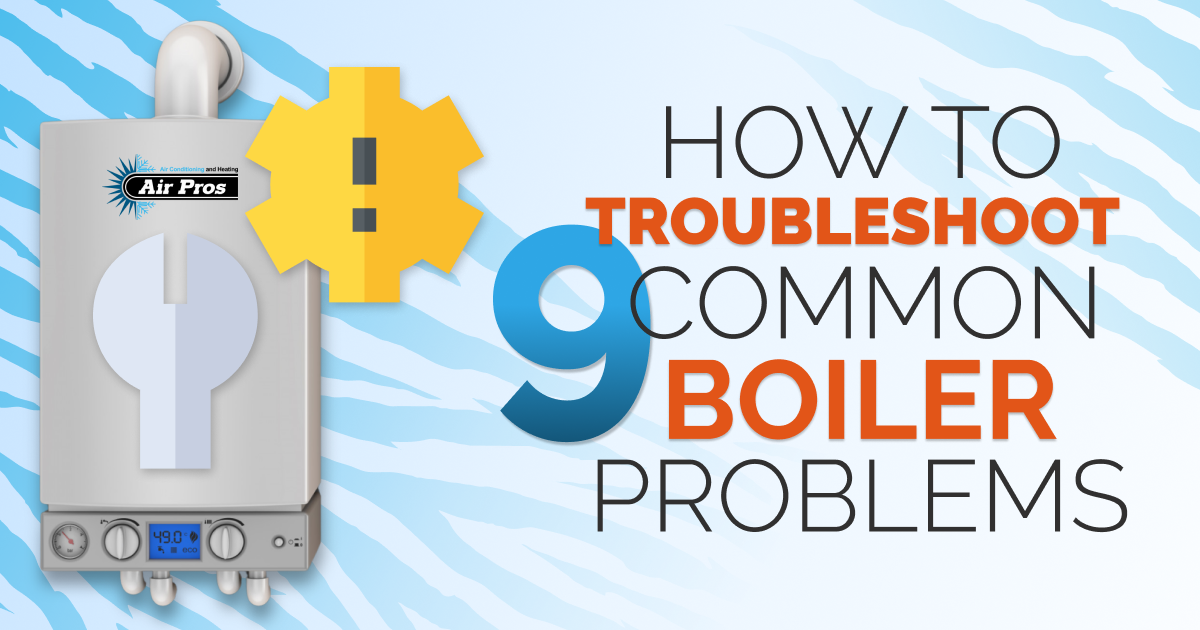 Boilers are critical in keeping homes warm and comfortable all year long. However, as with many mechanical systems, boilers develop problems over time. Many homeowners find that dealing with boiler issues can be a frustrating and untimely headache during the cold months. 
At Air Pros USA, it is our mission to help you. Stay cozy and avoid unexpected breakdowns. Below, we will dive into these common boiler problems and provide tips on troubleshooting your heating system to get it back on track. Learn how to troubleshoot your boiler before calling for boiler repair with our easy tips. 
Below is a list of the most common problems you can expect to encounter with your boiler system:
What To Do When the Boiler Stopped Working?
Whether your boiler is not heating, is leaking, or appears to be turning off intermittently, there is always a solution to the issue. The expert boiler technicians at Air Pros USA have seen just about every problem there is to see when it comes to boiler repair. Below, we will provide the best tips to help you overcome your problems.
No Heat or Hot Water
One of the most common boiler problems is when it stops producing hot water. A variety of problems cause this issue:
Thermostat issues

A lack of power

Low water pressure

Frozen condensate pipe

Kettling

Airlocks

Pilot light issues

Blocked pipes or radiators

Faulty pump
To troubleshoot this problem, we recommend the following three steps:
Check if the thermostat is set correctly.

Ensure that the boiler is receiving power by checking the fuse or circuit breaker.

Bleed the radiators to remove any trapped air that caused a blockage.
If you find that your boiler is still not producing the heat required, reach out to an Air Pros USA boiler repair technician for professional assistance.
Leaking Boiler
If you see puddles and damp areas around your boiler, there's a high probability that it is leaking. Here are some things you can do to troubleshoot this issue:
Turn off the boiler and the water supply 

Check the valves and pipes to see if any of them are damaged to ensure where the leak is coming from

Contact a professional boiler repair technician to help repair or replace the damaged part. 
Unusual Boiler Noises 
One of the most annoying problems in a boiler is when it starts to produce odd sounds such as banging, gurgling, or whistling. These sounds are often a result of trapped air in the radiators, loose components, or damaged parts. Here's what you do to try to eliminate those sounds: 
Bleed the radiators to release any trapped air

Check the boiler and radiators for any parts that may be damaged or loosened. 

Consult your boiler repair tech for a possible descaling service for the heat exchanger
Frozen Condensate Pipe
If the weather temperatures have been especially chilly, you may run into the problem of a frozen condensate pipe that will cause the boiler to shut down. 
To troubleshoot the problem, you will need to thaw the pipe with the help of warm water or a hot water bottle. You can also prevent future freezing by insulating the pipe. 
Radiators Not Heating Up
You may also run into the issue of the radiators not heating up as needed. This will become an issue when it is cold outside, and your home will feel chilly. Here are some things you can try to fix the issue: 
Bleed the radiators of any trapped air

Check the system for sludge or debris, which will need to be removed with the help of power flushing. 

Check the heat pump to ensure that it is working correctly. 
Boiler Keeps Turning Off
Nothing is quite as frustrating as the boiler shutting off before reaching the desired temperature. This is usually caused by incorrect thermostat settings and other malfunctions with the thermostat. Obstructions around the boiler may also cause it. Here's what you do to fix the issue: 
Check the thermostat settings, and adjust them if necessary

Change the batteries in the thermostat

Remove all obstructions around the boiler
If these steps do not work, you will have to reach out to a boiler repair technician for a professional evaluation. 
Pilot Light Problems
A lack of heat produced by the boiler may also be caused by pilot light problems. This is especially true if your boiler is powered by gas. Here's what you do in this situation:
Using the manufacturer's instructions, turn off the gas

Clean the pilot light assembly 

Using the manufacturer's instructions, relight the pilot light

If the issue is not resolved. Contact a technician for a more professional inspection and repair. 
Boiler Not Responding to Thermostat
Sometimes a disconnect happens between the boiler and the thermostat where the boiler just doesn't respond to the thermostat. This is normally caused by the following issues: 
Malfunctioning thermostat sensor

Dirty thermostat

The thermostat needs new batteries 
We recommend changing the batteries on your thermostat and if the problem persists, you may need to have a professional take a look at the issue. 
Uneven Heating
If you believe your boiler isn't heating the home evenly, there may be a problem with incorrect water levels, obstructions around the radiators or boiler, or poor insulation. Try to approach the issue with these tips: 
Check the water levels and using the manufacturer's guide, ensure that they are appropriate

Remove all obstructions around the boiler and the radiators

Consider adding insulation around the boiler if you live in a particularly cold climate or if the boiler is in the garage. 
Got Boiler Problems in Your House?
The problem of the boiler not heating your home can be caused by a multitude of issues, as we can see. If you tried all these tips and nothing worked check out the list of all Air Pros USA locations to get help from our expert Boiler Techs in your area. 
Contact our technicians in FL, GA, AL, LA, TX, MS, CO, and WA today for a thorough assessment of your boiler.
Full System Health Check
Test Amps & Voltage
Safety Device Check
Starting Price
Preventive Maintenance
2 Visits Per Year
Highly Reliable
Financing Available
Annual Savings
With Any Repair Made To
Residential Central Air
Conditioner or Furnace Unit
Great Value
Keep Costs Low
Professional HVAC Team
Financing Options
Available
Schedule a friendly service tech to come around your neighborhood in the next hour or two.