How to Get My Outside Air Conditioning Unit Serviced?
How to Get My Outside Air Conditioning Unit Serviced?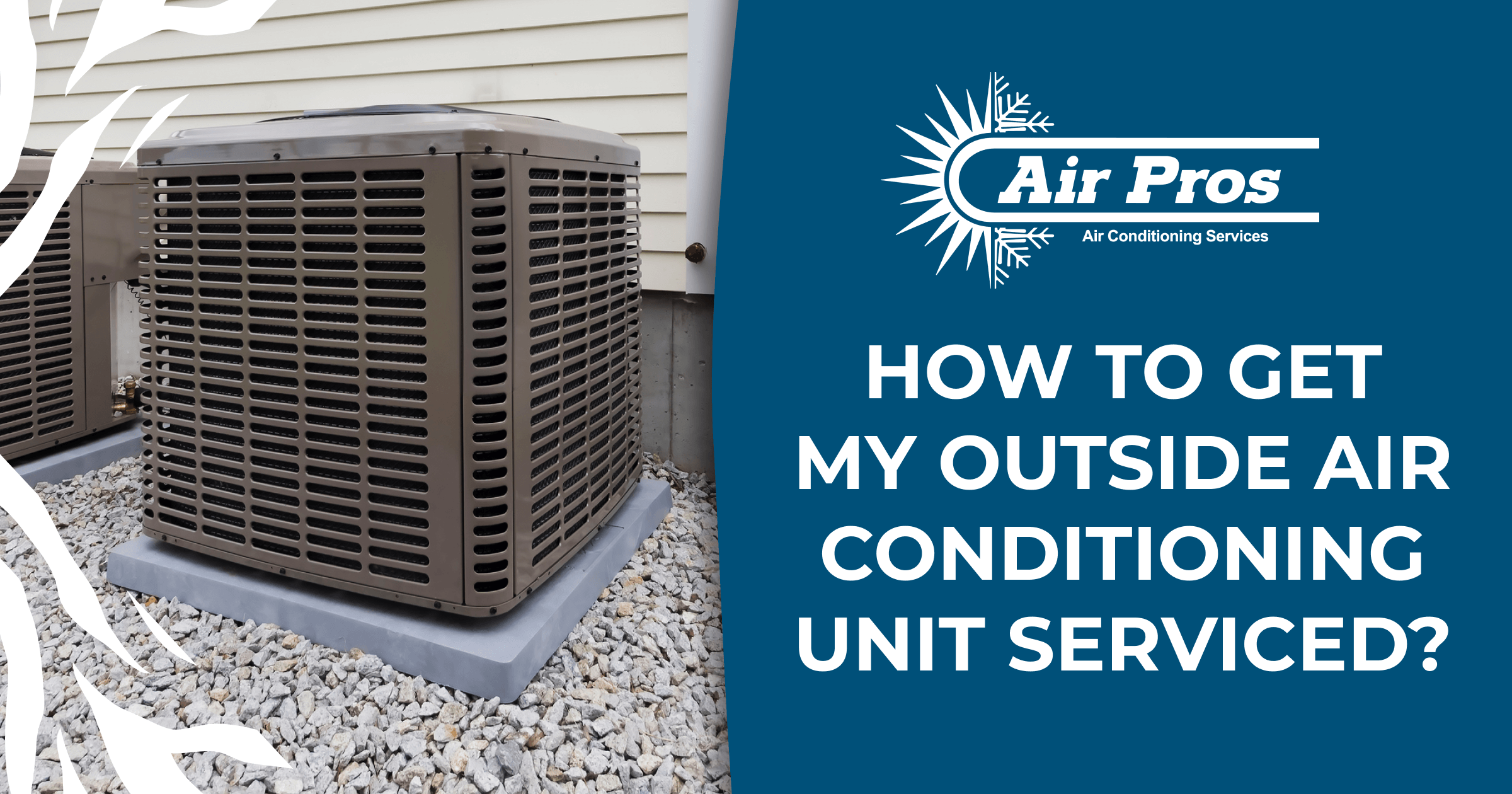 The key to enjoying the benefits provided by an air conditioning system to its maximized potential is to ensure that it is being serviced regularly. Each component of the AC unit requires very specialized and trained attention. Regular maintenance visits will be able to inspect the entire unit and make sure that it is in proper condition. 
However, as prices rise It is not uncommon to see homeowners trying to fix things on their own in order to stay within the household budget. Today we will go over some of the steps that are essential to take when servicing the outdoor air conditioning unit. These steps may be simple for those who have worked with AC units before but will be foreign territory for many. 
Why Maintain The Outside Air Conditioning Unit
The outdoor air conditioning unit does the important work of releasing the unfavorable indoor air outside. As it works hard to accomplish this day in and day out, it accumulates a collection of dust and debris. If it isn't periodically cleaned, the collection of debris will slow down the AC. You will notice a shift in efficiency and less cool temperatures inside the home. 
This process of cleaning the condenser is a typical service included in a regular maintenance visit provided by the air conditioning repair service technicians. It requires special attention to the coils, fins, and belts in the unit. Below, we will outline the steps a technician typically follows when cleaning the outdoor air conditioning unit. Here's a list of tools they use: 
Air conditioner coil cleaner 

Vacuum cleaner with a soft brush attachment 

Garden hose with a sprayer attachment

Gloves and eye protection
If you are performing this cleaning process yourself, make sure to wear clothing that is appropriate for this type of work. Do not wear anything expensive or fancy, as it can get ruined. 
Steps For Cleaning The Condenser Unit
These steps may seem cumbersome but they are essential to the efficiency and longevity of your unit. Follow these steps at least once a year or before a change in seasons. 
1. Find the thermostat and turn it "OFF". 
2. Turn off the breaker for the air conditioner. This breaker is usually found on the side of the wall and has all the switches for all appliances inside the home. This step will ensure your safety as you complete your work.
3. Put your gloves on and begin by discarding large pieces of dirt, leaves, and other debris. Gloves will help protect your hands from unexpected or sharp pieces of debris. Likewise, the condenser tends to heat up, and gloves will prevent burns.
4. After attaching the soft brush, carefully vacuum the condenser's fins. Though they seem very tough, fins are easy to bend. Don't apply too much pressure as that will cause them to bend and hurt the AC's efficiency. 
5. If the unit has any grass, leaves, twigs, or other debris attached to it, use a hose to spray all of that away. 
6. Using the coil cleaner, spray the outside unit. This cleaner typically foams when sprayed. Let it sit for 10-15 minutes, allowing it to foam and loosen up the dirt on the coils. 
7. After 15 minutes, rinse off the coil cleaner with the help of your hose. 
As you follow these steps, pay close attention to the overall condition of the unit. Make sure that all the belts and coils are in their right place, and that everything is connected as required. 
Schedule Your AC Maintenance Service 
Though the outlined steps for cleaning the outdoor air conditioning unit don't seem all that difficult, it is never a bad idea to allow a pro to do the dirty work for you! A professional AC maintenance tech will be able to complete these steps faster and also note anything that would require repairs. Our AC repair techs are available to provide the highest quality of service at your request. Contact us today to schedule your AC maintenance or to learn more about the services we offer. 
Full System Health Check
Test Amps & Voltage
Safety Device Check
Starting Price
Preventive Maintenance
2 Visits Per Year
Highly Reliable
Financing Available
Annual Savings
With Any Repair Made To
Residential Central Air
Conditioner or Furnace Unit
Great Value
Keep Costs Low
Professional HVAC Team
Financing Options
Available
AIR PROS HOTTEST AIR CONDITIONING DEALS FOR HOMEOWNERS
Apply Now for 100% Financing On New AC Systems & Repairs
Schedule a friendly service tech to come around your neighborhood in the next hour or two.