How To DIY Thermostat Installation
How To DIY Thermostat Installation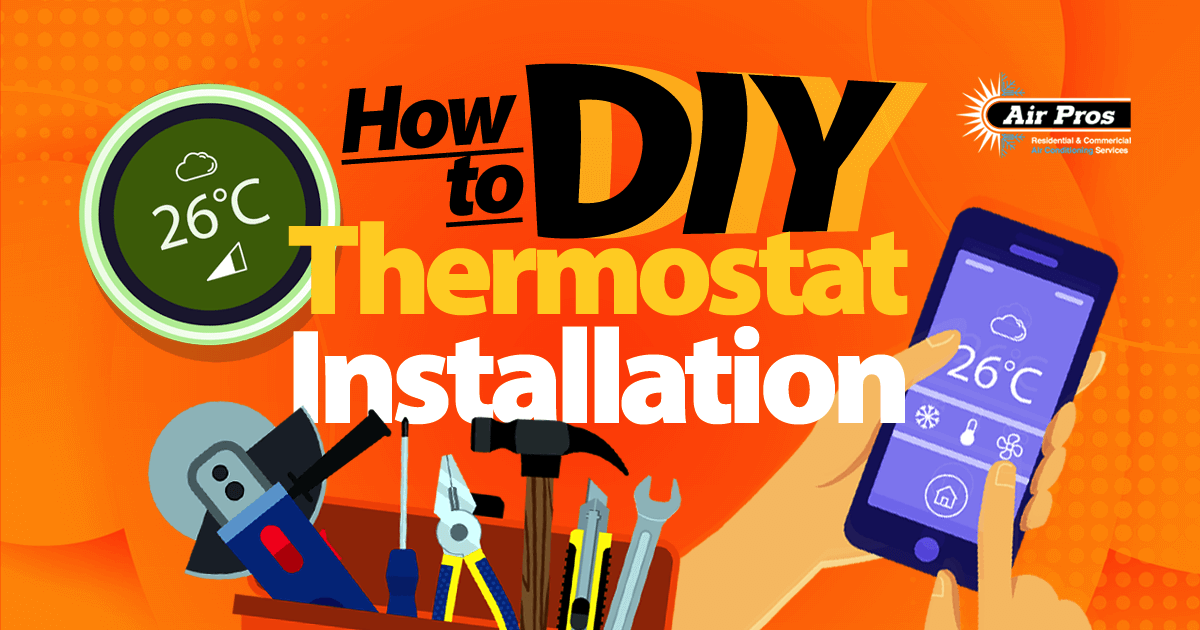 If your current thermostat is coming to the tailend of its lifespan and displaying signs that it needs replacement, you may be wondering if this is something you can do yourself. A thermostat installation is a fairly simple process that our techs do on a regular basis. We outlined the process in seven easy steps to help you get the job done with less stress. These steps apply to programmable and manual thermostats. 
Tools Needed: 
For a successful installation, gather the following tools: 
Screwdriver

Masking Tape

Marker

Drill
1.  Turn Off Power To The HVAC System
Before beginning any type of work, it is important to turn off the power supply to your HVAC system. This is probably the simplest but most important step of the entire process. Head over to the main circuit panel and locate the switch for air conditioning. Turn the switch off by flipping it in the opposite direction. Don't worry, you won't be without AC for long because thermostat installation is a quick process. 
2.  Take Down The Old Thermostat
Now that the power is off, begin taking down the old thermostat by removing the cover plate. Then, using a screwdriver, unscrew the mounting screws. Doing so will loosen the mounting and allow you to remove the body of the thermostat. Be sure to do this step carefully so you don't damage any wires that will be used for the new thermostat. 
Is your new thermostat programmable? Read this article from the Department of Energy about the benefits of a programmable thermostat installation. 
3.  Label The Wires
With the body of the old thermostat removed, you will be left with the wires. Carefully separate these wires and label them using a piece of masking tape. You will need to indicate where each wire needs to be attached. This quick step will help speed up your  thermostat installation and make it a quicker and easier process. It will also help you avoid the pitfalls that happen as a result of incorrectly wired thermostats. 
4.  Disconnect The Wires From The Thermostat
After labeling the wires, now you can go ahead and disconnect them from the thermostat. Do
this carefully so you do not damage the wiring. 
5.  Install A C-Wire If Needed
If you're installing a smart thermostat in your home for the first time, it will require a fifth "C-wire". Now, this step may put some people in a panic but there's no need to do that just yet. 
First, check the wall behind the thermostat's backplate. It may have a C-wire that is hidden in the wall already that will help you resume your thermostat installation. 
Depending on the thermostat kit you use, it may come with a kit and instructions for installing this wire. You can also purchase a similar kit for a local hardware store. 
Unsure of your abilities to do this? Service Today provides the best wiring services in St. Paul and Minneapolis. Give them a call today. 
6.  Install The Faceplate
When the C-wire is installed, you will now be ready to proceed to installing the faceplate. Begin
by attaching the faceplate to the wall and threading the wires through. At this point, the thermostat installation process will be nearly complete. Make sure to screw or drill the faceplate into place to avoid damages. 
7.  Connect The Wiring To Finish Thermostat Installation
Now, you are ready to connect the wiring to the new thermostat. Using the labels you added in step three, connect the wires to their appropriate spots. Add any required batteries and place the thermostat on top of the face plate. You will hear it snap back into place, signaling the completion of your new thermostat installation. Now, turn the power back on and test out your new thermostat! 
Contact Service Today! 
That was quite the process, wasn't it? Though it is easy to install a thermostat yourself, we understand that sometimes you just want to leave these things to the pros. Plus, they can get it done even faster. Contact Service Today to schedule a visit with a technician who will get the thermostat installation in a nick of time! 
Call now at (888) 559-8004 or request a service online!
Full System Review
We Check Drain Line
Test Amps & Voltage
Starting Price For New AC Units
Rheem AC Units
Highly Reliable
Financing Available
Starting Price
Preventive Maintenance
2 Visits Per Year
Rheem AC Units
Highly Reliable
Financing Available
With Any Repair Made To
Residential Central
Air Conditioner Unit
Great Value
Keep Costs Low
Professional HVAC Team
AIR PROS HOTTEST AIR CONDITIONING DEALS FOR HOMEOWNERS
Apply Now for 100% Financing On New AC Systems & Repairs
Schedule a friendly service tech to come around your neighborhood in the next hour or two.