Make Air In Your Home Clean + Pristine For Just $299
Make Air In Your Home Clean + Pristine For Just $299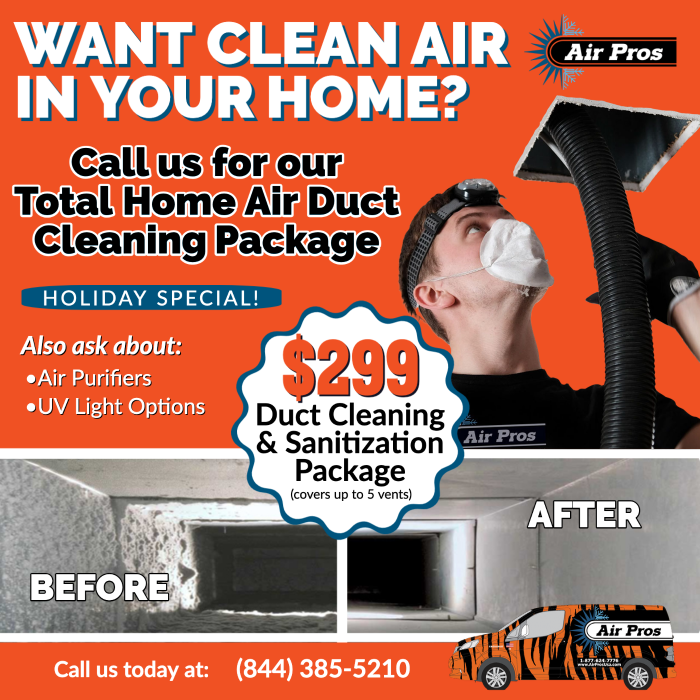 Keep your family's indoor air quality CLEAN & PRISTINE over the holidays with our award-winning TOTAL HOME AIR DUCT CLEANING PACKAGE that includes full sanitization and deodorizing of your supply ducts for just $299.
The Importance of Indoor Air Quality
The air inside your home is rife with all of the dust, mold spores, and pollen that can be found outdoors. However, recent studies from the EPA show that it's actually much worse in your home than outside in terms of pollutant density! Because of this, a proper air quality system can be a homeowner's best friend, which is why the professionals at Air Pros are proud to offer a full range of indoor air quality services and products.  Our Team at Air Pros USA will not only disinfect and sanitize the entire AIRFLOW system – but we'll also use our top-of-the-line Rotobrush machine to thoroughly deep clean all the supply lines.
Advantages of Rotobrush Duct Cleaning
When you need your ducts cleaned, Rotobrush technology offers a deeper level of clean than what's possible with traditional methods.  The device works by inserting the attached brush, that rotates rapidly at 450 revolutions per minute, inside the ducts that needs cleaning.  This allows dust, particles and debris to be knocked loose, and the rapid spinning also generates strong suction to gather all the debris so it can be fully removed. Rotobrush is the future of duct cleaning and used only by top-level professionals to remove all pollutants in your vents, even in the hardest to reach places. This leaves your ducts cleaned in a way that not only enhances your indoor air quality but also improves the efficiency of your entire system.
We won't stop there
Our team will also give your cooling & heating system a FREE check-up to make sure your family remains comfortable indoors as we approach the New Year and beyond.  In addition, Air Pros indoor comfort specialists can also advise you on other Air Quality options including in-duct air purifiers, representing the next generation in home HVAC technology.  These are capable of purifying every cubic inch of air that your central AC system reaches.  We recommend Air Purifiers with any full system upgrade, as they are specifically designed to eliminate sick building syndrome risks by reducing odors and air pollutants.
Other AIr Quality Technologies
Finally, don't forget to ask us our team about our latest range of UV lights that can be connected to your AC unit. The lights kill organic growths, such as mold or bacteria. These organisms have an adverse effect on your indoor air quality.  Not only that, but bacteria creates thin films that coat your system and can significantly reduce the efficiency of your unit.  This in turn means you are wasting money each month on energy bills.  Getting a UV light installed on your system handler is an excellent option, and offers piece of mind in helping keep your air breathable and safe for you and your family!
Don't Miss Our Holiday Duct Cleaning Special
We look forward to keeping your ducts CLEAN & PRISTINE. Call us now on (844) 385-5210 or book online to get your Whole Home Duct Cleaning Package + Sanitization package for just $299.  This includes both sanitization and deodorization of up to 5 vents, to provide exceptional air quality throughout your home as we move into the new year.  The holiday special is a limited time offer, and won't last long- schedule yours today while you still can!
Full System Health Check
Test Amps & Voltage
Safety Device Check
Starting Price
Preventive Maintenance
2 Visits Per Year
Highly Reliable
Financing Available
Annual Savings
With Any Repair Made To
Residential Central Air
Conditioner or Furnace Unit
Great Value
Keep Costs Low
Professional HVAC Team
Financing Options
Available
AIR PROS HOTTEST AIR CONDITIONING DEALS FOR HOMEOWNERS
Apply Now for 100% Financing On New AC Systems & Repairs
Schedule a friendly service tech to come around your neighborhood in the next hour or two.