Common AC Problems Found During a Tune Up
Common AC Problems Found During a Tune Up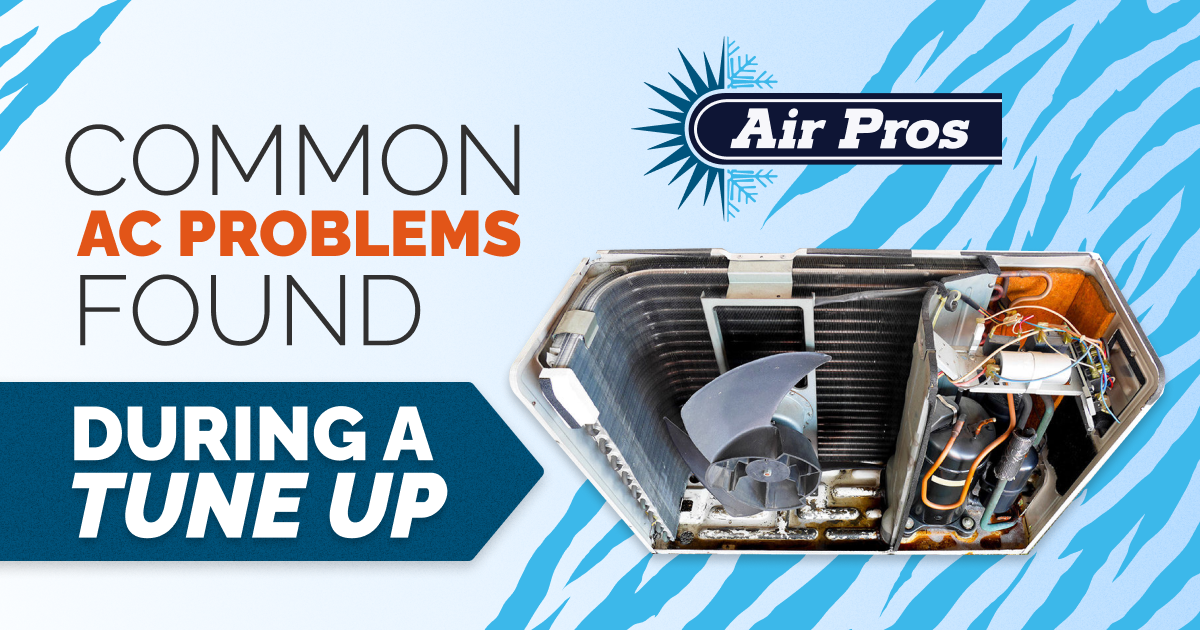 Many people overlook the importance of air conditioning maintenance because they do not know about the various problems discovered during these types of services. In light of the new home AC tune up specials we are currently offering on our website, we want to share with you a few of these most common problems that our technicians quickly resolve. 
Why AC Tune Ups Must Be Performed
There are several reasons why a homeowner chooses to skip air conditioning maintenance services. Many go with the "if it's not broke, don't fix it"  mentality, where a tech's services are requested only when the AC isn't working. Other homeowners are simply too busy, so they put off their tune-ups until there is a real need for repair. However, the following problems are often found during tune-up services, and when fixed, your AC will work much more efficiently and for a more extended period of time. 
Dirty Air Filters
Air filters are critical to cleaning the air before releasing it into the room. This filtration  allows us to breathe healthy and clean air, minimizing the level of allergens and pollutants flowing through the home. Because these filters clean the air, they get inundated with dirt and debris, slowing the airflow and preventing effective filtration. We regularly find these dirty air filters and replace them as part of the home AC tune up special. 
Refrigerant Leaks
Another common problem that is discovered during tune-up services is low refrigerant fluid. Without this fluid, your AC won't cool or heat the home properly. If your AC has a low level of this fluid, our techs will diagnose the cause of this issue and offer a full-proof repair to prevent it from happening. 
Dirty Evaporator Coil
The evaporator coil circulates refrigerant fluid, and when it gets dirty, it loses its efficiency. It is rare when our AC techs do not find these coils dirty in most of our customer's homes. In fact, cleaning these coils is now part of the protocol because of their role in the unit's efficiency and consistent performance. If your AC isn't as efficient, it may be time to investigate the state of your evaporator coils. 
Faulty Thermostat
Malfunctioning thermostats are often discovered during a regular tune-up. When there is an AC issue, it is often difficult to tell if the problem is with the unit or the thermostat. But when you have an AC expert on hand, they will quickly get to the bottom of the problem. Sometimes the problem is in worn-out batteries or sensors that need replacing. However, if the thermostat is old, your tech may recommend replacing it altogether. 
Electrical Issues
A home AC tune-up special may also lead you to discover electrical issues with the air conditioning unit. When these problems occur, fixing them as soon as possible is vital to avoid electrical fires, shock, or surprise breakdowns. A technician will inspect the electrical components of your AC system and make any necessary repairs, ensuring your household's safety and AC's lifespan. 
Condenser Coil Issues
Condenser coils release the heat absorbed from the room and cool the refrigerant flowing through the unit. Sometimes this coil needs to be cleaned, just like the evaporator coils. A tech will be able to clean the coils and, by doing so, will restore the AC's efficiency. 
Fan Problems
The fan motor or blades can wear out over time, causing your AC system to run less efficiently or even break down. Our technicians will check the fans during the tune-up service and make any necessary repairs or replacements.
Take Advantage of These Home AC Tune Up Specials
Is your AC ready for the hot summer months? Call us today to take advantage of our tune-up special, currently running at just $59 per service! Take advantage of these savings and help ensure your AC is in tip-top condition. Give us a call at (844) 605-1919.
Full System Health Check
Test Amps & Voltage
Safety Device Check
Starting Price
Preventive Maintenance
2 Visits Per Year
Highly Reliable
Financing Available
Annual Savings
With Any Repair Made To
Residential Central Air
Conditioner or Furnace Unit
Great Value
Keep Costs Low
Professional HVAC Team
Financing Options
Available
AIR PROS HOTTEST AIR CONDITIONING DEALS FOR HOMEOWNERS
Apply Now for 100% Financing On New AC Systems & Repairs
Schedule a friendly service tech to come around your neighborhood in the next hour or two.