Budgeting for Cool: How to Plan for AC Financing
Budgeting for Cool: How to Plan for AC Financing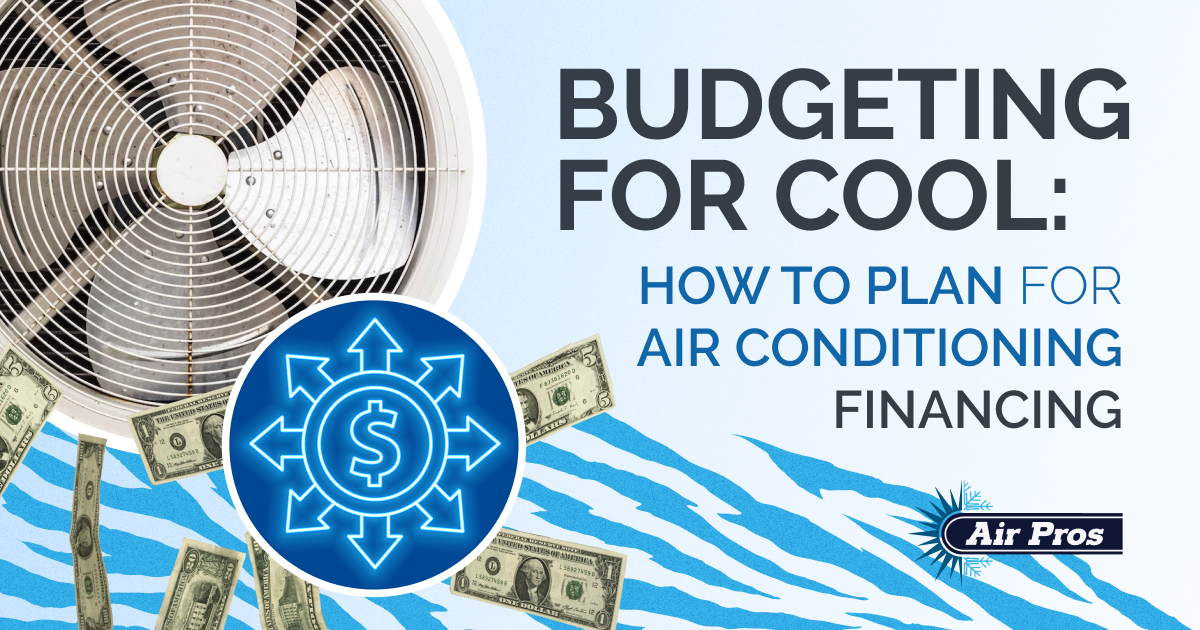 When it is time for an air conditioning replacement, many homeowners find themselves stressing out about the finances surrounding this investment. After all, air conditioning units are costly appliances that not everyone can pay for with out-of-pocket, cash payment. To help you navigate these financial aspects, we put together a guide to air conditioning replacement financing below. 
Preparing Your Budget for an Air Conditioning Financing Success
There is a lot to consider when preparing to replace your air conditioning unit. From the money you currently have on hand to your AC needs and the prices of AC equipment, all of these factors will go into your purchasing decision. 
Assess Your AC Needs
Begin by getting in touch with an air conditioning replacement technician at Air Pros to get help with assessing your current AC unit and needs. Your HVAC tech will inspect your current AC and determine whether a replacement is required. 
If you need a new air conditioning system, the technician will determine the size of AC needed for your home and any additional features. During this time, the AC replacement technicians at Air Pros will also help you narrow down your options for the brand and model of the air conditioning unit that will best suit your home. 
Research Air Conditioning Options
A lot of folks start with a search for AC Financing near me. However, there are various AC options available that will impact the air conditioning replacement financing and the overall process. Your AC tech will present you with all the different types of AC systems like central air conditioning, ductless multi split systems, and window units. Most of the time, I would go with the type of system that is already in your home. 
Our AC installers at Air Pros also take the time to help you understand the installation and maintenance costs associated with each type of unit. More importantly, they will help you choose an optimal energy efficiency rating for your AC that will provide the best possible comfort without costing you too much on monthly energy bills. 
Calculate the Total Cost of the Chosen AC System
Once you narrow down the type of unit, brand, and model of your potentially new AC system, you will be able to answer many of those air conditioning finance questions. This step will be even easier if you have a helpful air conditioning financing representative on hand, such as the ones we have at Air Pros. 
You will need to know what the total is going to be for the AC unit purchase. After taking that number into account, you'll also be met with the AC installation expenses. The fees that will go into the installation service will depend on the type of AC being installed and the labor hours and materials required. 
If you decide to add on some other components such as an air purifier, humidifier, or a new thermostat to the installation, then these add-ons will also drive the total cost of your AC installation. Your HVAC installation technician will provide you with a detailed explanation of these fees.
Exploring Air Conditioning Financing Options
Now that you know the total that you'll need to finance the air conditioning unit, you can review the various options available to make this upgrade possible for you. 
Personal Savings 
Of course, if you have enough money in your personal savings account, you can opt to pay for the air conditioning unit in cash. It is possible to pay for the portion of costs that you can afford while financing the rest through bank loans and credit programs. To ensure that you have enough cash to pay for such an upgrade, it is essential to be aware of the condition of your AC and save in advance. For this reason, we highly recommend regular HVAC maintenance inspections. 
Please note that you may qualify for an energy credit on your taxes as part of the Inflation Reduction Act of 2022.
Bank Loans
The other options you can explore for air conditioning financing options are bank loans. At Air Pros, we partnered up with Wells Fargo, a bank that offers credit to homeowners looking to upgrade their air conditioning units. 
Credit Programs
There are also a handful of credit programs available for helping make the costs of air conditioning financing more manageable. At Air Pros, we offer the following credit programs for your consideration:
Greensky Financing

Okinus Financing

Ygrene Program
You can apply for these programs with little, negative, or no credit at all as their terms and qualifications are flexible. 
Energy Efficiency Financing Programs
Lastly, we also partnered with the property assessed clean energy (PACE) which provides financing options for those properties that use energy efficient appliances and renewable energy. Ask our air conditioning financing representatives about the PACE program. 
Learn About Your AC Financing Options with Air Pros!
Are you preparing to replace your air conditioning unit? Contact Air Pros to learn about all the financing options available to you!
Full System Health Check
Test Amps & Voltage
Safety Device Check
Starting Price
Preventive Maintenance
2 Visits Per Year
Highly Reliable
Financing Available
Annual Savings
With Any Repair Made To
Residential Central Air
Conditioner or Furnace Unit
Great Value
Keep Costs Low
Professional HVAC Team
Financing Options
Available
AIR PROS HOTTEST AIR CONDITIONING DEALS FOR HOMEOWNERS
Apply Now for 100% Financing On New AC Systems & Repairs
Schedule a friendly service tech to come around your neighborhood in the next hour or two.