Air Pros Participating In The 2022 Davie Orange Blossom Parade
Air Pros Participating In The 2022 Davie Orange Blossom Parade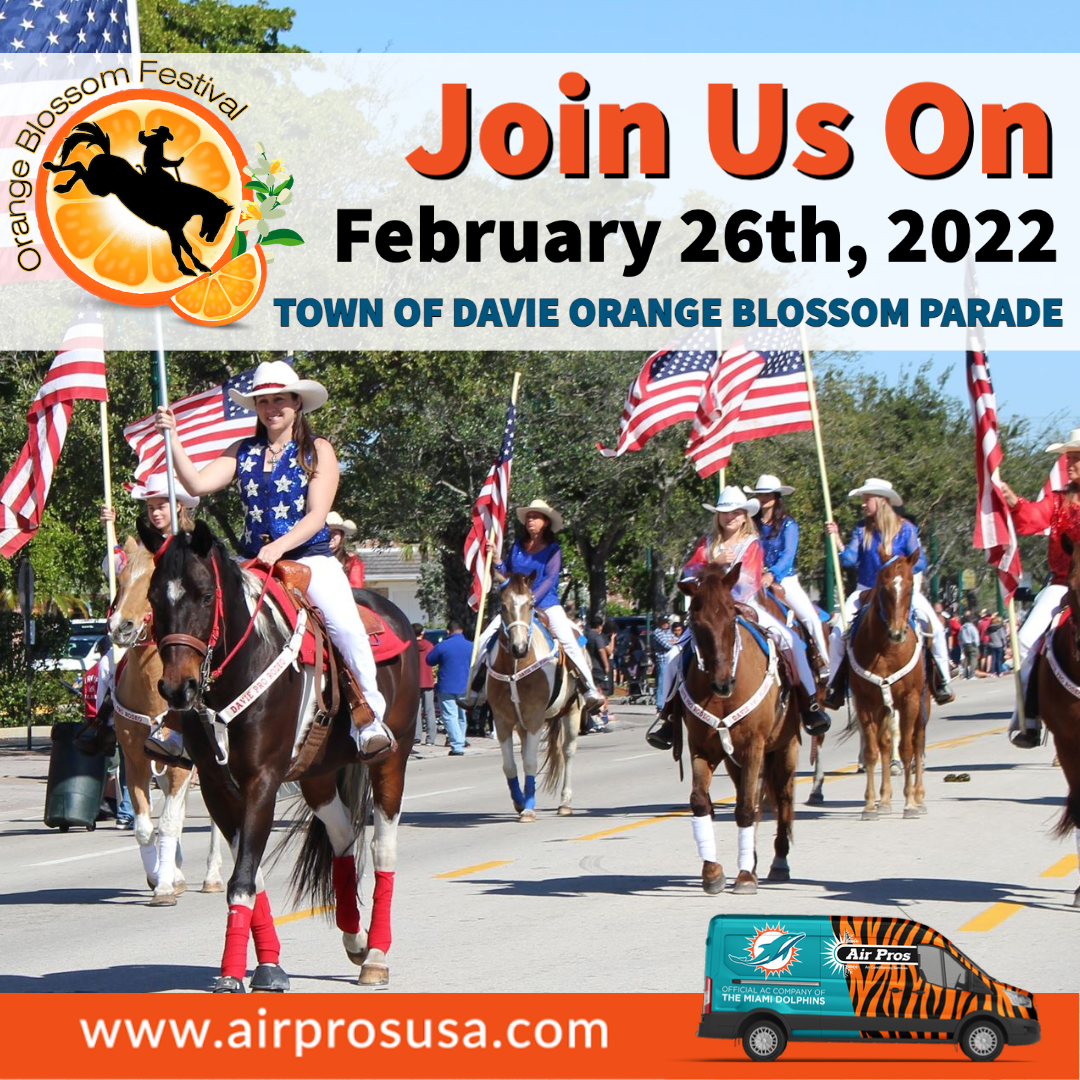 Hold Your Horses, It's Orange Blossom Time
The Town of Davie will be hosting its 85th Annual Orange Blossom Festival, Parade and Rodeo on February 25th and 26th, 2022.  Air Pros is excited to announce we will be participating in this years official parade on February 26th.  Come join us on Saturday for the parade at its new location, through the Pine Island Park (Bamford Sports Complex), 3801 S. Pine Island Road, Davie, FL.
The parade's theme this year is "Hold Your Horses, It's Orange Blossom Time."  Keep an eye out for our tiger striped orange vans you know and love!  The Orange Blossom Parade will begin at 10 a.m. with live music and entertainment starting at 1 p.m., including performances from a variety of artists.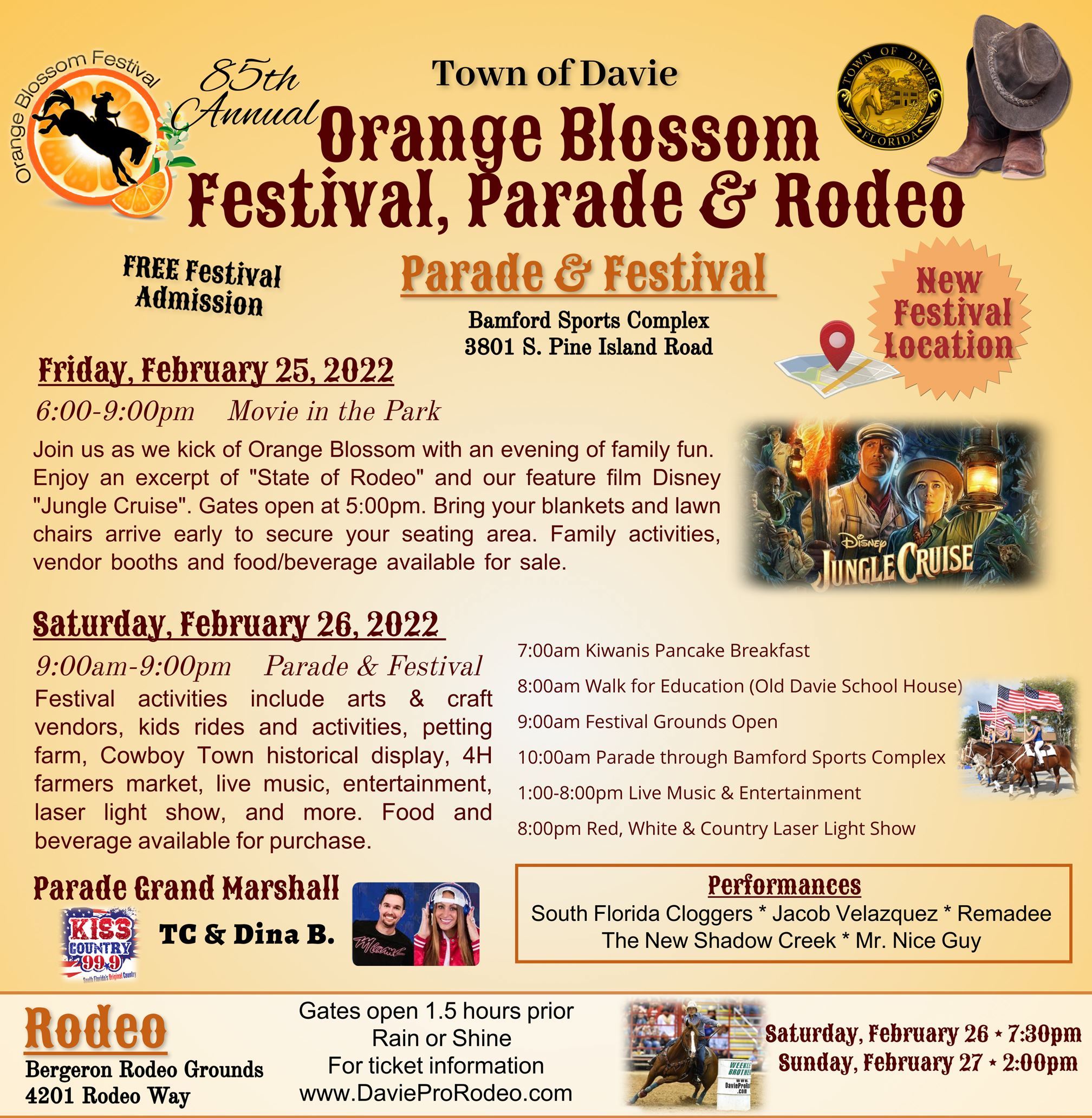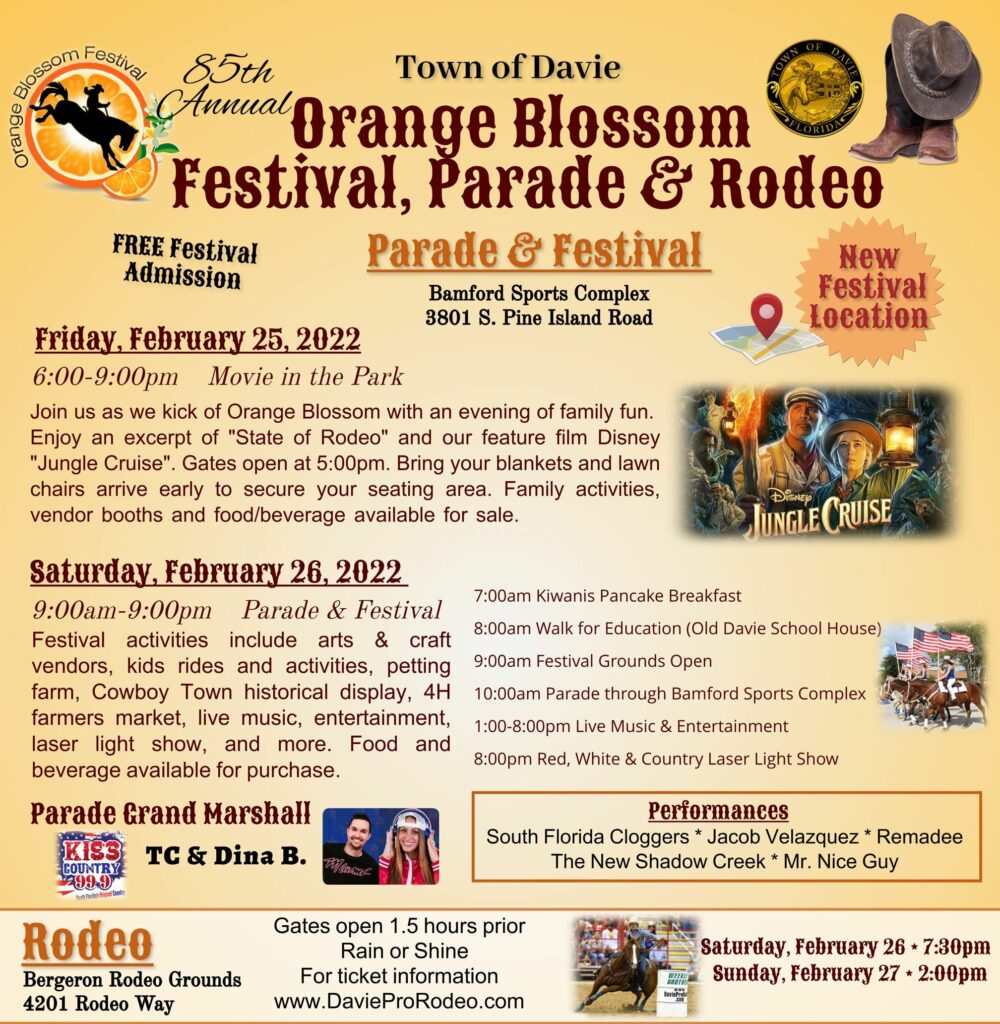 Feb. 25th: Movie in the Park
Join us for a movie in the park from 6 to 9 p.m. as we kick off Orange Blossom with an excerpt of the "State of the Rodeo" documentary followed by the Disney feature-film "Jungle Cruise". Individuals are asked to arrive early to enjoy family activities, vendor booths and food and beverages which will be available for sale.
Gates open at 5 p.m. Seating areas are on a first come, first serve basis and guests are encouraged to bring blankets and lawn chairs.
Feb. 26th: Parade, Festival and Rodeo
Festival grounds open at 9 a.m. for the Orange Blossom festival. Activities include:
Arts and crafts vendors
Kids rides and activities
Petting farm
Cowboy Town historical display
Kiwanis Pancake Festival
Strawberry Shortcake festival
Parade Grand Marshal Kiss Country 99.9 TC and Dina B.
4H farmers market, and more!
Food and beverages available for purchase.
Orange Blossom Rodeo
The Orange Blossom Rodeo will be held at Bergeron Rodeo Grounds, 4201 Rodeo Way, on Saturday Feb. 26, 2022, at 7:30 p.m. and Sunday, Feb. 27, 2022, at 2 p.m.
The weekend will be full of fun activities for the whole family, so don't miss out!  We hope to see you there.
For more information, view the Orange Blossom event flyer.  or visit the official website.  You can also  contact specialevents@davie-fl.gov or call 954-797-1181 to learn more.
Full System Health Check
Test Amps & Voltage
Safety Device Check
Starting Price
Preventive Maintenance
2 Visits Per Year
Highly Reliable
Financing Available
Annual Savings
With Any Repair Made To
Residential Central Air
Conditioner or Furnace Unit
Great Value
Keep Costs Low
Professional HVAC Team
Financing Options
Available
Schedule a friendly service tech to come around your neighborhood in the next hour or two.