5 Signs You Need a New HVAC Blower
5 Signs You Need a New HVAC Blower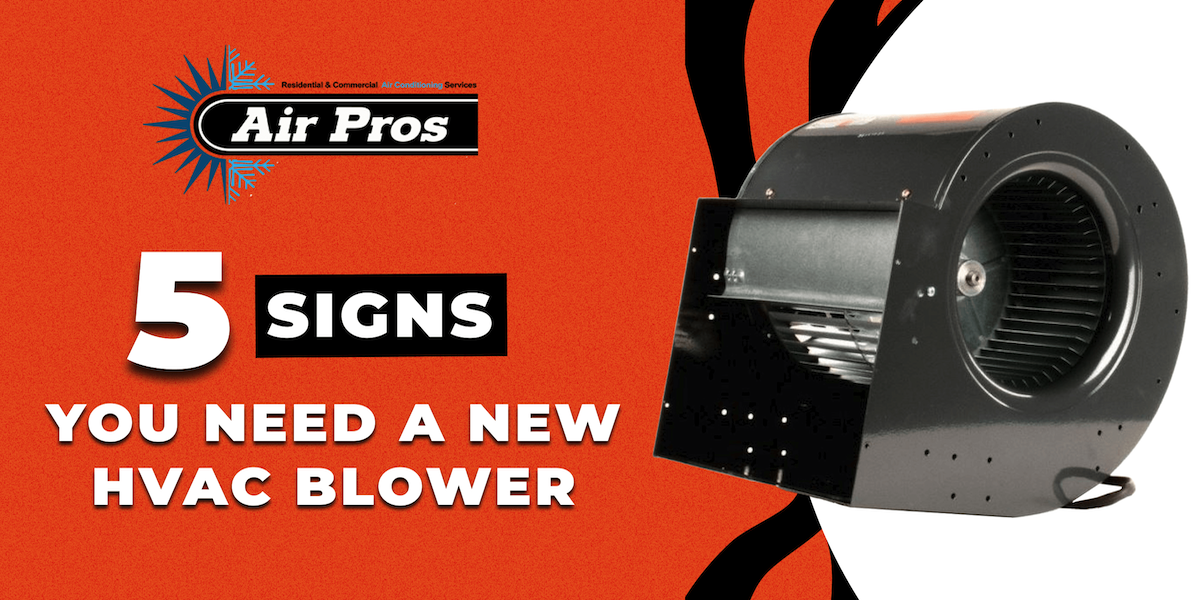 Our heating, ventilation, and air conditioning (HVAC) systems are essential for the comfort of our homes. They allow us to moderate the temperature in the house and enjoy all the seasons to their fullest. For this reason it is important to make sure that the entire system is in tiptop shape as seasons change. Every part in the HVAC system plays an integral role in its function, including the HVAC blower. 
What Is An HVAC Blower? 
An HVAC blower is the motor inside the system. It is the life of the air conditioning unit as it blows the air through the vents. If it is broken or out of order, you will lose the ability to enjoy cool air inside your home. There are a very signs that a homeowner must watch out for that will indicate whether a new HVAC blower is needed. 
1. High Energy Bills 
Have you noticed that your energy bills have gone up without an increase of use of heating and air conditioning? This occurrence is a telltale sign that your HVAC blower needs attention. If it is in need of maintenance or repair, it will work harder and thus use more energy. To avoid increased bills, we recommend a seasonal maintenance inspection to ensure that everything is working in proper order. 
2. Loud Or Weird Noises 
If you just turned on your heater and it is making strange noises, you may need to have the HVAC blower checked out. Rattling or banging sounds may be an indication of loose or broken parts in the motor. These sounds can also be a symptom of loose belts. If they aren't addressed in a timely manner, they could damage the rest of the parts of the HVAC system. As a result, the efficiency will go down, resulting in higher bills and an eventual replacement. 
3. Overheating 
Overheating is never a good sign and could be a potentially hazardous situation. If there is a burning smell coming from the vents the system is already overheated. If it doesn't seem like the system turned off automatically, it is important to do shut it down yourself. 
A host of problems can occur as a result of an overheating HVAC blower. It can bring damage to the entire system, the electrical wiring, and potentially set the house on fire. Make sure to contact an air conditioning repair service company immediately after this happens. 
4. Weak Airflow
Weak airflow is a great indicator that something is wrong with the motor of your furnace. If you're not getting much air, you may need to check the motor. Weakened airflow is caused by various factors. Your HVAC system may just be old or in need of repairs. If the motor hasn't been cleaned in awhile, it will slow down as it gets weighed down by dust and debris. Weak airflow may also be caused by clogged filters, leaky or dirty ducts. 
5. Lack Of Airflow
What's worse than no airflow is the lack of airflow entirely. This is normally caused by age or deterioration. Unfortunately, nothing is permanent these days and as your HVAC approaches the end of its lifespan, it will eventually go out. Similarly, if major issues go unnoticed without repair, the entire system will begin to deteriorate and break down. This will result in the lack of airflow and an inevitable system shutdown. By this stage the damage is normally irreparable and will require a replacement of the entire system. 
Do You Need A New HVAC Blower?
Based on these signs, do you think you may need your HVAC system inspected for a possible replacement of the blower? If you think your HVAC may require a new blower or a general maintenance inspection, call us today to schedule a visit! 
Full System Health Check
Test Amps & Voltage
Safety Device Check
Starting Price
Preventive Maintenance
2 Visits Per Year
Highly Reliable
Financing Available
Annual Savings
With Any Repair Made To
Residential Central Air
Conditioner or Furnace Unit
Great Value
Keep Costs Low
Professional HVAC Team
Financing Options
Available
Schedule a friendly service tech to come around your neighborhood in the next hour or two.