Goulds, Florida Couple Surprised with A Brand-New Air-Conditioning Unit by the Miami Dolphins and Air Pros USA
Goulds, Florida Couple Surprised with A Brand-New Air-Conditioning Unit by the Miami Dolphins and Air Pros USA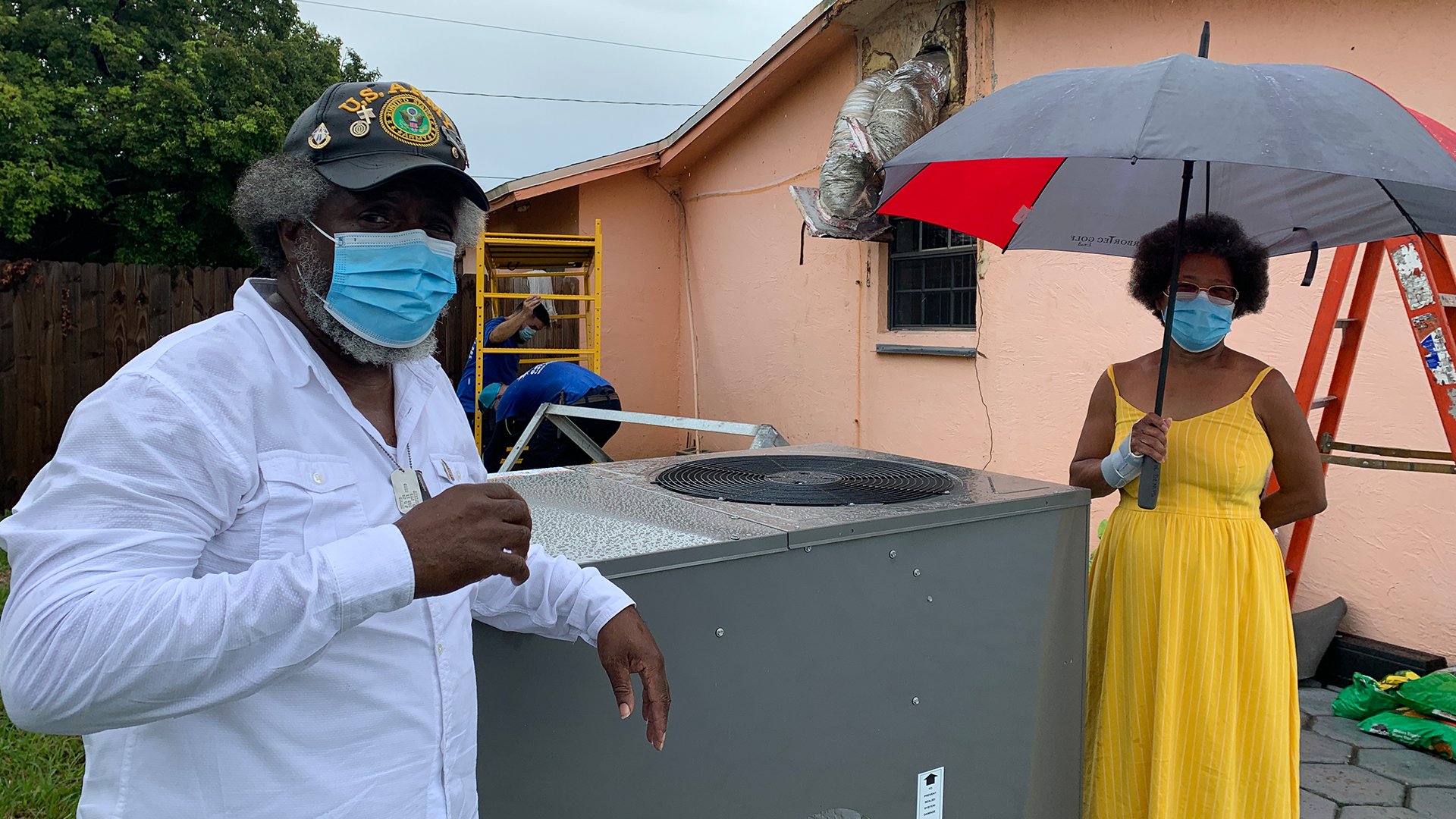 Davie, FL (September 11, 2020) – Earlier this week, the Miami Dolphins and Air Pros USA, a leading residential and commercial air conditioning services company and the official Air Conditioning partner for the NFL team, came together to help an elderly couple living in Goulds, FL. J.L., Jr. and Enid W. Demps were nominated and selected to receive a brand-new air conditioning unit, free of charge. 
The Miami Dolphins FOOTBALL UNITES™ program worked through nominations from community partners such as the Greater Miami South Florida Pop Warner, Inc. to select the Demps. On Wednesday, September 9, Air Pros USA installed a new air conditioning unit and assisted them with all permit requirements.
"We are in the business of providing cool and healthy indoor home environments and we understand better than anyone else how important it is to feel comfortable in your own home," said Anthony Perera, founder of Air Pros USA. "By teaming up with Miami Dolphins FOOTBALL UNITES™, everyone at Air Pros USA feels proud to be able to do our part to serve the community and provide a new air conditioning unit to this amazing couple."
"We are proud to have a partnership with Air Pros USA that extends beyond the field and supports the mission of our FOOTBALL UNITES™ program of utilizing our platform to bring positive change to the South Florida community," said RaShauna Hamilton, Miami Dolphins Senior Director of Community Relations & Youth Programs. "Through our great community partner, the Greater Miami South Florida Pop Warner, Inc, we were able to identify a deserving family and provide them with air-conditioning units that will hopefully make the Demps's lives at home a little easier."
The Demps have had problems with their AC unit for a long time. Despite numerous repairs, their AC unit only cooled half of the house, it did not work at all in the evening and the heating system was missing. The unit would also freeze on occasions and had to be "defrosted" for the ice to melt to get it to work again but the couple could not afford to get a new unit.
"It was heartbreaking to see an elderly couple go through such difficulties and do so much manual work to stay cool and safe inside their home. When we learned from the FOOTBALL UNITES™ team about the donation, we instantly knew we had to nominate them. It makes us happy to know that now they can live comfortably in their home," said LaShawn Fann, President of Greater Miami South Florida Pop Warner, Inc.
"We are very excited and pleased with the gesture and would like to thank the Dolphins, Air Pros, and the Greater Miami South Florida Pop Warner. Air Pros crew did such as good job with the install. We will definitely recommend Air Pros to all our friends and family," said Enid W. Demps.
About Air Pros USA:
Air Pros USA was founded in South Florida in 2017 on the premise of integrity, reliability, and putting our customers first. The company has quickly expanded to many metro areas within Florida, Colorado, Georgia, Texas, and Washington, with more franchise partners expected to be introduced soon. Air Pros USA currently employs over 250 experienced professionals with 10 Service locations. For more information or details on franchise opportunities visit www.airprosusa.com. .
About the Miami Dolphins:
The Miami Dolphins, owned by Chairman of the Board & Managing General Partner Stephen M. Ross, are the oldest major-league professional sports franchise in the state of Florida, having joined the NFL as part of the AFL-NFL merger in 1970. The organization has played in five Super Bowls, winning championships following the 1972 (VII) and 1973 (VIII) seasons. The franchise also has won five conference championships and 13 division championships. The Dolphins play home games in Miami Gardens at Hard Rock Stadium and have worked tirelessly to inspire a healthier, more educated and united South Florida community. The organization hosts the largest fundraiser in the NFL with the Dolphins Cancer Challenge, giving more than $32 million to Sylvester Comprehensive Cancer Center, has impacted more than 60,000 youth high school players, coaches and teams through the Junior Dolphins program and has worked with more than 100 South Florida organizations though FOOTBALL UNITES™ programming. For more information, visit dolphins.com.
About Greater Miami South Florida Pop Warner, Inc:
The Greater Miami South Florida Pop Warner League was chartered by Pop Warner Little Scholars, Inc., a national non-profit organization, in 1972. Pop Warner is the only national youth sports program which requires its' participants to maintain a level of academic achievement in order to participate. Greater Miami South Florida Pop Warner League is an all-volunteer, 501c(3) nonprofit organization that provides an organized tackle football, cheerleading and dance program for over 8000 children, from 4 to 15 years of age, in Miami-Dade County. The mission of Greater Miami South Florida Pop Warner League is to enable local children to benefit from participation in team sports and activities in a structured and safe environment. Through our associations, Pop Warner programs instill the fundamental values of teamwork, dedication and a positive work ethic both on and off the field of play.
For media inquiries, contact:
Josh Weiss, 10 to 1 Public Relations
480-789-0743
josh@10to1pr.com
Sharda Veeramally, 10 to 1 Public Relations
480-514-1070
sharda@10to1pr.com
Full System Health Check
Test Amps & Voltage
Safety Device Check
Starting Price
Preventive Maintenance
2 Visits Per Year
Highly Reliable
Financing Available
Annual Savings
With Any Repair Made To
Residential Central Air
Conditioner or Furnace Unit
Great Value
Keep Costs Low
Professional HVAC Team
Financing Options
Available
Schedule a friendly service tech to come around your neighborhood in the next hour or two.