Air Pros USA Brings Cleaner Air to Boys and Girls Clubs of Broward County
Air Pros USA Brings Cleaner Air to Boys and Girls Clubs of Broward County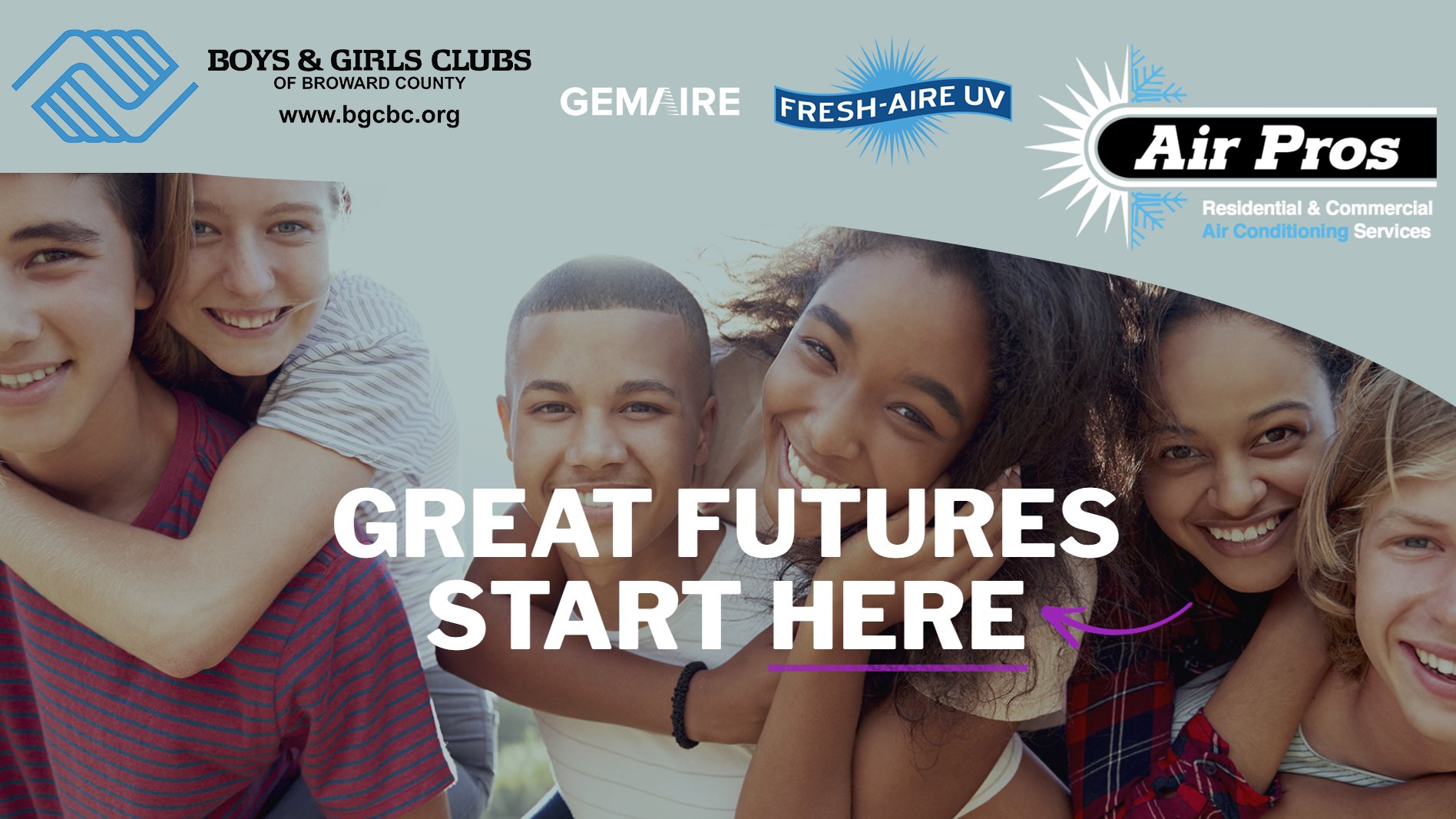 Local company teams with Fresh-Aire UV and Gemaire Distributors to install UV light technology
Davie, FL (July 01, 2020) – Air Pros USA Residential and Commercial Air Conditioning Services (Air Pros USA) teamed up with industry partners to donate and install 150 Fresh-Aire UV light systems to the Boys and Girls Clubs of Broward County (BGCBC), Florida. This collaborative donation brings advanced UV technology to 11-club locations so returning children and volunteers will have healthier indoor environments.
"The need for quality indoor air is more critical than ever. We are hopeful that our efforts to improve the air in these safe environments will help more families have the confidence to let children return to the clubs and take advantage of their amazing programs," said Anthony Perera, founder of Air Pros USA.
Perera is also an Advisory Council member for BGCBC and aligns closely with their mission to enable youth to reach their full potential as productive, caring, and responsible citizens.
"We are constantly working to make the clubs safe for children to pursue their passions and this donation gives us peace of mind that we will all be breathing cleaner air as we welcome back kids and teens," said Matt Organ, co-CEO of Boys and Girls Clubs of Broward County. "We're thankful to Anthony and his partners for their generous contributions."
To make the donation possible, Perera teamed up with Gemaire Distributors, a wholesale distributor of air conditioning, heating and related parts and supplies in the HVAC/R industry, and Fresh Aire-UV, an award-winning commercial and residential UV light and carbon products provider.
"I am extremely happy to have found business partners and friends at Gemaire Distributors and Fresh-Aire UV and grateful they stepped up for the community to help make this idea become a reality."
UV light technology compliments air conditioning systems to improve indoor air quality by neutralizing viruses and other microbes as the air circulates through the ventilation system. UV light systems are tested and validated against surface bacteria, viruses, mold, and fungus, and have been shown to achieve up to 99.999996% reduction on microorganisms.
About Air Pros USA:
Air Pros USA was founded in South Florida in 2017 on the premise of integrity, reliability, and putting our customers first. The company has quickly expanded to many metro areas within Florida, Colorado, Georgia, Texas, and Washington, with more franchise partners expected to be introduced soon. Air Pros USA currently employs over 250 experienced professionals with 10 Service locations. For more information or details on franchise opportunities visit www.airprosusa.com.
About Boys and Girls Clubs of Broward County (BGCBC):
Boys & Girls Clubs of Broward County (BGCBC) is a non-profit 501(c) (3) private agency, dedicated to helping young people improve their lives by building self-esteem and developing values and skills during their critical period of growth. Serving more than 12,000 at-risk youths, ages 6-18 each year from its 12 Broward County-area clubs, their purpose is to inspire and enable children to realize their full potential as productive, responsible, and caring citizens.www.bgcbc.org.
For media inquiries, please contact:
Josh Weiss, 10 to 1 Public Relations
480-789-0743
josh@10to1pr.com
Sharda Veeramally, 10 to 1 Public Relations
480-514-1070
sharda@10to1pr.com
Full System Health Check
Test Amps & Voltage
Safety Device Check
Starting Price
Preventive Maintenance
2 Visits Per Year
Highly Reliable
Financing Available
Annual Savings
With Any Repair Made To
Residential Central Air
Conditioner or Furnace Unit
Great Value
Keep Costs Low
Professional HVAC Team
Financing Options
Available
AIR PROS HOTTEST AIR CONDITIONING DEALS FOR HOMEOWNERS
Apply Now for 100% Financing On New AC Systems & Repairs
Schedule a friendly service tech to come around your neighborhood in the next hour or two.