When to Call a HVAC Repair Tech?
When to Call a HVAC Repair Tech?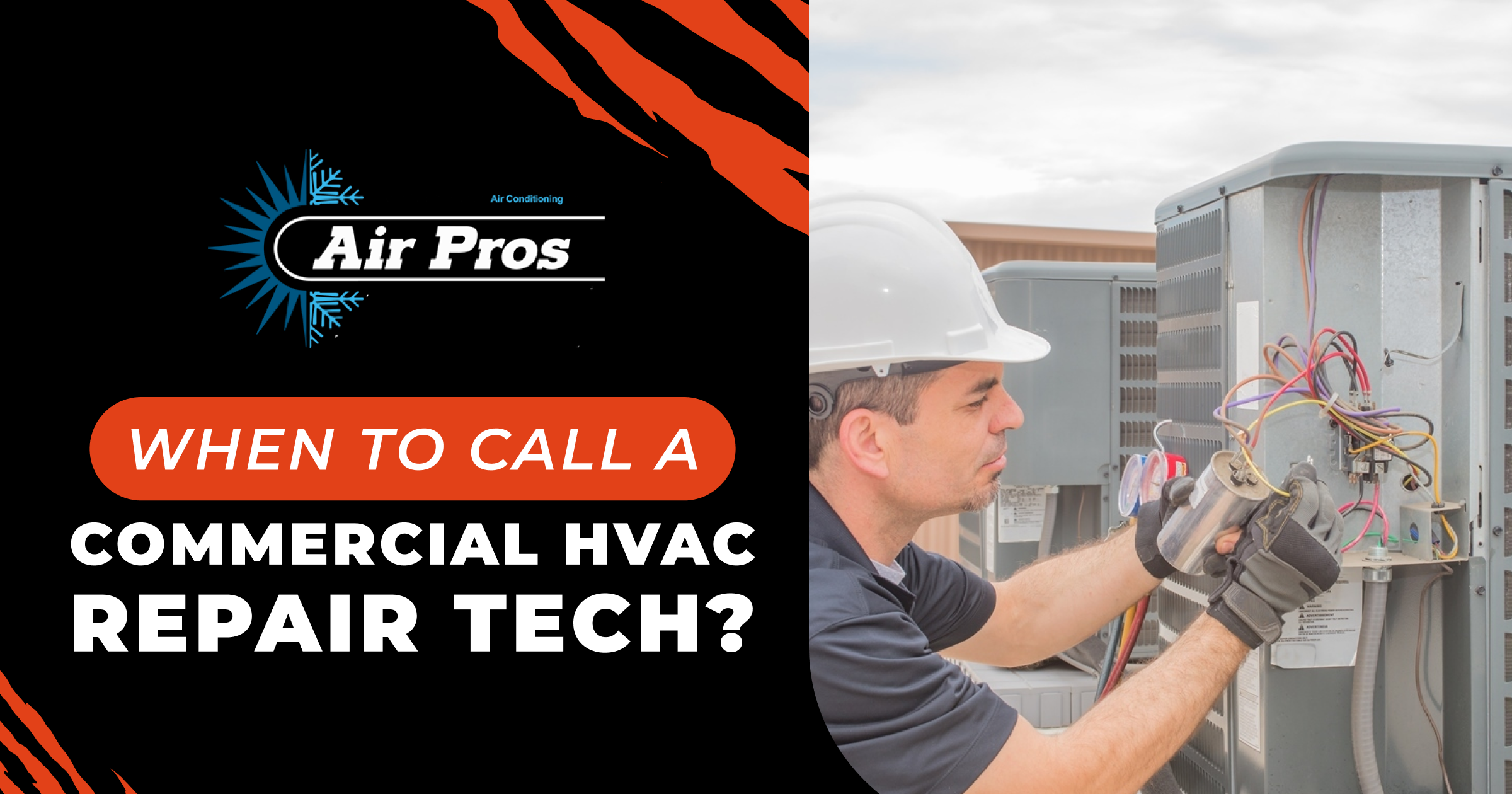 When your AC breaks down at home, it is quite inconvenient but bearable to handle. But the issue compounds very quickly when it breaks down in your place of business. It has the potential to create great discomfort for your customers, employees, and hurt your flow of business. One of the keys to avoiding the problem of the broken AC is being aware of the signs of repair and getting help in a timely manner. As the top AC repair techs in Coral Springs, FL, we at Air Pros will share the top four signs that your commercial AC is in need of repair. Read on and be prepared to call one of our techs about your HVAC concerns. 
Loud Noise
If you're hearing odd sounds coming from your HVAC system, it is probably time to call a technician before things get worse. Below are some of the most common sounds that are cause for concern: 
Clicking:

These sounds are most common during the start up and shut down of the AC. When you hear them, chances are that there are some loose parts in the unit. 

Buzzing:

These sounds indicate clogged filters, debris stuck in the unit, or loose parts that need tightening. 

Squealing:

Usually caused by a bad AC compressor, worn out blower bearings or motor

Whistling:

This is normally caused by air escaping through leaky ducts. 

Screaming:

this sound is produced by refrigerant fluid leaks, which can be hazardous for the health of everyone who spends time in the building. 
There are plenty of other sounds that AC produces that can indicate a need for a repair. If anything seems off to you, it is likely that it is a problem. It is better to have it checked before things break down. Call a commercial AC repair tech in Coral Springs, FL to help investigate the issue. 
Short Operational Cycles
Does your AC at work shut down shortly after you turn it on? If so, it may be time to call a professional for help. This issue is often explained by clogged air filters or low refrigerant fluid levels that interrupt the AC's operation. This isn't only frustrating but indicates a potentially bigger problem if things aren't addressed soon enough. There could also be an issue with your unit being incorrectly sized for the building's needs. We highly recommend contacting an AC repair technician who will figure out the cause of these short cycles. 
Warm Airflow
Warm air coming through the vents instead of the expected cool air can be caused by a variety of things. First, there may be a decrease in the refrigerant fluid levels. Refrigerant fluid plays an instrumental role in cooling the air that gets released back into the room. Without adequate levels, your AC will not perform to its best potential. This issue can also be explained by clogged air filters or a downed AC compressor. It will need to be investigated by a commercial AC repair technician in Coral Springs , FL, who will provide the necessary adjustments and restore your comfort levels. 
Odd Smells
If your AC is producing odd smells, your staff and customers will be concerned and may be dissatisfied with the atmosphere in the building. Be wary of any musty or dusty smells. Excess musty smells indicate an issue with the condensate drain, while dusty smells mean that your air filters need to be changed. 
But if you smell something burning, we recommend you turn the AC off immediately and contact an AC repair technician. That burning smell is a sign of an issue with the blow motor that has possibly caught on fire. This will cause extensive damage to the entire AC unit and any surrounding structures. 
Are you wondering about the signs of repair to a residential AC? See how these signs compare and contrast between commercial and residential units on our blog. 
Commercial AC Repair in Coral Springs, FL
Have you noticed any of these signs in your place of business? If so, reach out to Air Pros, the home of the top air conditioning experts in the region. Our techs will help resolve any issue in the most quick, efficient, and professional way possible. Contact us today at (877) 561-9730.
Full System Health Check
Test Amps & Voltage
Safety Device Check
Starting Price
Preventive Maintenance
2 Visits Per Year
Highly Reliable
Financing Available
Annual Savings
With Any Repair Made To
Residential Central Air
Conditioner or Furnace Unit
Great Value
Keep Costs Low
Professional HVAC Team
Financing Options
Available
AIR PROS HOTTEST AIR CONDITIONING DEALS FOR HOMEOWNERS
Apply Now for 100% Financing On New AC Systems & Repairs
Schedule a friendly service tech to come around your neighborhood in the next hour or two.