Our Financing Option for Your Rheem Central AC
Our Financing Option for Your Rheem Central AC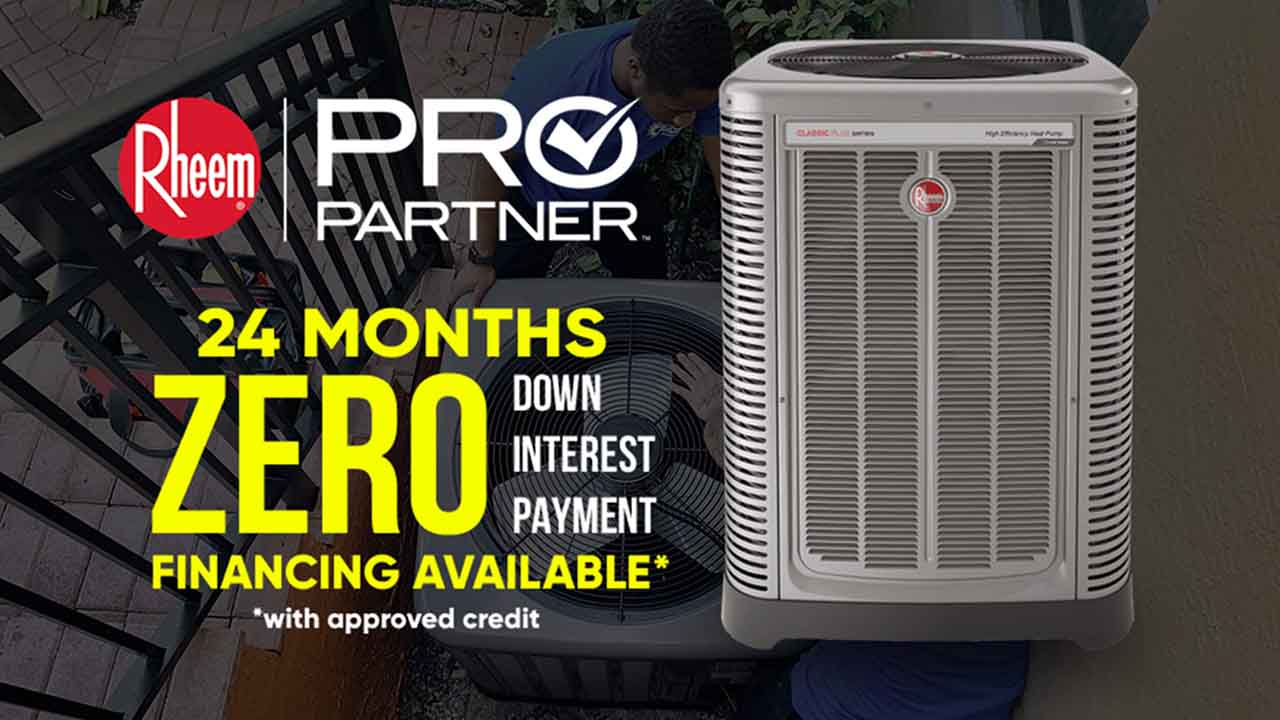 A new AC install in Fort Myers, FL, from Air Pros can definitely be a worthwhile investment that leaves you cool and comfy when it matters most. This is especially true in an area where temps can still be in the 80s well into early and mid-autumn. However, it is understandable to be concerned about how much of a stretch this particular investment may be on your budget. If this is what has you putting off having a new or replacement central air conditioning system installed, take a moment to learn more about the financing option we offer for Rheem products.
Here's What We Offer
When you go for Rheem financing for an AC install in Fort Myers, FL, you will benefit from 24-month financing on any of the brand's products. As long as credit is approved, you will be able to choose your air conditioning system or unit without the need for a downpayment. In addition, you will be rewarded with 0% interest. Moreover, you will have 2 full years to pay off your new Rheem air conditioning purchase.
Get the Cooling System That's Right for Your Needs
With an AC install, you may be tempted to settle for a Rheem central air conditioning system that falls more in line with your budget. This can be a problem if you choose a system that does not fully satisfy your cooling needs or a unit that is not correctly sized right for your inside spaces. With our Rheem financing option, however, you can get the system that is the right size and tailored to your needs from the start.
We Also Finance Repairs
Should you have concerns about paying for an AC repair in Fort Myers, FL, that is a bit more of a budget stretch than what was anticipated, we can help. We offer 100% financing options for air conditioning repairs. This way you can extend the life of your cooling system and relax in comfort even on the hottest days in The Sunshine State.
Treat Yourself to the Comfort and Convenience You Deserve
Thanks to our Rheem financing option, you no longer have to settle for an AC install that does not give you everything you want. By being able to space your payments out, you can invest in a cooling solution that gives you the added perks and conveniences that Rheem offers. What's more, Rheem products are known for offering optimal durability and energy efficiency. Customer satisfaction rates are also typically higher among owners of Rheem comfort products.
Explore Our Financing Solutions Today
Whether you are looking to finance an AC repair or invest in a new Rheem central air conditioning system, we're here to help you out. Our courteous and knowledgeable financing team will gladly answer your questions and get you started with the financing process. A 10-year manufacturer warranty is also offered with all top brands. We provide free estimates, as well.
Contact us today about new installations, AC repair in Fort Myers, FL, and any other comfort needs you may have.
Full System Health Check
Test Amps & Voltage
Safety Device Check
Starting Price
Preventive Maintenance
2 Visits Per Year
Highly Reliable
Financing Available
Annual Savings
With Any Repair Made To
Residential Central Air
Conditioner or Furnace Unit
Great Value
Keep Costs Low
Professional HVAC Team
Financing Options
Available
AIR PROS HOTTEST AIR CONDITIONING DEALS FOR HOMEOWNERS
Apply Now for 100% Financing On New AC Systems & Repairs
Schedule a friendly service tech to come around your neighborhood in the next hour or two.