Benefits of Commercial HVAC Maintenance
Benefits of Commercial HVAC Maintenance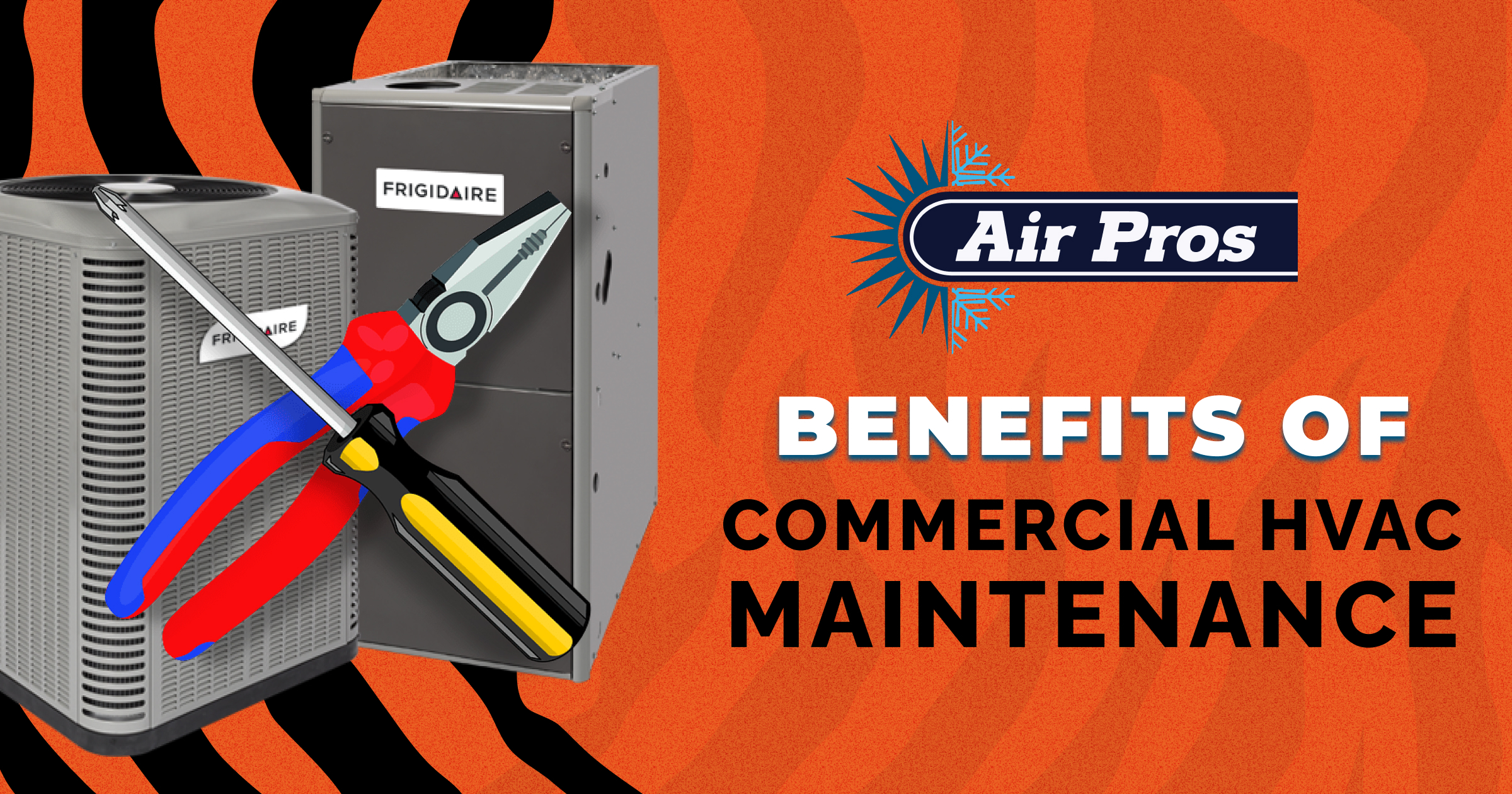 If you run a business of any kind, then you know how important it is to have a comfortable atmosphere in the building for your employees and customers.  A key component to that comfortable atmosphere is a fully operable and efficient air conditioning system. Because of this, we at Air Pros highly recommend that all business owners invest in maintenance services offered by AC repair techs in Miami, FL. There are several benefits of commercial HVAC maintenance, all of which we will discuss in the blog below. Read on to learn how you can enhance your AC's performance this summer. 
Improved Energy Efficiency
One of the most important benefits of commercial HVAC maintenance is improved energy efficiency. As part of HVAC maintenance, technicians replace air filters, clean and lubricate fans and motors, and inspect the entire system for leaks and damage. This helps to ensure that the system is running efficiently and effectively, which can help have a smaller carbon footprint and save on energy bills. If you have noticed that your energy bills have gone up, they may be caused by the following reasons: 
Clogged air filters

Refrigerant fluid leaks

Clogged air ducts

Failing AC compressor

Frozen AC coils
There are plenty of other reasons for an inefficient air conditioning system. A thorough maintenance inspection by a commercial repair tech can help narrow down the true cause. 
Reduced Costs
Look, overhead is already expensive as it is, right? Thus, regular commercial HVAC maintenance is a must for business owners looking for ways to reduce costs over time. This can help you save costs in several ways. First, by ensuring that the HVAC system is running at peak efficiency, the system will last longer in the building. Additionally, it won't require as many repairs because the AC repair tech in Miami, FL, will catch potential problems before they grow into bigger ones. The cost of repairing an AC can be fairly expensive, especially for commercial units. Check out our blog to understand how repair costs are determined. 
Enhanced Indoor Air Quality
Another benefit of commercial HVAC maintenance is enhanced indoor air quality. You likely spend a lot of time at work and have to breathe in whatever is in the HVAC ducts and filters. However, if not properly maintained, they can become a breeding ground for bacteria, mold, and other harmful substances. 
As a result, indoor air quality could be poor, causing headaches, allergies, and respiratory problems. This issue could potentially  lead to a workers' compensation case if you have employees who get sick as a result of the poor indoor air quality at your establishment. 
When an AC repair tech in Miami, FL performs a commercial HVAC maintenance service, they will take the time to clean and replace air filters, remove debris and buildup in the system, and clean the air ducts. This will help create and maintain optimal indoor air quality levels in the building. 
Increased Equipment Lifespan
Commercial HVAC systems are a significant investment for any business. This is why proper maintenance can help you ensure that the AC lasts as long as possible. Regular inspections and minor AC repairs in Miami, FL that take place during these inspections help identify issues before they cause major damage. Regular maintenance can help to prevent premature equipment failure, which can be costly to repair or replace.
Compliance with Regulations
Many commercial buildings are subject to regulations and guidelines regarding indoor air quality, energy efficiency, and environmental standards. These regulations must be followed to a tee in order for you to be in good standing with OSHA and other governing authorities. Regular HVAC maintenance can help you meet these regulations. Non-compliance leads not only to fines and penalties but also to negative publicity. Neither of these consequences is favorable for a business. 
Leading AC Repairs in Miami, FL
Are you in need of an AC repair or maintenance inspection? Look no further than Air Pros for the most qualified and skilled technicians in the area. With our help, your AC will run smoothly, whether it's at home or work. Call us at (844) 579-1538.
Full System Health Check
Test Amps & Voltage
Safety Device Check
Starting Price
Preventive Maintenance
2 Visits Per Year
Highly Reliable
Financing Available
Annual Savings
With Any Repair Made To
Residential Central Air
Conditioner or Furnace Unit
Great Value
Keep Costs Low
Professional HVAC Team
Financing Options
Available
Schedule a friendly service tech to come around your neighborhood in the next hour or two.