Air Pros Acquires Doug's Service Company in Louisiana
Air Pros Acquires Doug's Service Company in Louisiana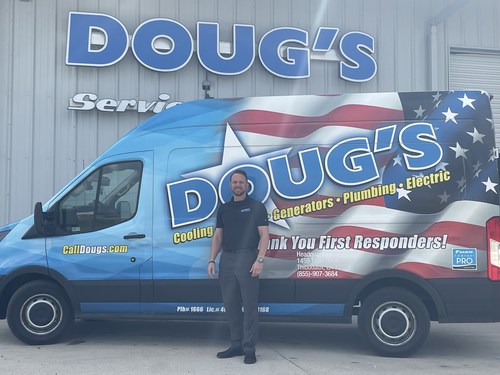 Air Pros USA is excited to announce the recent acquisition of Doug's Service Company in Lafourche Parish, Louisiana.  Since 1988, Doug's Service Company has been serving home and business owners in HVAC and home services.  The company will continue operating under its existing brand name, despite the new ownership.
Doug's Service Company provides plumbing, electrical, refrigeration and generator services, in addition to heating and air conditioning. The company employees over 40 technicians and staff, in addition more than 20 vehicles- all of which are being retained under the agreement. The acquisition further grows Air Pros USA's national footprint, which now includes more than 500 technicians and staff, and 450 vehicles, along with a customer base of almost 500,000 people. This is Air Pros USA's first acquisition in the state of Louisiana,  which will now have operations in 7 states and over 12 large metropolitan areas including Miami, Orlando, Dallas, Atlanta, Colorado Springs, Mobile and Spokane.
"Doug's Service Company's strong market presence and one stop for all home service needs will bring added value to Air Pros USA. The company's positive reputation in Louisiana makes them a perfect fit to join our family as we continue to expand and acquire additional HVAC and home service companies across the U.S.," said Anthony Perera, founder of Air Pros USA. "They are innovative and on top of the latest technology solutions with great customer satisfaction."
"We are thrilled to join the Air Pros USA family as we continue to grow Doug's Service Company throughout the region," said Jeff Tauzin, Owner of Doug's Service Company. "Air Pros USA is nationally recognized for its rapid growth as well as its quality service and dedicated technicians. We knew Air Pros USA would be a great fit as they share the same culture and commitment to 'wow' their customers and take care of their employees."
For more information and to learn more, visit Doug's Service Company.
Full System Health Check
Test Amps & Voltage
Safety Device Check
Starting Price
Preventive Maintenance
2 Visits Per Year
Highly Reliable
Financing Available
Annual Savings
With Any Repair Made To
Residential Central Air
Conditioner or Furnace Unit
Great Value
Keep Costs Low
Professional HVAC Team
Financing Options
Available
Schedule a friendly service tech to come around your neighborhood in the next hour or two.